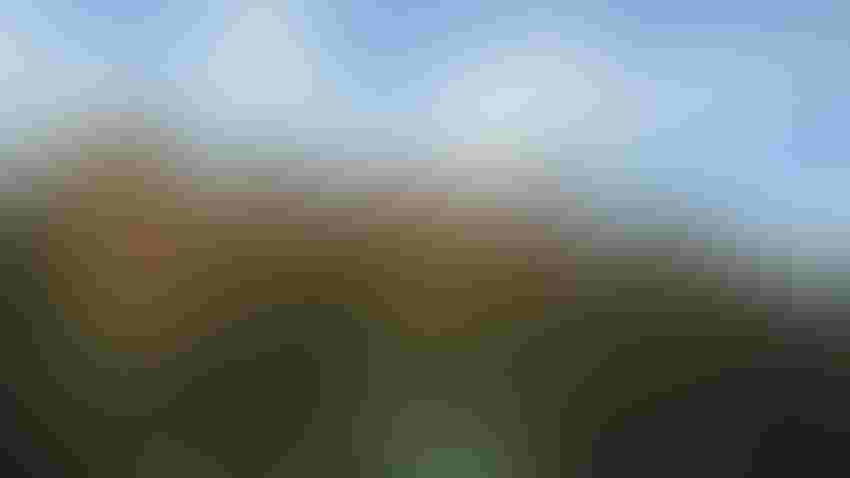 Sorghum United envisions production hubs where local farmers can sell their grain and rural communities will benefit from increased economic activity.
Pam Caraway
A fledgling U.S.-based NGO has set its sights on solving world hunger and being a driving force for world peace through increasing production and consumption of sorghum.  
"All we're trying to do is address world hunger and malnutrition as well as economic sustainability and do so in a way that mitigates climate change. That's all," said Nate Blum, CEO of Sorghum United. Blum is about two-thirds of the way through his first year at the fledgling organization, a role that follows four years with the Nebraska Grain Sorghum Board. 
Lest readers think Blum was overserved baijiu, a globally popular sorghum liquor, he laughed when he said this.  
Seriously, however, Blum noted, "political systems tend to be more stable when people have full bellies and full wallets." 
The idea is to create sorghum production hubs in communities near farmers who are growing the environmentally versatile crop. Some of the hubs will be in third-world countries. Some here at home. Wherever they are, Blum said, the sorghum production centers will help provide economic and environmental sustainability. And, he noted, people with full bellies are less likely to create political unrest. 
Solving food security issues and seeking world peace aren't new ideas. However, the sorghum-based plan cultivated by the fledgling non-governmental organization (NGO) is an unusual approach. And the funding effort is novel as well…with novel being the operative word. 
The stories supporting the story 
Sorghum United recently launched a children's book series, The Sorgho Squad. The first book in the series, Sorgho Squad Chapter One: From the Ruins Comes Jowar, is available digitally on Amazon. Hard copies of the book are scheduled for release in mid-August. The Jowar book is the four-part series that introduced the Sorgho Squad characters, all based on the various global names for sorghum:   
Jowar, the expert at sharing the sustainable and climate-smart industrial applications for sorghum 

Mashilla, a master at teaching the health and nutrition benefits of sorghum in human and animal diets 

Milo, a friend of wildlife and the environment, is focused on the benefits of sorghum production to soil health and water conservation 
The idea is to entertain children, educate people on the benefits of climate-smart sorghum in food, fuel, and fiber products, and raise money for Sorghum United to carry out its mission, Blum said. 
The books are part of phase one of Sorghum United's plan: fundraising. Phase two is the development phase. 
Ag value chains drive rural economies 
Sorghum United is focused on expanding the existing sorghum markets by spearheading infrastructure development. As the industry stands, production in the United States and elsewhere is limited by the number and accessibility of production facilities. 
"So, the question is: how do we create reliable and resilient and profitable local value chains for the farmers who grow these crops?" Blum asked.  
Sorghum United's answer is to support processing centers for various products and have the processing centers contract with local farmers. Given the chicken-and-egg aspect of this kind of development, Sorghum United's role is to find grants and private funding to support developing the processing centers at the same time that growers adopt sorghum as a crop. 
"If we want farmers to grow these things, we need to create markets for them – not just commodity markets," Blum said. "As organizations we shouldn't be measuring our success by the number of acres that we have, but on the profitability of the farmers who are growing the crop."  
In Sorghum United's plan, processors get the raw material they need, and farmers get increased profit opportunity through access to local processing. The economy for the rural communities that host these sorghum processing centers is boosted because of the increased economic activity, Blum said. In some areas, increasing the availability of sorghum-based food for human consumption will improve overall community health. 
"We can increase health outcomes not only in the U.S. but also in places like Uganda, where they're growing these grains but only using them to feed livestock," Blum said. "We want to give them the tools to feed their communities and be more economically sustainable." 
Sorghum United believes its chosen crop is the right commodity for this effort because it adapts easily to various growing conditions, is highly drought and heat tolerant and, when compared to many other crops, is inexpensive to grow and harvest. 
With deep roots, sometimes reaching down six feet, sorghum helps break compaction layers, which aids water and nutrient availability for subsequent crops. "Crops that follow sorghum show increased yield because they were able to access nutrients and water," Blum noted. 
Regarding climate change, Blum said, "sorghum is ideal for carbon sequestration because they capture carbon and push it deeper into the soil." 
Shift market opportunities 
The bulk of the sorghum U.S. farmers produce currently is exported, mostly to China, for processing, then imported as various products. Most of the sorghum producers in other countries follow the same plan. 
"China buys 93% of the U.S. production. Globally, they buy 80%. That creates a problem when they stop buying," Blum said, noting that the market saw how disruptive the single-buyer process is prior to the pandemic when the U.S. and China entered a trade dispute. 
Changing trade practices and developing new end users for a crop requires a systemic agricultural change. It's one, however, that Blum believes farmers will embrace. 
"We can talk all day about incentive programs for farmers, but that the end of the day they want to run a business," he said. "They don't want handouts." 
Bottom line, Blum said, "If we want to feed people, we need to think a bit differently than we have been for the last 70 years." 
Subscribe to receive top agriculture news
Be informed daily with these free e-newsletters
You May Also Like
---