Don't write off sorghum just yet
Don't write off sorghum just yet
While it is expected to be a tough year price-wise for many crops, planning to market sorghum throughout the year leaves room for a producer to take advantage of the different things affecting supply and demand that can cause the price to rise and fall.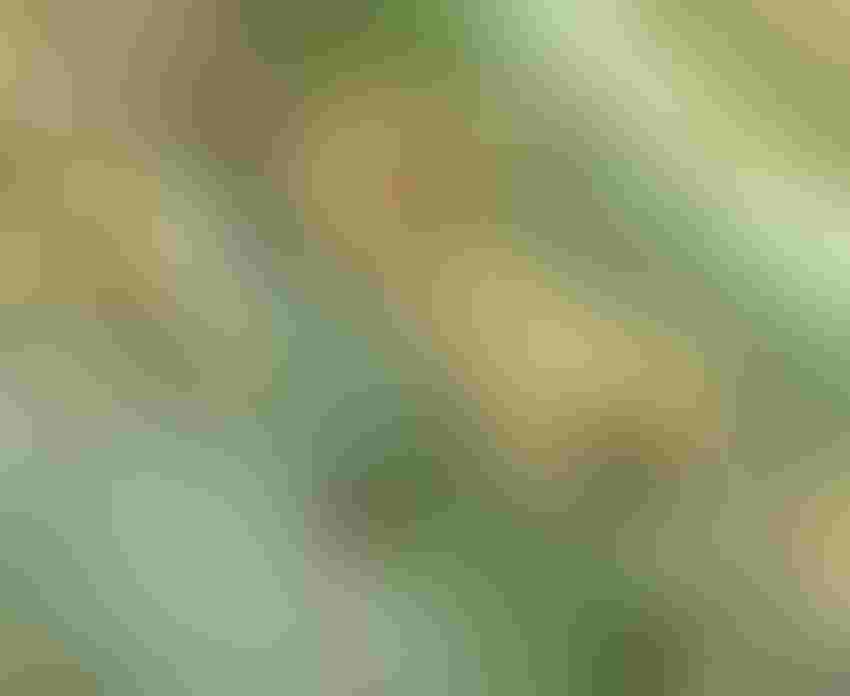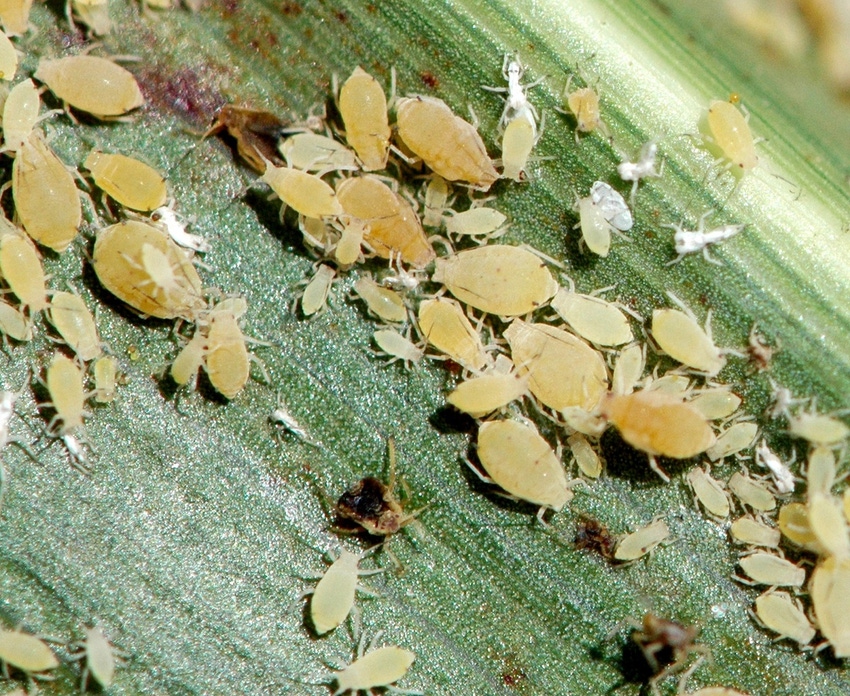 Sugarcane aphid control is important for grain sorghum production.
Texas A&M AgriLife photo by Kay Ledbetter
Sorghum may not be a lost cause for 2017. Several Texas A&M AgriLife Extension Service specialists say there are ways to prepare for upcoming issues and be profitable with sorghum.
During the Interstate 40 Sorghum Luncheon recently in Amarillo, producers heard the latest on managing sugarcane aphids, weed control and how it all figures into the bottom line as producers manage crop budgets and pricing strategies.
Dr. Ed Bynum, AgriLife Extension entomologist in Amarillo, said, "Think outside of the box."
Planting earlier, rather than the traditional dates, allows grain sorghum to reach later grain maturity growth stages where sugarcane aphids do not cause as severe yield losses, Bynum said. Also, planting a commercially adapted sorghum variety with sugarcane aphid tolerance should be considered, as well as seed treatments.
TIMING IS IMPORTANT
"You need to try to avoid the risk of infestation at certain growth stages – pre-boot to milk stage," he said. "This is very important to protect the crop. After the dough stage, the damage from the sugarcane aphid does not cause as much yield loss.
"Also, talk to your seed representative to find sugarcane aphid tolerant hybrids that are high yielding on the Texas High Plains and best for irrigated or dryland production," Bynum said.
Related:When should you plant grain sorghum?
 "We haven't been able to evaluate a lot of hybrids, but we do know they make a difference. You may still have to treat, but these hybrids are better than sugarcane aphid susceptible hybrids when infested."
Scouting fields is critical to the battle against the sugarcane aphid.
"You cannot let them get too far ahead before you make a treatment or you won't be able to knock them back where they can't recover," Bynum said.
When insecticide applications are needed, Bynum recommends that growers spray promptly at the proper threshold levels, use solid rates of either Sivanto Prime or Transform, and use the maximum amount of recommended gallonage per acre for spray equipment.
For the Texas High Plains, AgriLife Extension suggests using 5 fluid ounces per acre of Sivanto Prime and 1.5 ounces per acre of Transform. The application rate by air should be 5 gallons per acre and 15 gallons per acre by ground.
For the complete AgriLife Extension guidelines on treatments in the High Plains, go to http://bit.ly/2mQJ4QJ.
WEED CONTROL
Once the decision is made to plant sorghum and the seed is purchased, producers need to outline their herbicide program, said Dr. Jourdan Bell, AgriLife Extension agronomist in Amarillo.
 "We are really going to see a lot of spring annual weeds start to germinate and a herbicide program will be key to controlling them," Bell said. "In addition to burn-down herbicides for current weed pressure, it is also time to begin applying residual herbicides.
"It is important to begin the production season with clean fields, because in-season weeds will reduce the yield potential if not sprayed because they rob many of the nutrients and water."
She emphasized having a season-long program, which means knowing what weeds typically occur in the field and when they need to be controlled. Most weeds need to be treated before they reach more than 4 inches or the knock-down of any chemical will be limited.
Bell outlined several preplant herbicides that can be used, as well as some that are not yet labeled for sorghum but are a part of the sorghum herbicide research program sponsored by the United Sorghum Checkoff program.
A list of approved herbicides, including the weeds they treat and the crop tolerance considerations, can be found at http://bit.ly/2mSLvm5.
"Herbicides can be expensive, but weed pressure robs our resources and we know there is a return on the investment," Bell said. "While many producers do not want to invest in herbicides when commodity prices are down, it is important they do not lose yield potential to weed pressure. There are many effective options that can be worked into a budget."
ECONOMICS
DeDe Jones, AgriLife Extension risk management program specialist in Amarillo, continued the discussion on sorghum and the economics of growing the crop and dealing with the issues previously outlined.
"While initially it didn't appear sorghum was going to pencil out in our crop budgets, I would caution that might not be true," Jones said. "Ask yourself 'what do I grow most effectively' before you begin changing crops."
She said many crop budgeting programs assume a producer reaches certain yield levels, and should be adjusted based on individual averages. The 2,500 pounds-per-acre dryland sorghum yield projected in the crop profitability analyzer may be lower than what an experienced producer can make, while the budgeted 400-pound cotton yield may be a stretch for someone who hasn't grown it before.
"We have interactive budgeting software so you can determine your breakeven costs to know what you need to make," Jones said. "Keep in mind you need to factor in all the different components, including input costs, water requirements, crop insurance, and don't forget about basis. Make sure you look at the total picture."
The AgriLife Extension 2017 Crop Profitability Analyzer can be found at http://amarillo.tamu.edu/ under Facts and Figures. The Excel document will download and then each individual producer can plug in their acreage and yields.
While it is expected to be a tough year price-wise for many crops, she said planning to market the crop throughout the year leaves room for a producer to take advantage of the different things affecting supply and demand that can cause the price to rise and fall.
Her advice was, "Control your expenses, know your breakeven prices and be ready to capitalize on market rallies."
About the Author(s)
Subscribe to receive top agriculture news
Be informed daily with these free e-newsletters
You May Also Like
---