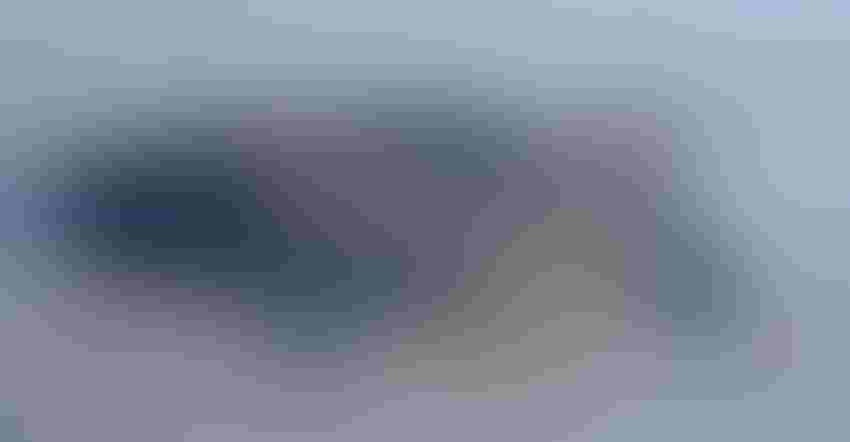 EFFECT ON SOIL: Effects of flooding on soil will vary depending on the extent of flooding, location in a field, and how much erosion and crop residue removal has occurred.
Farmland that experienced flooding issues this spring has affected farmers asking a host of questions. Planting in these areas may be delayed or may not be planted to any crop in 2019. This can have significant economic and environmental consequences if flooded fields are left barren. Long-term damage to soil needs to be considered when planning for this year's or next season's crop.
Several changes take place when soil is flooded for an extended period and can be carried into the next season. "One potential change is the biological health of the soil, with the greatest concern with soil left unplanted to any crop or cover crop," says Mahdi Al-Kaisi, Iowa State University Extension soil management specialist. "The existence of plants in such areas will help sustain the microbial community in the root zone, which is essential to nutrient cycling, especially phosphorus."
'Post-flood syndrome'
Flooded soils may experience what is called "post-flood syndrome," similar to the fallow syndrome, where the land is left unplanted to any crop for the entire season, Al-Kaisi says. Flooded soils will encounter problems caused by reduced colonization rates of soil arbuscular mycorrhizae (AM) fungi the following growing season.
Having these fungi colonizing the root systems of crops is a mutually beneficial, or symbiotic, relationship. The fungi benefit from the host plant's roots, and the crop benefits from the increased nutrient uptake zone developed by the fungi. Unplanted, flooded fields may be affected the next season due to the absence of a root system, which is essential to maintaining this microbial community that contributes to nutrient cycling.
In addition to biological changes caused by flooding and the absence of an active root system, other chemical and physical changes can occur when soil is flooded, Al-Kaisi says. Most of the chemical changes will be induced by temporary changes in soil conditions. However, physical, chemical and biological changes in soil, such as stability, soil structure, pH, etc., can be significant, especially if no crop is growing.
Managing flooded soils
Research documents that growing plants — such as cover crops, row crops and other crops — can increase the soil fungi recolonization and ultimately the availability of phosphorus, which is the nutrient most affected by reductions in the mycorrhizae fungi population. 
Al-Kaisi says the following management options need to be considered:
Land leveling and sand cleaning. Whether or not you need to remove the sand depends on the depth of accumulation. Sand that's only a few inches deep on the field (2 to 4 inches) can be incorporated in soil using normal field operations. Otherwise, minimum soil disturbance is advisable.
If sand is up to 6 inches deep, then moldboard plowing to a depth twice the sand depth is needed to incorporate the sand into the soil. If sand is 8 to 24 inches deep, it's advisable to consider spreading it to areas with less sand and incorporating it with special deep tillage equipment. It's not advisable to move sand to fill lower or severely eroded areas in the field without proper topsoil to cover the sand.
For sand more than 24 inches deep, evaluate the cost of removing or stockpiling it. In the case of severe erosion and deep cuts, topsoil from surrounding fields can fill in the areas.
Soil testing of fields. Sample the soil and have it tested for phosphorus, potassium and lime after any land leveling is done. Soil samples should not be collected immediately after the soils dry. You need to allow time for phosphorus reactions in the soil after the soil gets some air. Potassium deficiency can occur due to soil compaction. Another consideration is that soil test levels for P and K could increase from deposited sediment.
Cover crop recommendations. If a corn or soybean crop can't be planted in the field in 2019, plant a cover crop. Seed a cover crop immediately after soil dries to promote growth of microorganisms in the soil, which are essential for nutrient cycling. Planting conditions should provide good soil-to-seed contact for cover crop success.
Cover crops that have overwintered provide additional benefits of continuous growth in the spring before planting. Also, establishing a cover crop can help suppress weeds, preventing a buildup of the weed seedbank.
Other considerations. When planting soybeans, as a precaution, seed should be inoculated with Bradyrhizobium japonicum to ensure nodulation and nitrogen fixation. Inoculating the previously flooded soil with AM fungi isn't feasible. Once soils become aerobic again after recovering from the flooding, soil microflora will recover naturally.
Observations from past research
Corn growing on flooded soils often shows purple leaves, which usually disappear within a week. Flooded fields with weeds or without tillage show less purpling than fields that were tilled to control weeds. Fields with high manure application history (i.e., near feedlots) showed no adverse effect for flooded soils on crops. 
Crops planted after a fallow or flood period tend to grow poorly. Look for phosphorus deficiency symptoms in crops. For corn, that would mean slow early growth and purple coloration. Flooded soils may have a normal P test level and low AM fungi population. To alleviate P deficiency, apply at least twice the normal recommendation rate of P fertilizer in a band.
Wet grain needs care
Floodwater seeped into grain bins this spring on many farms, especially in western Iowa and eastern Nebraska, as the Missouri River and tributary streams flowed out of their banks. Hay and feed supplies were also flooded. What should you do with that grain, hay or feed? Save it, dry it and feed it? Or throw it away?
"We've been getting calls from farmers," says Julie Kenney, Iowa deputy ag secretary. "Once grain, hay or feed come in contact with floodwater, it's under the jurisdiction of the U.S. Food and Drug Administration. FDA will likely consider it adulterated, and it should not be fed. We are encouraging farmers to assume it can't be fed and work with FDA to be sure."
FDA considers grain inundated by uncontrolled river or stream water as adulterated and must be destroyed, says Charlie Hurburgh, Iowa State University grain quality expert and director of the Iowa Grain Quality Initiative. The situation this year is one of river water flooding rather than rain-driven pooled water on low ground, for which salvage options exist.
Floodwaters can bring in hazards from elsewhere in the area and create rapid grain spoilage. This was the case with a flooded sewage treatment plant in Omaha, Neb. "Grain flooded by river water can't be sold or used for livestock feed," he says. 
There may be cases where stored grain above the flood line in a bin is salvageable, subject to inspection. "You can remove the good grain that's on top of the flooded grain, but remove it from the top or side, not down through the flooded grain," Hurburgh says. "The good grain is still suspect, which is why FDA must evaluate the situation on a case-by-case basis before the grain can be sold into any uses."
Localized flooding not originating from stream or river flow might be salvageable. Visit extension.iastate.edu/grain for information. Consult with your insurance carrier before moving any flood-affected grain.
An ethanol plant may be able to use corn from a flooded bin, but it's a case-by-case situation. Call the Iowa Ag Department to see if this is acceptable. 
"If it's classified as adulterated grain, the distillers dried grain would have to be discarded and the ethanol plant cleaned afterward," Hurburgh says. "Any toxins would probably end up in the DDGs. If the grain just got moldy sitting above the flooded grain in a bin, then taking a sample and having a toxin test on it and consulting with IDALS [or] FDA is the best move."
 
About the Author(s)
Subscribe to receive top agriculture news
Be informed daily with these free e-newsletters
You May Also Like
---