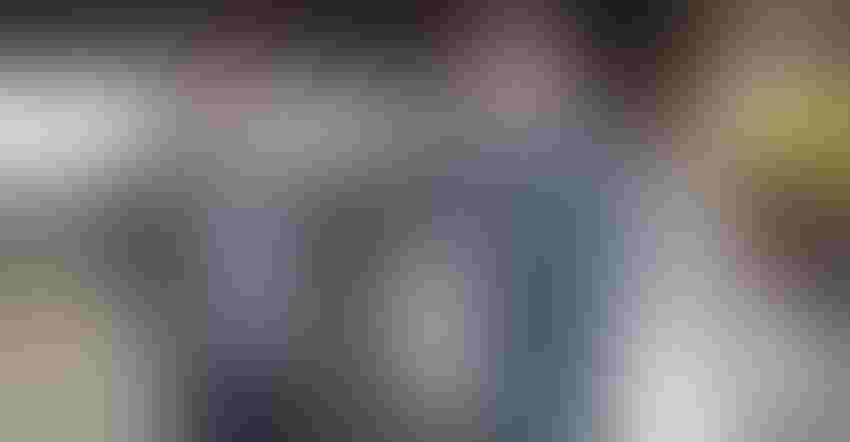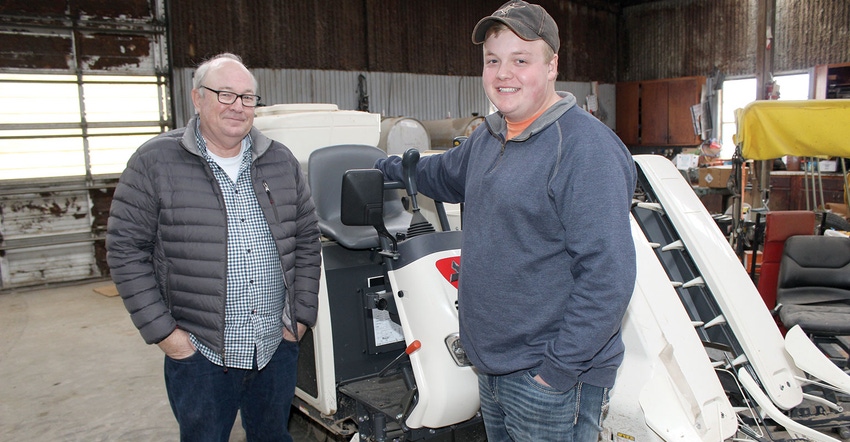 Chris Isbell, and his grandson, Harrison, stand next to the Japanese-manufactured combine used to harvest rice seed increase plots on Isbell Farms.
Brad Robb
I recently penned a farm feature on the Isbell family from Humnoke, Ark. They were selected as the 2018 Arkansas Farming Family of the Year by the Arkansas Farm Bureau. To say their family farming history runs deep and is fascinating would be an understatement. Because of space limitations I did not get to use some of the farm-related information they shared during our time together — specifically the information related to the rice they grow that is used to make sake.
Isbell Farms has been growing rice in east central Arkansas for decades. The Isbells keep their operation on the cutting edge of sustainability by continuing to use "zero grade practices" and were part of a small group of rice farmers to produce and market the world's first carbon credits created from rice production.
Through contacts and relationships made from their travels to Japan, they have grown a Japanese rice variety that many thought could not be grown outside of Japan — koshihikari. From 1991 until 1997 Chris Isbell delivered the variety of rice to a Japanese trading company — Nishimoto. "By us growing that variety, it gave them the option of doing something they had never done with koshihikari — sell it to their Japanese customers in America," says Isbell.
Market Opens Up in Japan
After people across Japan found out the Isbells were growing koshihikari, their phone started ringing off the wall.
The Isbells soon became celebrities of sorts. High-profile Japanese newspapers, magazines and television stations wanted to do stories on their operation. "We even got a call from their PBS station, NHK, who came over and did a documentary," adds Isbell. "We had as many as 25 Greyhound Bus tours in those early years."
Isbell knows that Japanese rice farmers are very proud. He kept that top of mind when the government of Japan Ag & Exchange Council invited him to speak at an event. At one point, a question and answer session was held, and a Japanese man stood up and began talking very fast like he was agitated. "When the translation hit my earpiece, the man was telling me how self-sufficient Japan was in their production of rice and wondered why Japan needed to import rice from the United States," remembers Isbell.
Isbell never meant to insult or cause any hard feelings in any way to the country or their people. He gathered himself and simply replied, "Sir, the truth is the U.S. is self-sufficient in automobiles."
The room was very quiet until the simultaneous translation fed through the audience's earpieces. Then laughter erupted across the crowd. "They all knew the U.S. imports vehicles from Nissan, Toyota, and Honda," adds Isbell. "After the laughter subsided, my friend, Ian Davidge, who farms rice in New South Wales, leaned over to me and said, 'Well spoken,' and we all had a good laugh."
A New Market
Before long, koshihikari began being produced in California and the Isbells closed that market door. Isbell's wife, Judy, believes when one door closes, the Lord opens another.
Loving science and research, Isbell learned how to breed rice. Through his time making crosses, he would choose the varieties at the end of the season that performed well, advance those, and discard the others. Leaning on his many rice relationships across the globe, Isbell one day asked a Japanese contact if koshihikari table rice was the most expensive rice in the world? "I remember him telling emphatically no. The most expensive rice in the world is rice grown to make sake," says Isbell. "He then told me of all the sake rice varieties grown, Yamadanishiki is the king!"
It just happened that one line of the 40 lines he had grown at one point was Yamadanishiki. "I was surprised because after it grew, it was tall, weak, and lodged easily," adds Isbell. "I bagged the seeds from that line, put them in the freezer, and never gave it another thought."
Fast-forward 12 years and a sake company contacted Isbell asking if he had any Yamadanishiki seed and would he sell it. Isbell agreed to grow it for them, and after five years of sending them the Yamadanishiki rice yields, they began bottling sake made from the variety. "Today, Yamadanishiki is the best quality sake in the U.S.," explains Isbell. "We still produce that rice for them today."
The largest sake company in the U.S. continues to bottle and distribute it domestically under the brand name "Sho Chiku Bai." None of the bottles are exported into Japan. "It's become very popular, but it's milled differently than regular rice," adds Isbell.
Sake rice is milled until half of it has been dissipated, which takes out the oils and lipids. They want it to be pure starch. "They spread it out on a large table when it's hot, add an enzyme (actually a type of mold) which turns the starch into sugar. Yeast and water are added to the mixture in the vat. The yeast turns the sugar into alcohol. "Just before the fermentation process stops (around 18 percent alcohol), the yeast is terminated and the resulting liquid, which is the sake, is filtered and drained," explains Isbell.
Isbell continues to dedicate four acres of ground each year to rice seed increases. He recently bought a little Japanese combine with a 35" header he uses to harvest it. "As people are aware, most Japanese people are small in stature and the combine was designed for someone small," he explains. "I can barely fit on it!"
The Yamadanishiki is trucked to a mill in Minnesota owned by a friend of Isbell who then dropships the milled rice to companies that operate craft breweries both domestically and internationally. "Craft sake breweries are expanding quickly," adds Isbell. "We were the first to grow this variety of rice, so we sort of have a monopoly on it…right now anyway!
Subscribe to receive top agriculture news
Be informed daily with these free e-newsletters
You May Also Like
---