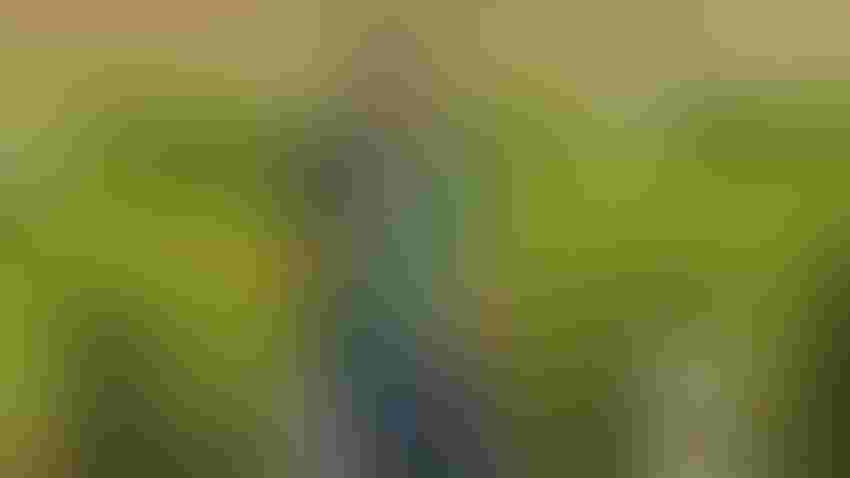 LSU Rice Breeder Adam Famoso sees the early maturity of CLL19, a new Clearfield variety for 2024, as a management advantage. "You can get it harvested and through your bins before you have to harvest your next variety," Famoso said.
Pam Caraway
Spring 2023 was hard on crops across the Midsouth – impacting nearly every field. Extended periods of cold and rain led to crop injury in fields sprayed over-the-top with ACCase-inhibiting herbicides, which led to questions about the Provisia Rice System. 
Christian Richard of Kaplan, La., wasn't fazed. 
"I think it might be a one-year deal," said Richard, who started growing Provisia rice varieties in 2018, the launch year for PVL01. "I'm going to plant just as much of it next year – just on different acres." 
Tim Walker, general manager of Horizon Ag, also is – of course – committed to the Provisia Rice System. In 2022, the company, working with LSU and industry leaders, created the Provisia Working Group to address weedy rice outcrosses. Outcross instances went from 10 in 2022 to 4 in 2023. 
"We hit the issue head on," Walker said.  
In 2023, Walker said, that group will reconvene to add best management practices that consider prevailing weather patterns.  
"We're several years out from the next technology, so we have to figure out how to work with what we have," LSU Extension Weed Scientist Connor Webster said. 
The Provisia system is working to help growers maintain clean fields, Walker noted. "This is probably the cleanest crop overall that I have seen since the mid-2000s." 
The challenge going forward, he said, is maintaining crop safety under widely varied environmental conditions. 
Part of the solution is attention to detail when treating fields, Webster said. Application errors also were glaring those cold, wet conditions this year, Webster said. He noted: "Skips and overlaps could be seen easily." 
Consider a three-treatment herbicide program 
Webster is already on top of that issue. He urges growers to consider three ACCase-inhibiting herbicide application at 10 oz./A (a 3-10 program) rather than the standard, which has been 15 oz./A. 
"Using that lower rate, we've been able to avoid some of that crop injury, and still have clean fields," Webster said.  
By moving to a 3-10 herbicide program, Webster said, "that gives you an application in your back pocket." He explained that a farmer can use all three applications during the season or can use two during the season and the third during ratoon. 
Another focus for preserving the technology is rotation. 
Richard rotates Provisia with conventional varieties and offerings from the Clearfield Production System, which this year includes the aromatic CLJ01. 
"The Jasmine gives us another option within the rice market to manage risk," Richard said. Jasmine rice also provides a technology rotation, a quality boost for the industry, and – as a bonus – a sweet scent on the evening air. "I like to bring people out here when they visit," Richard said. "It smells fantastic." 
Which brings Richard back to his commitment to grow just as much Provisia in 2024 – just on different acres. As a sixth-generation farmer, Richard is committed to sustaining his farm economically and environmentally. One of the tools that support those goals is new varieties. Horizon Ag provided information on upcoming varieties during a recent field day on Richard's farm and university researcher and Nutrien offered more variety insight at the 114th LSU AgCenter H. Rouse Caffey Rice Research Station Annual Rice Field Day. 
New Rice Varieties for 2024 
CLL19. A high-yielding, semi-dwarf Clearfield variety with good stalk strength and blast resistance. Yield opportunity is labeled excellent. CLL19 is early maturing with solid ratoon crop potential. 
"Its maturity is similar to CLL11, but with much higher yield," said LSU Rice Breeder Adam Famoso. "CLL19 is a week to 10 days earlier than CLL16." Famoso noted that CLL19 showed stable yields across the rice-producing states. 
Walker noted: "Our breeders are continuing to make great gains with the Clearfield technology." 
DG245L. An early-maturing semi-dwarf long grain variety with "phenomenal" quality, according to Nutrien's Scott Greenwalt, regional rice agronomist. He described it as "Cheniere-like quality" that offers exceptional milling yields. It has medium plant height with great stalk strength for lodging resistance and storm tolerance. It is well-adapted across Arkansas, west Mississippi, east Texas and Louisiana. This variety offers a "really, really strong second crop" for those who ratoon. 
DG353M. A high-yielding medium grain variety with excellent quality. This variety is most likely to perform at its best in northeast Arkansas, but is adapted throughout Arkansas, Louisiana, west Mississippi and east Texas. Benefits include a lower seeding rate, great standability, favorable plant height, uniform grain size and very good milling. 
Subscribe to receive top agriculture news
Be informed daily with these free e-newsletters
You May Also Like
---