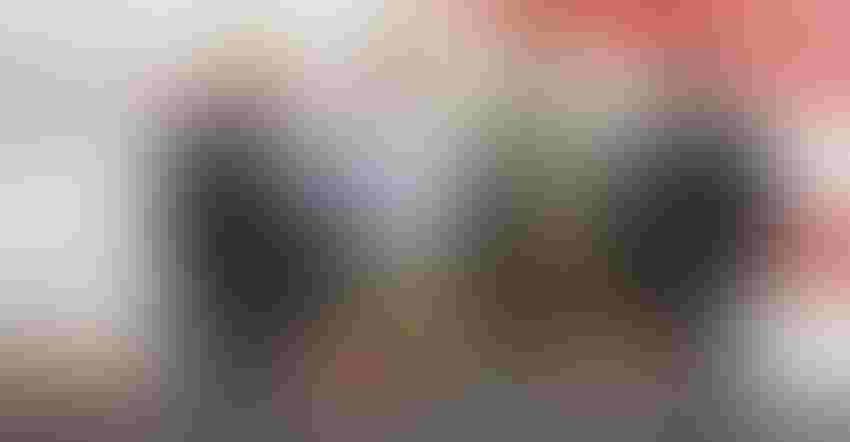 A panel discussion on row rice at the 2019 USA Rice Outlook Conference included Elliott Maschmann, left, district sales manager, RiceTech, Inc., Sydney Robnett, Triple D Farms, Stuttgart, Ark., Jarrod Hardke, Extension rice agronomist, University of Arkansas, and Jeff Rutledge, Rutledge & Rutledge Ag Commodity Producers, Newport, Ark.
Brad Robb
With increased focus on farming sustainability and the announcement of row rice being covered by the Risk Management Agency in 2020, acres of furrow-irrigated rice, or row rice, are expected to increase significantly across the Mid-South this coming planting season.
Arkansas growers have expanded their row rice acres from 30,000 to well over 150,000. "Interest in this production practice will continue, especially in Mississippi, Missouri, and northeast Louisiana," says Jarrod Hardke, Extension rice agronomist, University of Arkansas, participating in a row rice panel discussion at the USA Rice Conference in Little Rock, Ark. "The farmers growing it don't miss the ongoing problems with constructing and tearing down levees needed in a flooded rice system. The biggest hurdle many will have to get over is the fact that rice doesn't require flooding to grow."
Elliott Maschmann, district sales manager, RiceTec Inc., consults with growers in southeast Missouri who, he says, are taking the deep dive into furrow-irrigated rice. Initially against the production practice, Maschmann, was concerned about weed control.
"We had nearly 150 acres of it the first year and it worked out well even though they couldn't insure it," Maschmann says. "Many of our fields are precision leveled with a 1% slope, so it worked out well. Yields were average compared to our flooded rice, so I see acres going up."
According to University of Missouri statistics, 25% of Missouri's rice acres are now furrow-irrigated rice. Some row rice acres are going into land where rice has never been grown before.
The type of land he farms has drawn one Arkansas farmer into furrow-irrigated rice. "We started growing rice in rows because we farm on hillsides," says Sydney Robnett, Triple D Farms, Stuttgart, Ark., who provided a producer's perspective to the panel. "We have 30-acre fields that had as many as 35 levees on them. It would take us a day and a half just to harvest 30 acres. We wanted to be more efficient."
The first year, Robnett pulled up fresh beds but did not put a levee at the bottom of the field and all the water ran off. He learned. He also learned the value of a stale seedbed and the protection it gives young rice during a heavy rain.
"With multiple systems, varieties and traits in proximity, I can spray with a ground rig," Robnett says. "If we can get row rice yields close to yields from flooded rice, we'll be satisfied, because we'll be saving an incredible amount of time, not burning as much diesel, and not putting as many hours on our tractors."
If he can avoid rutting up his fields at harvest, he will no-till soybeans straight into the existing row rice beds. "We like the soybean rotation, not having to put up levees, flood the field, tear down levees, and then pull up beds again. It is a time-saver for us," Robnett says. "We're not selling gold right now, so the less money we have to put into a crop, the better."
Weed control and fertility
There was general consensus among the panel members that the weed spectrum has changed with row rice. "My growers are still dealing with pigweed, but I'm more worried about crabgrass these days," RiceTec's Waschmann says. "Because we don't have the flood to control weeds, I started recommending Prowl again in my recommendations, and 3-ounce rates of Sharpen. The key is start clean and stay clean."
Robnett advises those who want to plant in early March or April to pull up beds in February, let them sit and whatever grows on them, let it. "Before we plant, we'll hit it with Roundup, Sharpen, or Command, and that gives us a good clean start," he says. "Once you get a rice stand established, it holds down the beds well."
Weed control and fertility have been the two biggest questions Hardke has heard from growers. "Judging how much urea to put out is difficult because you don't know how much you're going to get from native soil nitrogen release," he says. "Our general recommendation, especially on clay soils, is 150 units, putting 50% on five-leaf rice, and 10 to 14 days later, another 50%. At the end of the day, you're going to need an extra 100 pounds of urea on furrow-irrigated rice over flooded rice."
All panel members agreed that Agrotain should go in with the urea to extend its availability to the rice over time.
Despite having to make more herbicide and fertility applications, panel members were in agreement that the savings from multiple trips across the fields to pull and tear down levees far outweighed the extra herbicide and fertility costs.
Being able to flip ground straight into soybeans is another option they each saw as a big benefit.
"Another difficult part of this has been quantifying everything with budgets," Hardke says. "What kind of equipment do you have to pull your beds? How will you handle the various aspects of growing row rice compared to your neighbor? Those types of questions have been a major impediment to us putting together a cookie-cutter row rice budget."
Robbnet figured he saved 12 to 15 trips across his fields with row rice. "If you have a good wet year, you'll see a major savings on water, but that savings on diesel and time on equipment is a big deal for us," he says.
Subscribe to receive top agriculture news
Be informed daily with these free e-newsletters
You May Also Like
---