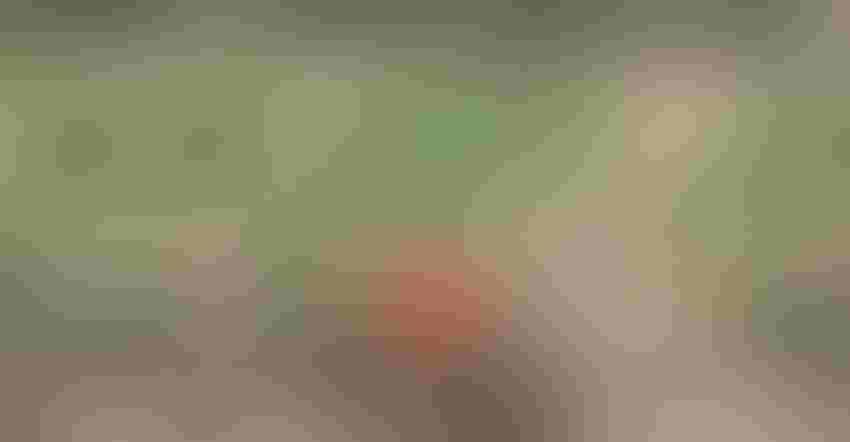 PLANTER SKIP? Note the extra space between two of these flagged plants on the right. Did the planter skip dropping a seed, or did the seed fail to germinate?
Tom J. Bechman
Suppose you just upgraded your planter with electric drives and all the bells and whistles. You want to wind up with 32,000 corn plants per acre, so you figure if you seed just over 32,000 seeds per acre, you will have all the plants you need for your desired yield.
Dave Nanda, director of genetics for Seed Genetics Direct, sponsor of Corn Watch '20, says no matter how much technology you have on your planter, you will still have some slippage between seeding rate and final population.
"I believe some growers may want to consider bumping seeding rate next year simply to get the plant population they really want," Nanda says. "If you plant 32,000 seeds per acre, you won't always get 32,000 plants per acre at harvest.
"In fact, most of the time you would more likely get closer to 30,000 plants per acre. If you want 32,000 plants at harvest, you should consider seeding rates closer to 33,000 to 34,000."
Germination factor
Why does Nanda make that recommendation? Because germination isn't 100%, no matter whose seed you plant. Check seed tags and you're likely to find many lots tagged at 95%. That may be conservative on the company's part, but you can't assume every seed will germinate.
To prove it, Nanda picked a spot in a row in the Corn Watch '20 field where there was a 12-inch gap between rows. Did the planter not drop a seed, or did the seed fail to germinate?
Related:Tissue testing reveals valuable information
"The time to find out is earlier in the season before the seed would deteriorate, if it was there," Nanda explains. When he dug a couple of inches deep in this instance, he found the seed.
"It just didn't germinate," he says. "We don't always know why."
Besides seeds that just don't germinate, you will also get seeds that attempt to germinate but encounter problems. Perhaps conditions are cool and wet, or soils are compacted. For whatever reason, the seedling may leaf out underground and not emerge. If it does emerge, it may be behind and not produce a productive plant.

FAILURE TO LAUNCH: More times than not, Dave Nanda says, a 12- to 14-inch gap in a stand means the seed didn't germinate.
Nanda did the same check last year in the Corn Watch '19 field. In that case, he checked five locations within rows where there was a skip. Four out of five times, the seed was there but didn't germinate. In only one case was it likely a true planter skip.
Some agronomists suggest using the 5% figure as a guideline. If you want 32,000 plants per acre, then plant at least 33,600 seeds per acre. That allows for 5% that likely won't germinate or won't turn into a productive plant for whatever reason. Some agronomists suggest adding even a larger cushion to your seeding rate.
"Keep in mind when you order seed that you need to account for some slippage, and base your order on plants per acre," Nanda says.
About the Author(s)
Subscribe to receive top agriculture news
Be informed daily with these free e-newsletters
You May Also Like
---