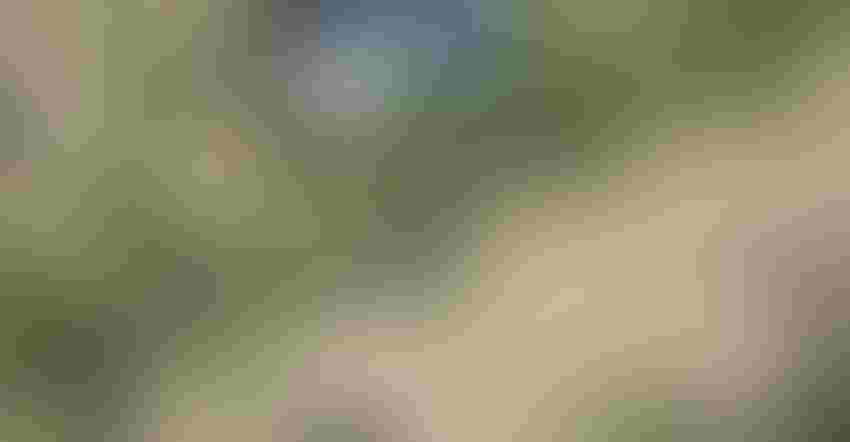 STAGE GROWTH: Dave Nanda determined that this was five-leaf corn, or in the V5 stage. He then pulled the fifth leaf from 25 plants at random for a tissue sample.
Tom J. Bechman
One thing Dave Nanda did when he visited the Corn Watch '20 field for the first time was stage growth of the plants. He uses the leaf collar method, which counts the uppermost leaf with an exposed collar as the top leaf on the plant.
Nanda is director of genetics for Seed Genetics Direct, sponsor for Corn Watch '20. He quickly determined on his early June visit that most plants were at the V5, or five-leaf, stage. You start counting from the first leaf at ground level, which is a rounded leaf. Later in the season, that rounded leaf and some other leaves visible before the growing point emerged will no longer be visible. However, for staging purposes, you still count those leaves.
One reason Nanda wanted to determine growth stage is because he wanted to collect leaf samples for tissue testing on a portion of the field. He selected a large area in the middle of the field and pulled the top leaf, the fifth leaf, from 25 plants selected at random. Then he wadded them into a ball and placed them in a sample bag provided by the testing lab, and identified the sample with grower name, field number and other information, including stage of growth.
Later, this column will discuss the results. He plans to take another sample during the grand growth phase, from V9 to V12, and again at about R1, the beginning reproductive stage.
Related:Late-emerging plants soon lag behind
Why tissue testing?
What you learn from routine tissue testing can help you get a handle on your overall plant nutrition program, and may turn up potential or borderline deficiencies. You can also use tissue testing to search for problems in poor-performing areas.
"If you're only going to pull routine samples three times, we recommend at V5, V9 to V12, and R1," says Betsy Bower, agronomist for Ceres Solutions, Terre Haute, Ind. Ceres Solutions is making tissue sampling of the Corn Watch '20 field possible. Samples will be tested at SureTech Laboratories in Indianapolis, part of WinField United, a division of Land O'Lakes.
Recently, Bower pulled samples from a sandy field showing striping in Vigo County, Ind. There can be multiple causes of striping in corn, but she suspected a sulfur shortage. Plants were at the V9 stage.
"Whenever I pull a sample in a poor area, I always pull a sample in a good area nearby for comparison purposes," she says. "That can help pick up differences, and perhaps explain why the two areas look different."

SAMPLE PROBLEM AREA: Agronomist Betsy Bower collects 25 leaves from an area in a field showing striping and lighter color. She also collected a sample from green plants showing no symptoms.
When the results came back, Bower noticed that sulfur was very low, at 0.14%. "It should be at least 0.25%," she says. "We also look at the nitrogen-to-sulfur ratio. Nitrogen was adequate, but the N-to-S ratio was very wide. Ideally, we want to see it around 15-to-1."
Bower notes that zinc and manganese were also low, but not as low as sulfur. "Soils were drying out when I pulled these samples, and sometimes we can see low nutrition in drying soils," she adds. In those situations, a rain would help move nutrients into plants.
Where plants were green, sulfur was at 0.21%. "Both nitrogen and sulfur were still low, but the ratio was much better," Bower explains. "If tests were pulled after a rain, nitrogen and sulfur levels would likely be higher."
About the Author(s)
Subscribe to receive top agriculture news
Be informed daily with these free e-newsletters
You May Also Like
---