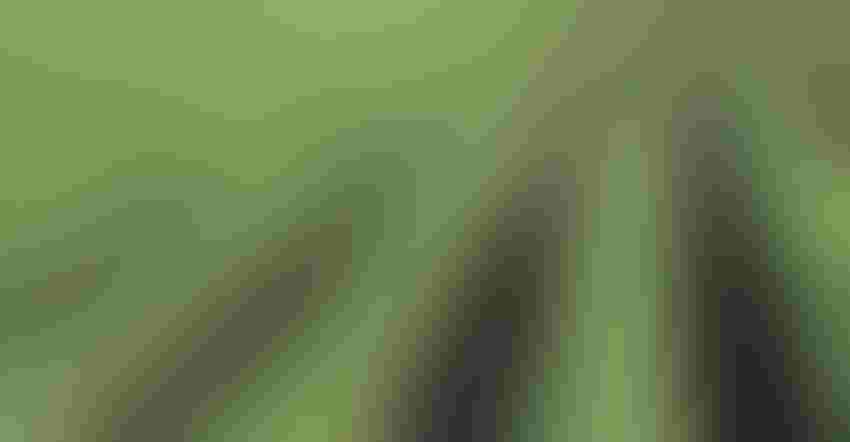 Good management decisions early in the season can lead to healthy soybeans and higher yields.
Delta Farm Press Staff Photo
Trent Irby, Extension soybean specialist, Mississippi State University, says soybean farmers started calling him on March 23, and they all had one question. Should they inoculate now?
Irby says yes.
"We've had so much flooded farmland in our state, growers are wanting advice about soybean inoculation," he says.
"In a non-flooded, continuous soybean environment, inoculating seed at planting isn't always necessary because bacteria are typically alive and plentiful in the soil profile," Irby says.
"It's a huge concern this year, especially on fields that were under water the longest."
It would be cheaper to inoculate now, he adds, rather than having to make an expensive nitrogen application later. "If nodulation fails and nitrogen deficiency occurs, the only management practice to supply the necessary nitrogen for soybeans to produce at least part of a yield goal is through a nitrogen fertilizer application," Irby says. "Given the current market, farmers should try to avoid this situation and use those input costs on other management strategies."
Soybean producers can ill afford delays or mistakes. A wet fall last year and a wet spring this year (and in the fall of 2018 and spring of 2019) have farmers scrambling to get back on production schedules.
Related:Resistant weeds thwart Mid-South soybean profits
Planting dates, maturity groups
Many Mid-South growers finished last season with little field work completed. "We need favorable weather to allow growers to finish up any necessary field work and jump right into planting during the early soybean planting period, now until the end of April," Irby says. "Soybean yield potential begins to decline at that point, with much lower potential past May and into June."
Genetics in today's soybean varieties deliver excellent yield potential. " A farmer can plant late Group 4s anytime during the soybean planting window. The real yield advantage from Group 4s comes from getting planted now through early May," Irby says. "Once we hit June, it gets to the point where it won't matter what maturity group a farmer uses. Expected yield potential will be similar across all maturity groups."
Irby advises planting an earlier-maturing variety whenever possible. "There is a clear yield advantage to planting earlier maturing varieties during the early planting window," Irby says. "Even if farmers have to plant later in the window, earlier-maturing soybeans can usually be harvested a week to 10 days before a later-maturing variety. Mid-South farmers know getting a crop out in the fall is worth a lot of money, especially when late-season rains set in."
Related:Timely fertility, avoiding plant stress lead to high soybean yields
About the Author(s)
Subscribe to receive top agriculture news
Be informed daily with these free e-newsletters
You May Also Like
---