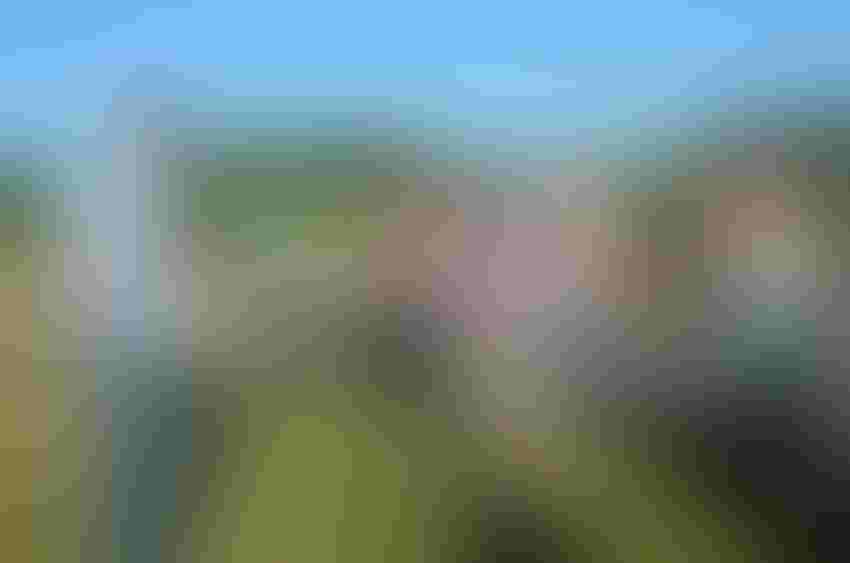 Speaking at the Pee Dee Research and Education Center Field Day Aug. 29, Clemson soybean breeder Dr. Ben Fallen says drought tolerance, seed composition and protein content are keys to his work.
John Hart
Drought continues to be a major environmental condition that limits soybean yields across South Carolina which is why Clemson University is working to develop soybean varieties that can produce a good crop during dry weather.
In addition, seed composition and protein content are also important components of Clemson's soybean breeding work. The goal is to find soybean varieties that work the best for South Carolina farmers.
Dr. Ben Fallen directs Clemson's soybean breeding program at the Pee Dee Research and Education Center in Darlington, S.C. He is looking at relationships between seed viability, germination rates and soil moisture in an effort to breed soybean varieties that are drought-tolerant.
Speaking at the Pee Dee Center field Day Aug. 29, Fallen said he and his team use in-field testing as one way to screen for drought tolerant soybeans.
"We pick a location that is very sandy where water doesn't stick around very long so we are able to evaluate these lines. Usually what we like to do is irrigate at the beginning to get everything up in uniform stands. Because without uniform stands, the data we collect isn't very meaningful," Fallen said.
"Hopefully, by the time of flowering, or a little bit later on we will be able to go in there and take wilting notes, visual rating scores from zero to five, with zero meaning no wilting and no visual symptoms, and five, meaning plants are starting to die," he said.
In addition to tests at the Pee Dee Center, trials are being held for the first time this year at the Sandhills research station in Columbia, which like the Pee Dee Center, has very sandy soils. Fallen said it is important to have more than one location for the trials.
"Surprisingly enough, it's actually kind of hard to look at drought each year because sometimes you will get rain or afternoon showers. You really want two weeks of hot, dry weather to really make those plants suffer. Cloud cover can also affect some of your ratings, even your visible ratings," Fallen said.
Another major objective of the Clemson soybean breeding program is seed composition, which is becoming more important not just in the Southeast, but across the United States. "Some of the things we work on are high oleic, low linolenic acid lines. These lines produce very good oil for biodiesel or any industrial product. They are a lot more stable, even for cooking oil. They are a lot healthier and don't have to be hydrogenated," Fallen explained.
In addition, another breeding goal is to increase the protein content of soybeans. "Different animals, swine. poultry and other  livestock, all have different amino acid needs, so we are not only trying to increase the overall protein, we are trying to tailor some of those amino acids to fit different industries as well,"  he said.
Subscribe to receive top agriculture news
Be informed daily with these free e-newsletters
You May Also Like
---