Student peanut research competition offers valuable experience
Student peanut research competition offers valuable experience
Student posters and papers cover what it means to be in peanut research — "from food science to genomics to genetics to aflatoxin to pest management, from the dirt to the laboratory."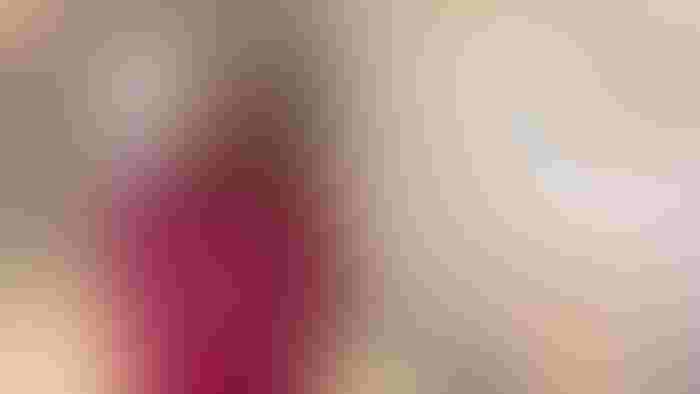 Bob Kemerait, University of Georgia Extension plant pathologist and newly installed president of the American Peanut Research and Education Society, praises the annual Joe Sugg student paper competition as an opportunity for students to present their research work and to learn about other research.
He also says the competition offers valuable training as they move into the industry.
"I remember my first meeting in 1999, right here in Savannah," Kemerait said during a break in the 55th annual APRES meeting. "I competed as a graduate student, and I can't remember the exact number but I believe we probably had about 10 students presenting maybe a little less, maybe a little bit more. That was 10 MS and Ph.D. students combined.
"Jump ahead to 2023; we've broken the sessions apart. We have a master's student program and a Ph.D. student competition. We had 14 papers included in the Ph.D. competition, and we had 25 in the masters, so we're close to 40."
He said they added a poster competition because of the growing number of oral presentations. "We probably have an additional 20 students competing in the poster competition. So, we're at approximately 60 graduate students competing, but more than competing, they are presenting their research to our organization.
"It's a tremendous testament to this organization and the students who are presenting their research."
Valuable experience
He says it's a valuable experience. "The first thing, we have six times as many participants over the past 20 plus years; that shows the vibrancy of the organization and the vibrancy of the students and their willingness to participate. That's the value to the students and to APRES.
"I tell the students in an email every time, that it is a competition, but the most important thing is not who gets first, second, or third. Of course, everybody wants to win, but the opportunity to present research, to correlate research to practice, to present research to a friendly audience, to present to someone who wants to understand, these are the most important factors. The most important thing they get is that experience, and, in a sense, they all 'win.'
"I think the Joe Sugg sessions helps them succeed. Look at the diversity of their topics. They cover the waterfront of what it means to be in peanut research — from food science to genomics to genetics to aflatoxin to pest management, from the dirt to the laboratory. It's all there."
Impressive work
He said the graduate student research represented in the papers and posters is impressive work.
"When you look at what's being done, these students are building upon what's been done before. We can take a breath of relief that those who will follow us are probably better than we ever were."
Kemerait says competition goes beyond the U.S. peanut-producing regions. "This year we had students participating virtually from Uganda and Senegal. As APRES reaches out to countries around the world, we're allowing those students to experience science, to experience peanut work in ways that were never possible before. I'm very proud of that."
Training ground
Kemerait recalls that he did not win in the 1999 competition but insists that the experience made a difference.
He says students have two good reasons to attend a professional conference. "The first reason is to present the work and to learn about others' work. The other equally important half is learning to communicate effectively outside of a session, to introduce yourself. For the students, it's not just the presentations, it's becoming a professional. This is a training ground."
He says the presentations and posters this year represent a lot of hard work and dedication to the science of peanut production.
This year's winners include:
Joe Sugg Ph.D. category
1st place – Jessica Bell, University of Georgia

2nd place – Annabelle McEachin, University of Georgia

3rd place – Jennifer Dudak, Oklahoma State University
Joe Sugg Master's category
1st place - Sydney Webb, University of Georgia

2nd place – Nicholas Garrity, North Carolina State University

3rd place – Megan Mills, Texas Tech University
National Graduate Student Poster Competition Ph.D. category
1st place – Nicholas Shay, University of Georgia

2nd place – Kelvin Awori, University of Georgia
National Graduate Student Poster Competition Master's category:
1st place – Morgan Sysskind, University of Georgia

2nd place – Matthew Tucker, University of Georgia
Subscribe to receive top agriculture news
Be informed daily with these free e-newsletters
You May Also Like
---