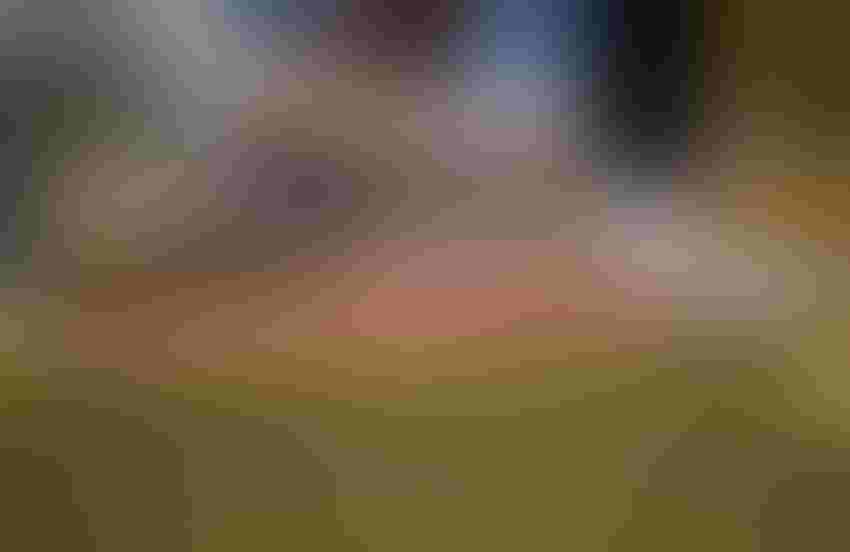 Last season was extremely hot and dry, resulting in much higher frequency of Aspergillus flavus in 2020 peanut seed.
Brad Haire
Hot, dry conditions last year hurt the quality of the 2020 peanut seed supply in some cases. As planting season closes in, specialists are working to find solutions.
Bob Kemerait, University of Georgia Extension plant pathologist, March 17 provided an update on the issue and what growers need to know now about seed treatments to counter seedling diseases that can be caused by quality issues.
"Last season was extremely hot and dry.  There is a much higher frequency of Aspergillus flavus in peanut seed from last year than we usually see.  A. flavus produces aflatoxin, but it can also be an important seedling pathogen," he said March 17.
Peanut seeds and seedlings can be affected by several different fungal pathogens and Dynasty PD and Rancona are both good seed treatments for peanuts.  Each is a mix of several fungicides, he said, which will be important to know going into 2020 planting.
Differences
However, in preliminary studies conducted this year by Tim Brenneman, a UGA plant pathologist, there have been significant differences in the effectiveness of Dynasty PD versus Rancona on seedborne A. flavus, in some seed lots.  To date, these seed lots were identified with lower germination, Kemerait said.
In these studies, seed treated with Rancona had considerably less growth and incidence of the A. flavus mold as compared to Dynasty PD.  The difference in seed treatments for inhibition of A. flavus is believed to help explain some of the differences in germination observed, with Rancona producing significantly higher germinations where seed quality is an issue.  
"Again, this finding has been on some seed lots and not others and is most pronounced where quality is an issue.  Preliminary evidence is that the later-harvested seeds, which were exposed to the most heat and drought, are the most likely to have high Aspergillus flavus levels," Kemerait said.
This year, with the emergence of A. flavus, Rancona will be more effective treatment on those lots with elevated A. flavus populations, he said, Elevated A. flavus populations seem to be linked to seed lots with lower germination.  High-quality seed with good germinations will probably be fine with either product, Rancona or Dynasty PD, he said.
Additional
Both seed treatment will do better this an additional in-furrow fungicide application. Proline and Velum Total have been the most consistent in protecting stands in recent years, he said, but are more costly than Abound.  
"Abound should not be paired where seed has been treated with Dynasty PD, as it duplicates the chemistry, azoxystrobin, most prone to resistance issues.  Abound is in a class of fungicides which compliment where Rancona is being used, and may help guard against other seed and seedling pathogens, to include Rhizopus and Rhizoctonia," he said.
The quality issues in 2020 are showing up in commercial seed produced, handled and stored with care.  Farmer-saved seed are sometimes exposed to less than ideal conditions and may have even more issues this season.
Kemerait noted that Brenneman continued to assess this seed-quality issue, including conducting greenhouse tests to get more answers before farmers start planting as to the importance of using an in-furrow fungicide to compliment seed treatments at planting.  He encouraged growers to stay in contact with their local Extension agents for more information.
Subscribe to receive top agriculture news
Be informed daily with these free e-newsletters
You May Also Like
---