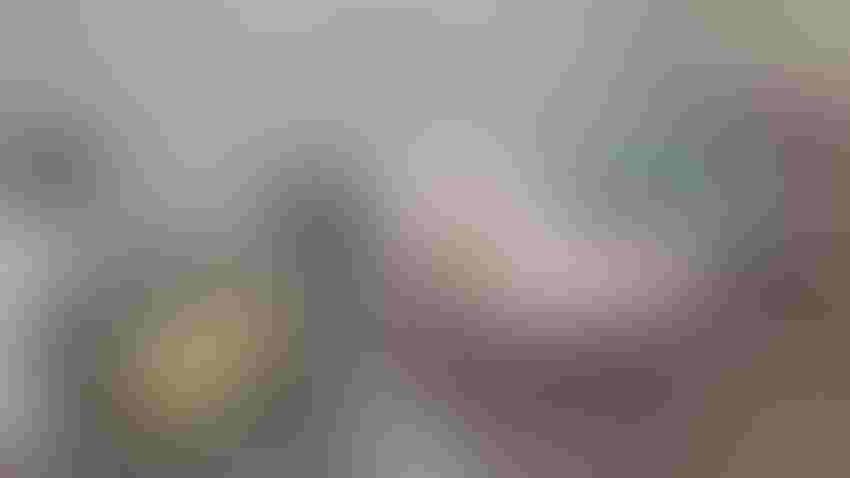 Making the case that peanut farmers are already producing a nutritious food sustainably is an important factor in the National Peanut Board's efforts to increase consumption and improve on-farm efficiency.
Ryan Lepicier, NPB senior vice president and chief marketing officer, said finding solutions to peanut allergy issues, focusing market campaigns on younger consumers, and funding research to improve production efficiency also play significant roles in the board's efforts.
"We're funded by America's peanut farmers to help solve problems," Lepicier said in an address to the Oklahoma Peanut EXPO, held annually in Weatherford, Okla.
"Our mission is to improve economic conditions for the approximately 7,000 peanut farmers and their families through promotion and groundbreaking research," he said.
Research funds totaling some $45 million, including about $41 million from the farmer checkoff, have gone into production research. "We were able to take advantage of matching funds for a total of $4 million."
He said a big breakthrough has been progressing in genetics and mapping the peanut genome. Researchers are now using genetic markers to precisely breed varieties that will help solve problems on the farm."
He said ongoing research in water use, disease management, and other crop threats will result in "amazing breakthroughs as technology advances."
Sustainability
Lepicier said the peanut industry has an opportunity to demonstrate its adherence to sustainable production practices.
"We are on the cusp of a headwind of pressures on producers, food suppliers, and manufacturers to produce sustainably," he said. "Pressure is getting stronger every year from consumers, activists, and investors. A recent study showed that two-thirds of Gen Z consumers say sustainability is a factor in their food choices.
"The peanut industry is already practicing sustainable production practices on the farm and throughout our supply chain. We need to capture what we're doing, document it, and publish the research so when Walmart says, 'You have to do this because we're the biggest buyer in the world,' you can say 'We're already doing this, and this, and this.'"
He said the peanut industry's Sustainable U.S. Peanuts initiative is supported by every segment of the industry — manufacturers, growers, and allies. The industry decided what works for peanuts.
"Now, we need producers to participate in the program, to share data about what they're doing on their farms. The more producers that participate, the better the data and the stronger case we can make."
He said some say sustainability is already passe, replaced by regenerative agriculture. "We need to be ahead of it, figure out how to adopt what already fits."
He said peanut farmers can use the sustainable practices they are already doing to "leverage the opportunity to define the program on our own rather than being dictated to. We need the data so we can stand up and say we're already sustainable, we're already doing it."
Allergies
Lepicier said the farmers who started the National Peanut Board more than 20 years ago recognized that peanut allergies posed a serious problem to the industry. "Farmers would attend festivals where people would ask, 'How does it feel to grow something that kills people?'
"They decided that they had to do something about it, they could not ignore it. They said if they were part of the problem, then they had to be part of the solution."
Farmers started funding research and "20 years later research has culminated in some amazing results," Lepicier said.
A significant advancement, he added, is the new guideline that recommends early introduction of peanuts to infants to prevent peanut allergy. "New guidelines in the United States and in many parts of the world now recommend parents introduce peanuts between four and six months."
Lepicier said recent dietary guidelines for America suggest that babies should be fed all allergens from all foods in the first year of life.
He cited ongoing research into other allergy treatments including oral immunotherapy, sublingual treatments, biologics, and vaccines.
"We feel so confident about what we see in the pipeline coming down that we feel comfortable saying that within the next 10 to 15 years, we envision the potential to eradicate peanut allergy."
Consumption and marketing
Lepicier also discussed efforts to increase peanut consumption.
He said peanut butter is by far the most consumed peanut product. "There's room for growth. I'm hearing from retailers and manufacturers that we're maxed out in capacity. We can't produce any more peanut butter. Private producers are not taking orders, government purchases are going unfilled."
He said supply chain issues need to be resolved. "It's more of a regional issue, not a widespread concern," he added.
Peanut butter remains a good buy, he added. "Grocery prices have gone up, but peanut butter is the one food people can depend on to provide affordable nutrition."
Appealing to younger consumers
He said current promotions target younger consumers, millennials and Gen Z, roughly teens through mid-40s.
"We believe millennials reach down to their children and reach up to their parents with influence. For the first time, older Gen Z consumers are making choices about the foods they buy for themselves. If we can get in front of these consumers when they're young, inspire them about peanuts and peanut products, they will be lifetime consumers of peanuts," Lepicier said.
"All of our campaigns are centered on social media, but a key element is earned media, getting the media to cover the story without paying for space."
Back in schools
He said schools are beginning to bring peanut butter back into lunch programs. "The pandemic, for all the horrible things that happened, had a silver lining in that schools were hard-pinched to feed kids away from school, considering delivery issues and other factors.
"Lee County, Fla., schools brought peanut butter back after 20 years. They not only realized that it helped solve that supply chain problem, but the kids loved it. Kids wanted to eat PBJs at school."
Lepicier hopes to see ongoing efforts to have peanut butter added to the Women, Infants and Children (WIC) nutrition program. "We want to make sure that peanut butter gets into that package. We launched an effort, which is ongoing, to educate the WIC leadership about the issue. Peanuts need to be in the WIC package."
Peanut Oil
Peanut oil offers another opportunity to increase peanut consumption, Lepicier said. "Is there a way for us to grow peanuts specifically to crush for oil? The Chinese will buy all of the low-quality peanuts they can get for crushing. We don't always have them available, so we are not always a reliable seller."
He said NPB is looking at the possibility of breeding a peanut variety with a higher oil content, in the 60% range.
"The U.S. is a net importer of peanut oil. What if we can make edible oil for the United States? Also, Chevron is working on an initiative with Texas to develop biofuels from peanut oil. So, an opportunity exists not only for edible peanut oil but also for biofuels."
He said the preference would be for the peanut industry to lead the effort. "We feel like it makes sense for the peanut industry to own this investigation."
This article was correct April 18, replacing 'Gen X' with 'millennials' under subhead Appealing to Younger Consumers.
Subscribe to receive top agriculture news
Be informed daily with these free e-newsletters
You May Also Like
---