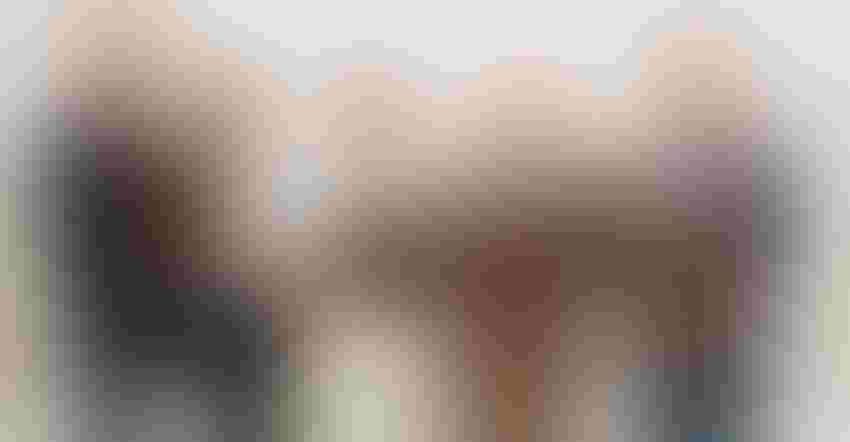 2019 Farm Press Peanut Efficiency Award winners, from left to right: Jared & Lexi Floyd, Brownfield, Texas; Dennis Spruill, Como, N.C.; Joe Morgan, Forrest County, Miss.; and standing in for Graham Ginn, Calhoun County, Ga., is Farm Press Senior Content Editor Brad Haire.
Shelley E. Huguley
Despite numerous challenges with weather, low commodity prices and high production costs, the 20th class of Farm Press Peanut Efficiency Award winners projected a bit of optimism during brief acceptance remarks and during a panel discussion at the annual awards breakfast.
The breakfast, sponsored by the National Peanut Board, is held in conjunction with the Southern Peanut Growers Conference in Panama City Beach, Fla.
The 2019 winners include: Dennis and Katrine Spruill, Como, N.C.; Graham and Julie Ginn, Calhoun County, Ga.; Joe Morgan, Hattiesburg, Miss.; and Jared and Lexie Floyd, Brownfield, Texas. The Ginns were unable to attend the breakfast due to a family issue.
In response to a question from panel moderator and PEA advisor Marshall Lamb regarding what the peanut industry will be like in 20 years, producers acknowledged the challenges but offered an optimistic outlook.
Morgan, the first PEA winner from the Mid-South, says growing peanuts is "the best decision I ever made," and expects "peanuts will be in the rotation in 20 years."
Spruill, the upper Southeast winner, said genetics and technology have played significant roles in the success he and Katrine have experienced. Technology advances may continue to improve peanut production and efficiency, he hopes. "But in 20 years, who knows how much will change?"
"It's a long way to 2039," said Floyd. He and wife Lexi, Southwest winners, also believe peanuts will remain in the mix. "In West Texas, if it weren't for peanuts, a lot of farmers would not be in business," Floyd said. "Farms will be larger. We have to get bigger. I hope to have a 50/50 peanut and cotton rotation."
Challenges Ahead
They agree good management and continued efficiency will be essential to meet upcoming challenges. In response to a question, "What keeps you up at night?" the panelists agreed the number one challenge is the disparity of low prices and high production costs.
"Supply and demand affect our prices," Spruill said. "The cotton and grain markets are also down. But costs, including equipment, have not come down."
"Without a doubt, it's price," said Floyd. "In West Texas, we are having to dig more water wells and put several wells together to irrigate a field. We're trying to produce more peanuts on fewer acres."
"Price and input costs," Morgan said, remain the biggest challenges.
PGR Investment
Morgan said one input cost he's added proves to be a sound investment. In response to an audience question about plant growth regulator efficacy, Morgan said he has used Apogee for five years and recorded yield increases as high as 800 pounds per acre, with an average of 300 to 800 pounds.
"Our vines always get big down here," he said.
Spruill also uses a plant growth regulator on his Bailey variety.
In the arid Southwest, Floyd said plant growth regulator is not part of his production system.
National Peanut Board President Bob Parker posed another "look to the future" question while acknowledging the role wives play in modern farm operations.
"I know how important Lexi is to your farm," Parker said to Floyd. "And I know that you have three daughters, so who will be farming with you?"
"That's the million-dollar question," Floyd said. "I couldn't do this without Lexi. She keeps the books and tells me where I need to cut back. But with my daughters, I think about it a lot and the oldest seems to like the farm more. I would hope that she would marry a farmer and they would take over my farm."
Lamb asked the other panelists to weigh in on farm succession plans.
"Our son farms with us now," Spruill said.  "Our daughter works with Farm Credit, so they are both involved."
"My son is a partner in the farm," added Morgan.
"That's another example of the strength of the family farm," Lamb said.
Planning for that succession as well as for immediate production and future goals demands continuous information updates.
Information Sources
"I often see producers who are quick to use the cheapest product available or cut rates," said University of Georgia Extension plant pathologist Bob Kemerait. "I also see those who look for top yields and employ Cadillac treatments. Neither may be the best option. Where do you get your information to make those decisions?"  he asked.
"I like to look at the research you guys do," Morgan said. "I also rely on a crop consultant. If I find something is economically feasible, we'll do it. We put on what's needed and leave off what is not."
"I look at contract offerings," Spruill said, to make decisions on acreage. "I don't use Cadillac treatments."
Floyd, who grows both conventional and organic peanuts and cotton, said he talks to other farmers, including his father, Randy.
He's still learning about organics and praises Lexi for the effort she makes doing the paperwork necessary for certification.
He also talks to his banker, who, he said, was a bit skeptical about loaning money on organic peanuts, "until I told him the return would be much greater."
Lamb asked each of the three producers to comment on marketing. All like to forward contract. "It's year by year," Floyd said. He has market options with organic and conventional production. "We look at contracts and then decide acreage.
"I always want a contact," he added. "It's a lot easier to get financing when my lender can see a contract."
Spruill "forward contracts. I also grow edible beans for a premium and corn for a pallet company. Corn is a natural lubricant."
"I like to have a contract," Morgan said, "but I don't have one this year."
Family Ties
All three growers acknowledged their appreciation to their families as they accepted plaques recognizing their achievements.
Ginn sent a message to Farm Press Senior Content Director and Southeast Farm Press Editor Brad Haire to read on his behalf.
"I want to thank my wife Julie," Ginn wrote. "I thank my father and my mother. I thank my father for telling me that farming comes with a lot of risks and to be prepared for them."
He thanked God for blessing him and his family. "And I thank all my fellow peanut farmers."
"I have a lot of help," Spruill said. "I thank my wife, my father, my son and my daughter.
"I also want to thank Farm Press and the Southern Peanut Growers."
Morgan thanked his wife of 55 years. "And it is good to have our son farming with us. We try to cover all the bases and just hope the good Lord blesses us with good rain and a good harvest.
"What an honor," said Floyd. "But I couldn't do this without Lexi. She does a lot."
Excellence and Efficiency
Peter Froese Jr., National Peanut Board vice chairman and Texas' representative on the NPB board of directors, acknowledged the PEA winners' achievements.
"We are honored to sponsor the 2019 Peanut Efficiency Awards breakfast which honors excellence and efficiency in peanut farming," he said.
Froese also thanked peanut growers for their overwhelming support, 93 percent approval, of a referendum held in May.
Funding from NPB includes support of a consumer outreach program to offer information and new research findings on peanut allergies. "To date, the board has put more than $26 million to work on research and education."
Another $34.5 million has been invested in production work in the board's 19-year history, Froese said. He added that "NPB leveraged just over $871,500 of our funds and industry partner funds —  with National Institute of Food and Agriculture (NIFA) matching funds — to yield over $2.5 million for NIFA managed peanut production research.
"We are working hard on our key mission that drives everything we do," Froese said. "That is to improve economics for growers and their families, so you can be profitable and pass your farms along to future generations."
Even with the challenges — price, weather, costs — one constant remains, Lamb said in summing up the awards ceremony, "It's the power of the family farm."
Subscribe to receive top agriculture news
Be informed daily with these free e-newsletters
You May Also Like
---