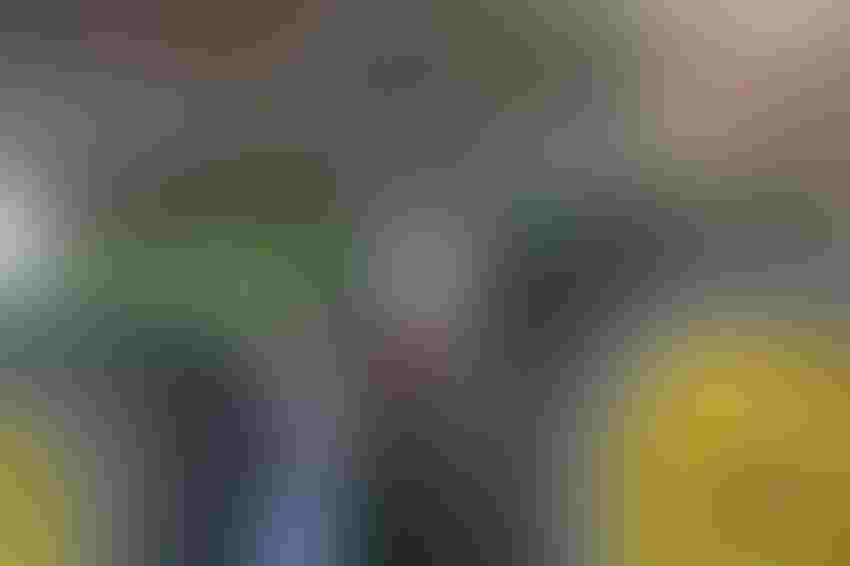 Kirk Jones attributes timeliness as his key to success. Joining the 2020 Peanut Efficiency Award winner on the family farm in Windsor, Va. is wife Katie, daughter Kori and son Kolson.
Kirk Jones knows that to succeed in farming today you can't go it alone.
Fact is, the 32-year-old farmer from Windsor, Va., has turned to mentors since he began his farming career after graduating from Windsor High School in 2006 and completing his welding certification at Paul D. Camp Community College. His two most important mentors? His grandfather James Wilson "Buddy" Jones, Sr. and his father James Wilson "J.W." Jones, Jr.
The Jones family has earned a solid reputation as innovative farmers. Kirk is the sixth generation to farm in Virginia's Isle of Wight County and Kirk hopes his son Kolson, born this past Oct. 11, will be the seventh generation to tend the land.
At age 83, Buddy Jones has retired from farming. Kirk and J.W. now run the farm along with J.W.'s wife Donna who keeps the books for the farming operation. Kirk's wife Katie is a full-time mom, taking care of Kolson and his older sister Kori, age 4. Kirk and Katie were married in 2014.
The family farms 1,700 acres of both owned and rented land, producing cotton, corn, soybeans, wheat and peanuts as well as cattle. Of all the crops the family produces, peanuts are Kirk's favorite. And due to his innovation and success as a peanut farmer, Kirk Jones is the 2020 Farm Press Peanut Efficiency Award Winner for the Upper Southeast.
Good Steward
"Kirk is a good steward of the land, preferring to use no-till or strip-till on all his crops. He uses IPM and times pesticide sprays according to when they will have the best efficacy on a certain pest and only when necessary," wrote David Langston, Jr., director of the Tidewater Agricultural Research and Extension Center in Suffolk, in his letter nominating Kirk for the award.
Dell Cotton, executive secretary of the Virginia Peanut Growers Association, noted that peanuts are a historical part of the culture of rural southeastern Virginia, but that many peanut farmers were lost following passage of the 2002 peanut program.
"Though reduced in numbers and in acreage, Virginia's peanut growers' effort help Virginia to be one of the top average yielding states annually. They know they have to take advantage of all the latest research information to be able to produce peanuts as efficiently as possible. Kirk epitomizes this philosophy as he understands that peanut production does not allow you to cut corners in any of the recommended inputs. His yield history is a testament to this," Cotton wrote.
Timeliness is key
And what is Kirk's key to efficiency? Timeliness. It's a lesson both his grandfather and father have always driven home, and it is the approach Kirk uses to achieve top yields on his farm.
"Time is the main thing. Don't put off tomorrow what you can do today. Get your peanuts planted on time. Make timely applications of fungicides or anything else that needs to be done," Kirk said as he sat down to chat about his keys to success with Southeast Farm Press.
The timeliness approach works. The family historically has made yields approaching 4,500 pounds per acre and even surpassing 5,000 pounds in good years.
"If you can do 4,500 pounds across the board, you've had a good year. I've had the pleasure of working with a lot of good people in peanuts. Wendell Cooper taught me the importance of attention to detail," Kirk said. Cooper was the family's crop consultant when Kirk started farming, and Kirk considers Cooper a mentor. Cooper has since joined Helena Chemical as an agronomist.
"Wendell showed me that success is more than just big yields. You have to go for plant health." Kirk said.
Consultant critcal
For the past four years, Kirk and J.W. have turned to independent consultant Ed Joyner. Both father and son said having an independent consultant is critical to their success. "Ed is our peanut scout and he does our nutrient plan. He takes our soil samples and does our fertilizer recommendations," J.W. said.
J.W. stresses this is another key to their efficiency: Relying on a consultant and using his custom fertilizer recommendations. Moreover, the family turns to Meherrin to make their custom fertilizer applications.
"We can save enough to pay them to make our fertilizer applications. They can do it more efficiently than we can. They come in and it takes them a day and a half while it takes me a week. They're going to make sure we're at the right rate," J.W. said
The family has planted the popular Virginia-type variety Bailey on all 390 peanut acres this year. It has been the family's go-to variety for the past few years. "I like the way Bailey yields. I like the rankness of the vines due to the fact I feed the vines to my cows," Kirk said.
Four-year rotations 
J.W. and Kirk use a three to four-year rotation and like to stretch their rotation to four years when they can.
"We usually plant peanuts and after that we plant wheat and soybeans, and then do cotton, cotton and then back to peanuts or cotton, corn. We like to get away from soybeans to help with the peanut rotation. It's all working. We've been maintaining our yields, and we can produce a good quality peanut," Kirk said.
Relying on larger equipment also helps with their timeliness and efficiency. Four years ago, they moved up to a John Deere 1720 12-row planter from a John Deere 1720 eight-row planter. They use a John Deere 4830 sprayer with a 1,000-gallon tank, moving up from a John Deere 4730 sprayer.
They also use two six-row peanut diggers. "We probably could have gotten by with one six-row digger, but peanuts need to be dug when they are ready, particularly when we have to worry about a hurricane coming in," J.W. said. "Rather than working all day and all night, you can get in there with two six-row diggers in three and a half to four days, you can dig all of your peanuts."
Regarding mentors, Kirk said the late Cecil Ray Byrum, who farmed cotton, grains and peanuts near Windsor and was a well-known industry leader, gave him much needed guidance and advice on farming and encouraged him to be involved and give back to the industry. Byrum lost his life to cancer at age 61 on Feb. 13.
"Cecil left us way too soon, but he is in a better place. He taught me so much. He taught me don't ever be afraid to ask for advice and don't ever be afraid to fail because failing is where you learn something," Kirk said.
Prayer vital
Plus, Kirk said one thing is certain: Prayer is vital and turning to the Lord comes first.
"Granddaddy taught me to pray about it before you do anything. If it weren't for the good Lord, we wouldn't be here. He truly has blessed us over the years," Kirk said.
Kirk plans to stick with peanuts for as long as he has a contract and for as long as there is a market for the crop. The family has contracted with Birdsong Peanuts for as long as they have grown the crop.
"When you pull up that hill of peanuts to check them, it's kind of like opening up a present at Christmastime. You don't know what's underneath. You hope it's a lot. But you're satisfied whether it's a lot or it's not. Even if it's a third of what you normally make, you're still going to dig them, you're still going to pick them and you're still going to get paid for what you produce," Kirk said.
"Peanuts have always been my passion. It's just something about them. When you turn them upside down and get them inverted the smell just puts you in overdrive. The best peanut you'll ever eat is the one that's right there when you're walking behind the digger and you find one lying on the ground. You won't taste one from the store that is that good," he says.
Subscribe to receive top agriculture news
Be informed daily with these free e-newsletters
You May Also Like
---