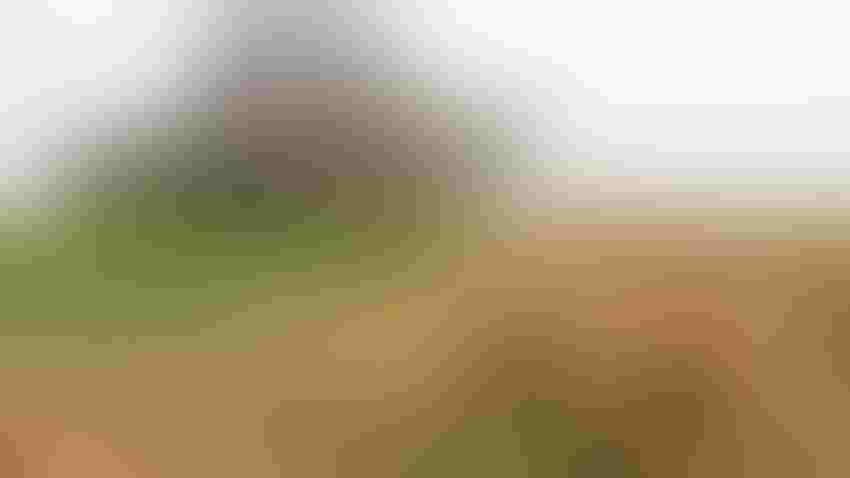 2023 is the best peanut crop many have seen in years. As harvest nears, farmers are reminded to finish strong with their fungicide programs to minimize disease pressure and maintain yield.
Delta Farm Press
Many across the Peanut Belt report the 2023 peanut crop as the best they have seen in years. Good germination produced a healthy crop and successful herbicide programs gave way to clean fields. Now, as harvest nears, farmers are reminded to finish strong with their fungicide programs to minimize disease pressure and maintain yield. 
Diseases of concern are southern blight and leafspot. Peanut producers are encouraged to continue with their fungicide programs through the season, and experts agreed that rescue treatments may be necessary in some cases. 
"With the high humidity in August and the right weather conditions, disease pressure has the potential to ramp up during the first of September. That is when it can get ugly, and you do not want to get all the way to the finish line and end up with a significant yield loss," said Abraham Fulmer, technical marketing manager at BASF. 
Disease pressure in the Midsouth 
In early August, Travis Faske, Extension plant pathologist and nematologist at the University of Arkansas System Division of agriculture, reported low disease pressure in Arkansas. "Many of our farmers have been proactive with the fungicide programs. Most have applied or are applying their second fungicide of the season." 
It is a different case in Mississippi. Brendan Zurweller, Mississippi State Extension peanut specialist, reported simultaneous incidents of both southern blight and early leafspot. He said, "We have been in a warm dry spell the past 10 days with considerable amounts of southern blight showing up. 
"Southern blight pressure generally remains until around 110 days after planting then it begins to taper. Even if the weather stays dry, the pathogen can move underground and can cause pod rot." 
Faske reminded that it will likely not stay dry. Late August commonly brings widespread rainfall that increases reports of southern blight.  This leaves many farmers to consider economical fungicide applications, and much of that weighs on how closely they followed a fungicide program on the frontend of the growing season. 
Finish the season strong 
Farmers who were proactive with a strong fungicide program may see no symptoms of disease at all, but Fulmer said the biggest thing is to not let up now. "You have had one of the best peanut crops ever, so do not delay spraying just because you have not yet seen any signs of disease." 
He explained that southern blight is a soilborne disease, and given the right conditions beneath the canopy, the pathogen can quickly take over like a thief in the night. 
In Mississippi, Zurweller said that a dry spell behind wet conditions and cooler overcast days contributed to leafspot development. He reported this to be the case for the past couple of years and reminded farmers to keep an eye out, because if leafspot lingers it can become a problem later in the season. 
Fulmer explained, "Once the peanuts start to lap, it creates a microclimate of high temperature and extreme humidity beneath the canopy that is very conducive for disease. This goes for southern blight and leafspot, and good rain could easily trigger disease symptomology." 
His advice is to not let off the gas for leafspot. Fulmer said it is a risk and reward scenario, and farmers do not want to end up without protection and in a rescue situation. 
Zurweller added, "If conditions are right and the crop is not protected, rapid defoliation can occur late season and cause yield loss. If you are in this situation, that is reason to stick to a regular spray schedule." 
He also noted that several Group 3 fungicides have better efficacy in situations where leafspot is already present, and choosing fungicides for specific situations and alternating different modes of action is good practice. 
For the growers pushing for high yields, Fulmer recommends a heavy hitting fungicide for leafspot to get the crop through the homestretch. He said, "From our BASF portfolio, I would recommend using Priaxor or Provysol.  
"We have also seen really good results with mixing Provysol and tebuconazole together to get a bigger bang for your buck for leafspot and southern blight control." 
Rescue situations for peanut disease  
Faske said he discusses the importance of fungicides near 60 and 80 days after planting to get residual control near the soil line or into the soil to protect the peanut pods and lower stems. But what happens if a peanut producer misses this application? 
Fields that were not proactively treated may end up with intense disease pressure, and farmers may find themselves in a rescue situation. Fulmer noted that this may be due to tight crop rotation or a delay in spraying. It could also be that a premium product was not used at the frontend of the season.  
"If you are in a rescue treatment situation for southern blight, your best bet is to increase your gallons per acre to the highest labeled rate, spray at night when the peanut canopy is more open and go with the heaviest hitting southern blight product you can find," Fulmer said. 
He suggested a few top products with a long-lasting history like Convoy by Nichino, Elatus by Syngenta, and Excalia by Valent. He noted that when it comes to southern blight, those three are the heaviest hitting materials. 
The fungicide Priaxor by BASF is another reliable product for southern blight and leafspot, but Fulmer said it is generally applied earlier in the season at 60 to 75 days after planting when you can get the application down into the canopy. 
Zurweller said, "Southern blight control can be difficult once it develops so staying ahead of the curve is important. One tip to improve efficacy is to make a fungicide application prior to a rain event or irrigate after spraying if you have overhead irrigation. If you are dryland and there is no rain in the extended forecast, I would still spray to mitigate further development." 
Still yet, Faske noted that the very dense, tall peanut canopy limits fungicide distribution to the lower limbs and pods, and disease at the soil surface often goes unnoticed until peanuts are dug at harvest. By then it is too late to protect the crop. 
Subscribe to receive top agriculture news
Be informed daily with these free e-newsletters
You May Also Like
---