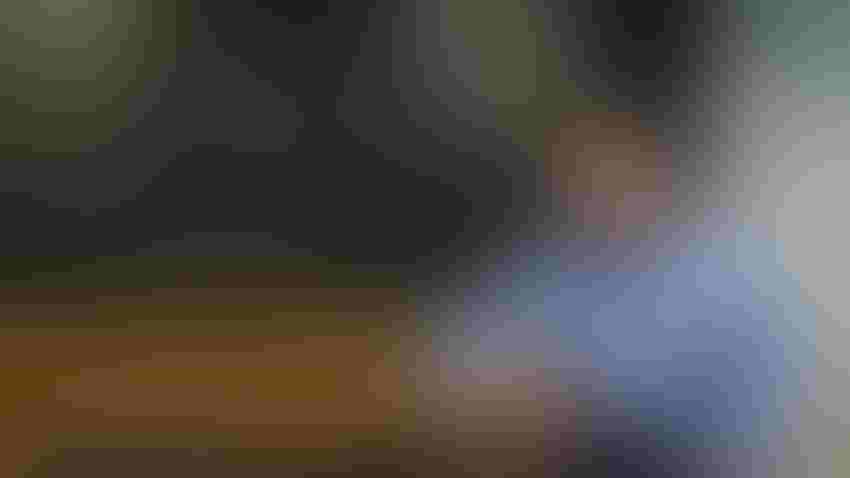 Bob Parker wasn't the first choice to be the second president for the National Peanut Board. In retrospect, however, leaders agree: he was the person the industry needed in that role.
Pam Caraway
At a Glance
National Peanut Board President and CEO Bob Parker retires Dec. 31, 2023.

The National Peanut Board is searching for a new president and CEO.

Parker led significant gains in peanut allergy and on-farm research and is recognized for unifying the industry.
Bob Parker took it personal, as we say in the south. 
And it made all the difference.  
On two issues in particular, Parker engaged at every level on National Peanut Board professional issues. 
The first time the consummate businessman threw himself into an NPB campaign was 10 years ago when he competed for the role that he will retire from at year's end. Parker wasn't chosen in the first round when the board's executive committee was searching for a new president and CEO. 
"My wife and daughter said, 'You've got to let go of this,'" Parker recalled recently. "I'd never experienced failure like that and I wasn't ready to concede." 
Parker had taken an early retirement from Golden Peanut Co. LLC, where he was vice president of industry relations and seed, topping a 25-year career. At the time, he wasn't sure of his next step. He only knew he was too young to fully retire. In the competition for NPB president he found his calling. 
The most prolonged personal effort has been his leadership on peanut allergy research. That started when he attended his first food allergy conference – and someone likened his presence to a tobacco executive at a meeting for cancer survivors. "They thought we wanted to hurt them," Parker recalled, and the hurt can still be heard in his voice and seeing in his eyes. 
He doubled down on his personal commitment a year or so later when his grandson, Parker, was diagnosed with a peanut allergy. 
"We recognize the danger of a food allergy to a family," Parker said. "But we also know that peanut allergy can be managed in a way that other people in the household can enjoy peanuts." 
And yet, those two issues notwithstanding, Parker's primary mission for the NPB is to help peanut farmers prosper. He doesn't expect that to change with his retirement. 
"As I look at my departure – and wishing that I had another 10 years or 20 years – what I want everybody to think about is whether peanut farmers can make higher yields," Parker said. "The answer is yes. Peanut farmers will make higher yields." 
The focus on peanut farmers brings the conversation back to Parker's early days with the NPB. 
A peanut sheller dons a farmer's cap 
The board's concern with Parker's candidacy to lead the NPB was that he was a sheller. Sheller is a six-letter noun that peanut farmers have been known to use with a four-letter adjective. The board first went with another candidate to succeed Raffaela Marie Fenn, the first president and managing director. But they couldn't reach agreement with that candidate on an acceptable job offer. When that fell through, the call to Parker was slow in coming. 
"We were pretty scared a sheller wouldn't be able to put on a farmer's hat. There's always been some people who didn't understand what the peanut board was trying to do," said Vic Jordan, who served on the NPB for 12 years, six as an alternate for Louisiana and six as that state's representative. Jordan's year as NPB chair was also Parker's first year on the job. Jordan had not supported hiring Parker. 
But the board agreed that once the decision was made everybody would support the person who was hired. Jordan did just that. 
"We said: regardless of how this works, we're going to support the person who is elected 100%. And that's what happened," Jordan recalled. As a result, he said, "Bob came in and took the peanut board to the next level."  
Parker's background and experience give him a uniquely broad view of the industry. At 23, a series of family health crises landed Parker in the lead role for the family's buying point and feed mill in Climax, Georgia. He was responsible for the business, his ailing father and his two younger sisters. In 1987, Jimmy Dorsett asked him to join the fledgling Golden Peanut Co. LLC. When Parker explained the family situation, Dorsett offered to buy the business. 
"That was a way to make sure my dad was cared for," Parker said. So, he joined Golden Peanut. 
While working at Golden over the next 25 years, Parker immersed himself in peanut industry activities, serving as chair of the American Peanut Council, American Peanut Shellers Association, The Peanut Institute, and the Peanut Administrative Committee. He also served on the boards of The Peanut Foundation and the Peanut Standards Board. 
That broad experience coupled with deep integrity is why Dorsett lobbied for Parker to become the second president and CEO of the peanut board. 
"I told everybody: he's got the industry experience. He's got the respect of the industry. He would be an asset to you," Dorsett recalled. "I understood the hesitancy, but I knew Bob would not be a problem. He would be a help – a huge help – for the whole industry. And he was." 
Farmers benefit from a unified industry 
As his hiring scenario showed, farmers didn't feel heard by other segments of the industry. And other segments of the industry also operated in a competitive environment. Parker identified collaboration as one of his first orders of business. 
"When I came in, I felt like there were some riffs in the industry between the segments," Parker said. "I knew the players, so I started working to get everybody talking. Everybody needed to understand that it wasn't an us versus them situation." 
Credit for the collaborative industry atmosphere today goes to all, Parker said. "I've never seen the industry more unified than it is today," he said. "That's because a lot of groups, a lot of companies, a lot of people, worked to make that happen." 
Unity, he pointed out, breeds prosperity. Consumption of peanuts was on a downhill slide when the NPB was approved, but started rising in 2003, as a result of several industry efforts. After a low of 5.6 pounds per capita in 1996, Americans consumed 7.8 pounds of peanut butter per capita in 2021. 
Parker goes all out in final stretch 
Those numbers are what Parker wants to talk about in his waning months. 
He wants consumption to continue to increase. Canadians consume more peanut butter per capita than Americans do. He wants to change that. 
He wants farmer's yields to continue to increase. Since its inception in 2001, the NPB has contributed 37.9 million toward state and industry production research.  
"Ten years ago, we were producing 2-million-ton crops nationally. Now we're producing 3-million-ton crops," Parker said. "In 10 years, are we going to produce 4-million-ton crops? I think so." 
He wants farmers to produce higher yields with fewer inputs. He specifically supports research in genomics to eliminate the need for fungicide sprays. Breeding work on leaf spot resistance is bringing that day closer. 
He wants everybody in the peanut value chain to realize a profit, especially farmers. "Peanut farmers invest $3.55 a ton on every peanut they make," Parker said. "They expect and deserve to get a return on that investment." That return was $9.74 per dollar between 2014 and 2018, according to An Economic Evaluation of the National Peanut Board, conducted by Harry M. Kaiser of Cornell University. 
He wants to talk about how the industry moves forward, rather than ruminate on where it's been. 
"There's a lot I still want to do," Parker admitted. He's retiring because that includes spending more time with his grandchildren and traveling with his wife, Margaret Ann, while they can still physically enjoy "difficult" travel. But he also has a tough agenda for his waning months. "I feel like I've got a lot of unfinished business," Parker said. "Instead of trotting to the finish line, I'm sprinting." 
Leaving it all on the field is a fitting end to a tenure that started with Parker putting everything on the line to earn the role. Yet, it also begs the question of whether the immense personal commitment was worth it. 
Characteristically, Parker first gives credit to others, including his predecessor, Fenn. Because the organization was well-organized and on solid ground, Parker was able to hit the ground running on projects that advanced the interests of farmers. Ultimately, he admitted, he accomplished much of what he set out to do – particularly with increasing a farmer's opportunity for profit, finding unity in the industry, and advancing peanut allergy research and relationships with the medical community and families impacted by peanut allergy. 
"I've always said it was God's providence that brought me here," Parker said. "When you leave this earth will people be able to say, 'he made a difference'? This position has put me in a place where I could do that. … Yeah, it was worth it." 
Subscribe to receive top agriculture news
Be informed daily with these free e-newsletters
You May Also Like
---