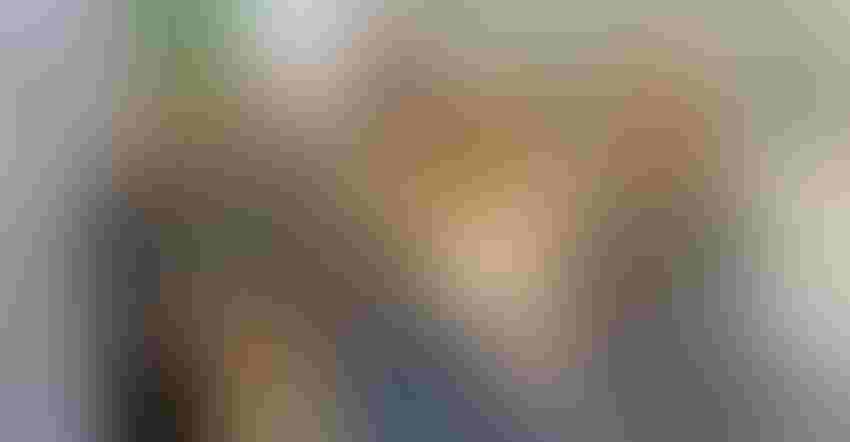 FORWARD THINKERS: Travis and Marissa Hake were recently honored with Farm Credit Mid-America's inaugural Forward Thinker Award. They were acknowledged during a Know to Grow Conference in March. Pictured are (from left) Dakota Everts, Tyler Keckley, Travis Hake, Marissa Hake and Melanie Strait-Bok.
Courtesy of Farm Credit Mid-America
Marissa and Travis Hake of Edon, Ohio, are the recipients of Farm Credit Mid-America's inaugural Forward Thinker Award.
The award is given to young, beginning or small farmers who exemplify outstanding leadership, community involvement and implementation of unique practices that drive the growth of their operation.
The award is made possible through Growing Forward, the financial service cooperative's program for young, beginning and small farmers. This multiyear program provides eligible customers with continuing education opportunities that focus on financial management, and help these customers position their operations for growth and long-term success.
The Hakes are seventh-generation farmers with a diverse operation that includes producing beef, hogs and row crops. They recently bought an adjoining property to graze their cattle on and are brainstorming ideas for a potential agritourism experience on that land.
Marissa noted the importance of diversification, especially for a generational farming operation, to maintain a competitive advantage and remain relevant in the marketplace. The Hakes run their operation with the guiding principles of, "What's right by our land, what's right by our animals, and what's right by the people in our community."
Forward Thinker Award recipients are recognized at one of the cooperative's Know to Grow conferences for young, beginning and small farmers. They also receive $5,000 and a personalized plaque.
Applications for next year's Forward Thinker Award will open later in 2022. Applicants must be customers of Farm Credit Mid-America and either belong to or have graduated from the Growing Forward program.
3 students awarded DFA Cares Foundation scholarships
Since its inception 15 years ago, the Dairy Farmers of America Cares Foundation Scholarship Program has grown to honor an increasing number of outstanding students who are pursuing careers in the dairy industry.
Selection criteria include a commitment and passion for a career in the dairy industry; extracurricular activities, awards and work experience; and academic achievement. This year, DFA's scholarship committee identified 53 recipients who will receive a combined total of $74,800.
Students from Ohio receiving scholarships include:
Mija Drobnjak, Hudson, plans to attend Ohio State University and major in food science.

Carrie Rhoades, Greenville, plans to attend Oklahoma State University and major in ag communications and agribusiness.

Karl Wedemeyer, LaRue, attends Ohio University, pursuing business administration.
Deerfield Ag Services awards scholarships for livestock fair exhibitors
To support individual youth exhibitors at the start of their projects and offset some of the initial investments associated with fair livestock projects, Deerfield Ag Services awarded $4,700 in Fair Funding Starter scholarships for the 2022 fair season.
While these scholarships did not likely offset the full cost of getting started, Deerfield hopes to make it more attainable for junior fair participants to take part in exhibiting the livestock of their choice.
The scholarship was available to students in Portage, Stark, Columbiana, Mahoning and Trumbull counties. To sign up for the program, students were required to fill out a brief application. The following students, listed with their counties, were awarded scholarships:
Beef ($350 each). Bailey Campbell, Columbiana; Shannon Black, Mahoning; Easton Sedjo, Stark; Beau Freemen, Trumbull; Carter Smallsreed, Trumbull.
Swine ($250 each). Brinsley Hiscox, Columbiana; Case Sanor, Columbiana; Dakota Mansfield, Portage; Jesse Neu, Portage; Kyrstin Reid, Portage; Mickenzie Helms, Stark; Pamela Parsons, Stark; Gianna Davey, Trumbull.
Horse ($100 each). Sophia Gorby, Mahoning; Autumn Nichols, Trumbull; Sofia Meadors, Trumbull.
Goat and lamb ($75 each). Ellie D'onofrio, Mahoning; Sara Greier, Mahoning; Alana Brabson, Portage; Brianne Parker, Portage; Drew Flarida, Portage; Cael Miller, Stark; Jake Bryan, Stark; Makenah Rohr, Stark; Alisandra Peterson, Trumbull.
Rabbit and poultry ($25 each). Carrie Knoedler, Columbiana; Destiny Algaier, Mahoning; Gage Ewing, Mahoning; Roland Maschek, Mahoning; Andrew Pfost, Portage; Hunter Roosa, Portage; Natalie Rice, Portage; Rachel Evans, Portage; Trevor McDaniel, Portage; Leah Perris, Trumbull; Jenna Perris, Trumbull.
Legacy Farmers Cooperative facilities receive 4R certification
Continuing its commitment to improving water quality in the Western Lake Erie Basin, Legacy Farmers Cooperative facilities in Arcadia, Arlington, McComb and Pandora have achieved certified status for Year 6 and the Custar facility for Year 7 through the 4R Nutrient Stewardship Certification Program.
The voluntary certification program is a concentrated effort by the agriculture industry to significantly reduce and prevent applied nutrients from running off fields, which has contributed to water-quality issues in Lake Erie. Facilities are required to meet certain program goals each year to retain certified status.
The 4R program certifies nutrient service providers across the state of Ohio that apply or make recommendations are doing so in accordance with 4R Nutrient Stewardship principles, which refers to using the Right Source of Nutrients at the Right Rate and Right Time in the Right Place. Program participants must go through an annual, independent, third-party audit and demonstrate they not only understand 4R principles, but also follow them.
About 2.5 million acres and more than 5,000 grower customers are serviced by the 54 facilities in Ohio and Michigan that have earned 4R Nutrient Stewardship Certification.
For more information, visit 4Rcertified.org, email [email protected] or call 614-326-7520.
Subscribe to receive top agriculture news
Be informed daily with these free e-newsletters
You May Also Like
---