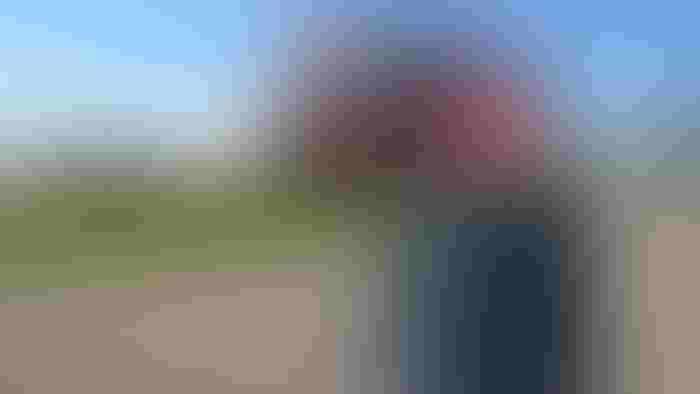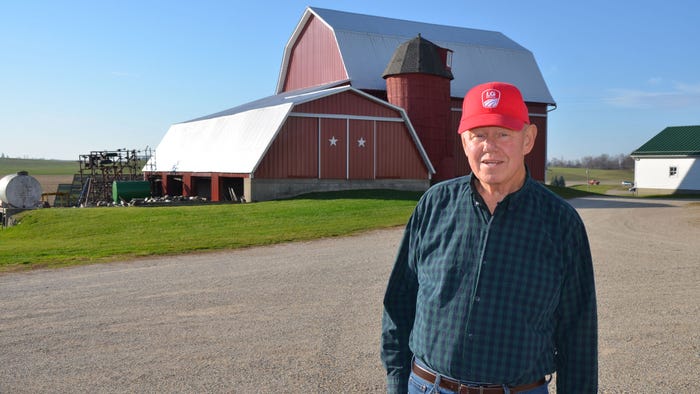 Photo by Jennifer Kiel
The best advice Louis Wierenga Jr. ever got was from his father — words he still lives by today. "If it doesn't work, don't quit trying … do it differently," recalls Louis, who farmed with his father for more than 50 years before his dad died in 2011.
Louis' drive to learn, innovate and teach others, coupled with his desire to protect natural resources while contributing to his school district, church and community, have earned him the distinction of being named a 2023 Michigan Master Farmer.
He was nominated by his daughter, Lillian, 23, who says, "He is constantly searching for new ways to improve his farming practices, and I aspire to become who he is one day — encouraging others to follow their passions."
Doing things the same way, just because it's always been done that way, doesn't mean there isn't another way, Louis says.
"I can't help but think of a fly in the fall of the year buzzing on the inside of the glass, not realizing that if he just moved back, he could fly under the open window," he says. "Sometimes we need to take a step back and look at the other options."
Born in Hastings, Mich., in 1952, he was brought home to the farm and hasn't left. "I've been here the longest. … I'm the monarch of the house," he says.
He has expanded and changed the operation to meet market demands and ensure profitability.
He's farming 960 acres (150 rented) at Maple Knoll Farms, raising alfalfa for his neighbor's cattle, corn and soybeans. Over the years, the farm has also raised canola, clover seed, green beans, peas, wheat, oats, hogs and cattle.
Farm focus
The current rotation is corn, soybeans, corn, soybeans and alfalfa (3 to 4 years). Louis plants seed with a premium treatment to provide early seed and seedling protection. Over the years, his tillage has gotten much less aggressive with minimal tillage to conserve moisture.
The fields are tiled and Caledonia Farmers Elevator grid-samples every three years, allowing variable-rate fertilizer application. Manure is applied from neighboring cattle farms, and Louis uses in-season nitrogen stabilizers to prevent N loss.
"I've known Louis for 38 years, and we have grown together through the advancement of agricultural practices throughout the years," says William Kushmaul, certified crop adviser out of St. Johns. "Louis has followed his father's footsteps in being a steward of the soil."
Louis and his father purchased a tiling machine and trencher and started custom tiling in 1978. Louis spent time expanding the home farm, running a bulldozer to clear more than 100 acres. In the late 1970s and early '80s, he raised foundation seed (soybeans and wheat) that they cleaned, treated and sold.
Another business venture for a brief period included selling Dicky John monitors and Buffalo Till planters.
Louis has created strong relationships with local agribusinesses. He has been supplying corn to Herbrucks Poultry for more than 39 years and Carbon Green Bioenergy Plant for more than 10 years. In support, he installed an E85 fuel tank on the farm for his flex-fuel vehicles.
Louis has also pushed his passion of agriculture further by traveling to on-farm tours across the world to learn alternative practices and experience the diversity of agriculture. He's visited Europe (1974), Scandinavia ('75), Alaska ('76), Australia and New Zealand ('77), South America ('78), China and Japan ('80), Mexico in 2001 and Hawaii in 2005. The trip to Hawaii was for a Farm Bureau convention, as he was nominated as an innovator for designing bifold barn doors to make room for larger equipment in his old-style basement barn.
George Hubka of Dowling, Mich., supports Louis' Master Farmer nomination saying, "Over the years, Louis has developed an efficient, low labor and input, well-managed operation. Louis is open to adopting new practices, and I was amazed as I watched Louis and his father in the late 1960s couple two of their IH tractors in tandem to make a homemade four-wheel drive unit."
Finding out what works
For more than 25 years, Louis has planted test plots for seed companies to collect data, as well as research plots for new products. This year, he had 23 varieties of corn, averaging 238 bushels per acre, with the best being 268 bpa, and 14 varieties of soybeans, with the average being 76 bpa and the best 86 bpa. He also had a research corn plot on nitrogen stabilizers for Timac Agro.
He rolls his soybeans early in the season to promote branching and to push rocks down while the ground is light. About 10 years ago, he started planting soybeans first and putting in mid-80-day corn after seeing it was the second most profitable on his farm in a test plot.
"It kind of surprised me, but that corn had a better test weight mature, and it didn't take long to dry," Louis says. "I can start harvesting earlier, around Sept. 1."
Several years ago, when engineers decided not to put rubber tracks on the 7010 Case IH combine he and his father intended to buy, saying it would take too much power, they bought it with no rear-wheel assist, and had tracks made for it.
"If you're on top of the ground instead of pushing mud, it takes less power," he says. "I had heard Case was watching us, and two years later they offered that combine with rubber tracks."
Serving others
Louis has a broad list of community involvements, including now serving his second six-year term on the Hastings school board. "During my first term, we passed a bond, and I was on the steering committee to help build a new middle school," he says. "I wanted to see the project completed, so I successfully ran for reelection."
But perhaps he will be most noted for creating the "Hayfield Concert."
"When Lil' brought home a fundraising flyer for the band selling fudge for $16 a pound, I said I don't need $16 fudge, I'm big enough," Louis explains. In the middle of the night, he came up with this idea about having a concert in a field with the band playing, and all the proceeds benefiting the band rather than 40% of the fudge sales.
Despite the cold and breezy evening, that first concert in June 2013 — complete with hot dogs, hamburgers, silent auction items, wagon rides and an ice cream wagon — brought in about $3,000 with a freewill offering.
It led to seven more years, where they made enough money (more than $45,000) to buy new instruments and a trailer to haul them. They also brought some people to a farm for the first time. With the onset of COVID-19 in 2020, the concerts have been suspended, but Louis hopes to bring it back soon.
Farmer from the start
Louis got an early jump on his ag career when his father, using a 400 Farmall tractor pulling a wagon, convinced Louis' mom he could drive the tractor through the corn while he picked stones.
"That way, he wouldn't have to get off, and he could get more done — so, I had to learn how to drive through the corn," he recalls, while noting another early job of reading the moisture tester on the grain dryer.
By age 11, Louis was driving combine working alongside his father and then proceeded to acquire 45 commercial Hereford cattle for his FFA project. He raised catted for about a decade.
He earned the FFA State Farmer degree in 1970 and was awarded the newly established Proficiency Award in Soil, Air and Water. Shortly after graduating, he purchased 38 acres he previously rented and started a custom hay business with a Heston 30 stack hand he purchased in 1972.
"Every day, there's something different to do on a farm," Louis delights. "It's not monotonous — I couldn't see myself doing anything else."
In December 2018, he purchased a new dryer, the newest of three, requiring more electricity. A new pole and transformer were added, but Louis went a little further and installed the first of now two solar arrays.
"We accumulate credits during the summer and use those during harvest," he says.
Louis married Sue Sifton in 1998, and Lillian was born prematurely the following year. Sue passed away 10 days after birth from preeclampsia toxemia. Lillian was in the hospital for a month, but Louis brought her home to the farmhouse and raised her with the help of his parents and neighbors.
A little over 10 years ago, he married Mary Pokora, who has two sons, Nick and Christopher (Denise).
Lillian, who graduated from Michigan State University with a bachelor's degree in agribusiness management and now works for Caledonia Farmers Elevator as a crop adviser/ag technician, has expressed interest in joining the family farm.
"I've been thinking about renting her some of my fields to get her started — and I kind of need help with the labor. Being 70 years old, I just don't shovel corn like I used to," Louis says with a smile.
Louis Wierenga at a glance 
Farm: Maple Knoll Farms, 960 acres, raising alfalfa, corn and soybeans.
Nominator: Daughter Lillian Wierenga and George Hubka.
Ag and community leadership: Hastings Area Schools school board, 10 years; Hastings FFA, former chapter vice president; Hope United Methodist Church trustee; Band Boosters — hayfield concert; Barry County Farm Bureau president and vice president; Hereford Association.
Awards: FFA State Farmer degree 1970, FFA Proficiency Award in Soil, Air and Water 1971.
Subscribe to receive top agriculture news
Be informed daily with these free e-newsletters
You May Also Like
---