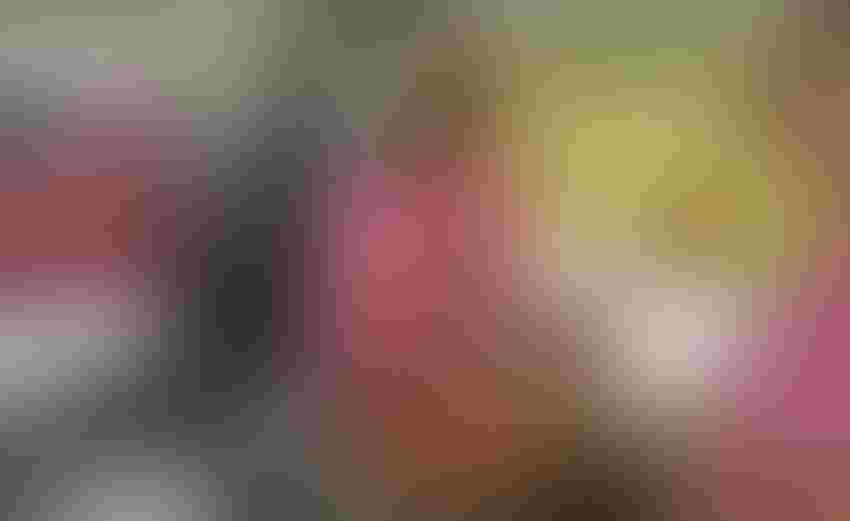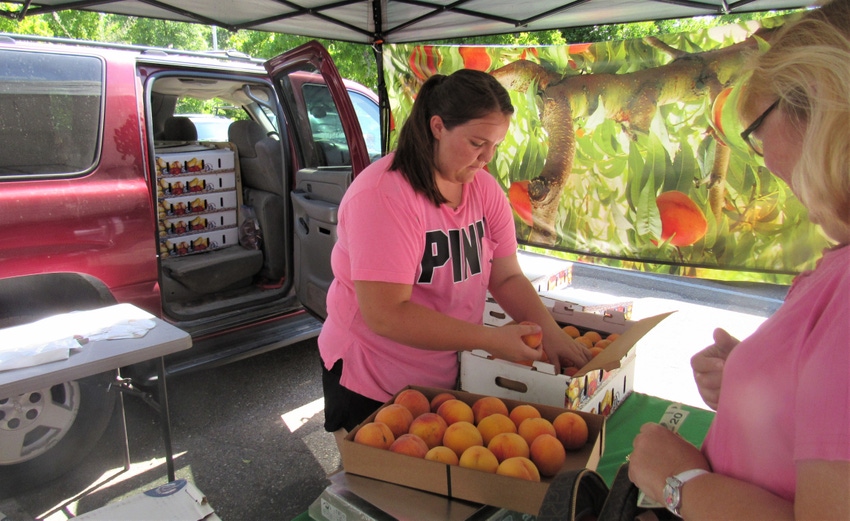 Stephanie Mills of R and K Orchards in Corning, Calif., assorts a box of peaches for a customer at a farmers' market in Redding. The harvest of early peach varieties is underway in California.
Tim Hearden
A period of spring showers has given way to the season's first stretch of triple-digit heat throughout California's Central Valley this week, but a dramatic cooling trend this weekend could be accompanied by more intermittent rainfall, according to the National Weather Service.
Three or four days of temperatures in the low to mid-100s were starting today and expected to top out later this week at 106 degrees in Bakersfield and Fresno and 102 in Sacramento, the weather service predicts.
The heat will begin to break on Friday as a weather system approaches Northern California, bringing cooler temperatures and chances for mountain showers starting Friday afternoon and continuing into the weekend, the agency reports.
The weather service predicts highs of only 79 degrees in Sacramento and 84 in Fresno next Monday.
The rainfall followed by potentially record-breaking heat in some areas is reminiscent of the end of spring last year, although the swings are not expected to be as severe. Redding has sopped up 3.68 inches of rain so far in May, more than twice its average of  1.51 inches for the month. But Sacramento's 0.32 inches of rain this month is well below its normal 0.52 inches, and is a sharp contrast to the 3.07 inches that fell on Sacramento in May 2019, according to the NWS.
Related:SWP allocation increases to 20 percent
Weather could cause complications
Still, the weather swings could cause complications as harvests have begun for numerous crops, including apricots, peaches, nectarines, Bing cherries, citrus fruit and berries, and other crops are developing.
Already, grape vine growth was boosted by warm weather earlier this month, but some strawberries in the Santa Maria area were damaged by high temperatures and wind, according to the National Agricultural Statistics Service in Sacramento.
Heavy rains in some areas caused concerns of pests and diseases in tree nuts, and growers have applied herbicides and fungicides, but the rain helped rangeland grasses flourish. Foothill rangeland and non-irrigated pasture are reported to be in good to excellent condition, according to NASS.
The NWS encourages people to drink extra water, avoid strenuous outdoor activities and plan to be in air-conditioned buildings. For those who work outside, California regulations require employers to have a written heat illness prevention plan, train employees on heat illness prevention and provide plenty of water and shade to employees.
About the Author(s)
Subscribe to receive top agriculture news
Be informed daily with these free e-newsletters
You May Also Like
---