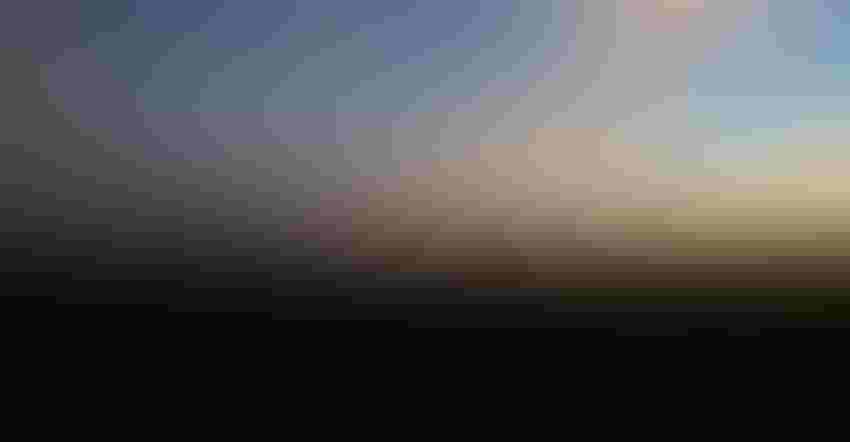 SKY TREND: Clouds recede at sunset in September.
By Laura Edwards
Starting this week, a warmer weather pattern is expected to come over the state. This could delay our fall frost for a while longer.
The average dates of the first 32 degree F frost in South Dakota fall in late September to early October. This is a concern as much of the soybean fields are still green and have not begun to turn colors or drop leaves. Fields of corn are much behind typical crop stage for this time of year.
A spot check of locations in eastern South Dakota, assuming May 15 planting date, show areas that are 100-200 growing degree days behind average. We are currently a bit behind accumulated GDDs as compared to 2014 and 1997, but not as far behind as 2009 at this same time.
The average dates of a hard frost at 28 degrees occurs a little later in eastern South Dakota than elsewhere in the state, typically in the first or second week of October. A hard frost at the current crop stages would mean substantial crop loss, essentially prematurely killing the plants before they are fully mature.
Wet conditions expected
The other challenge this fall season will be moisture. The outlook for the remainder of the fall season is leaning towards wetter than average conditions overall. There will be dry periods at times, however.
Regardless, it is evident that even with a possible frost occurring later than average, dry down of grain in the field could be an issue due to rainfall or high humidity. Field access may likely also be a challenge due to the high soil moisture across the landscape.
Edwards is the South Dakota State Extension state climatologist.
Subscribe to receive top agriculture news
Be informed daily with these free e-newsletters
You May Also Like
---