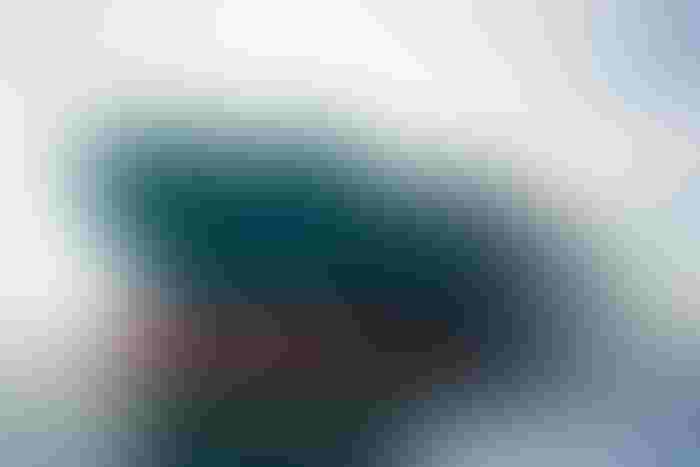 Soybeans today are fighting to avoid becoming the latest poster child for the old trading adage of "buy the rumor, sell the fact." So far, beans appear to be losing the battle. Whether they'll ultimate win the war to recover from the U.S.-China trade dispute remains far from clear.
Soybeans sold off on the morning open to post new session lows despite USDA's announcement that China bought 41.5 million bushels of soybeans. That doubled China's total purchases to date of 2018 crop soybeans. While more sales could be coming if trade reports are true, resumption of Chinese purchases may come too little and too late to help a market beset by record global supplies.
There's still potential for futures to move higher through the winter, thanks to charts that look like they're following bullish seasonal patterns. But questions remain about the overall level of Chinese demand, due to slowing economic growth there and a government push to reduce protein levels in livestock feeds.
USDA's separate weekly sales totals put out before the China announcement didn't do much to spur traders' confidence, though they were actually pretty good. The agency put total new bookings at 29.2 million bushels, mostly for old crop. That was a little less than trade guesses but beat the rate needed every week through the end of the marketing year in August to reach USDA's forecast for the 2018 crop.
But soybean sales are normally front-loaded in to the first half of that marketing year, as buyers scoop up U.S. beans, then turn to South America for new supplies. One question is whether sales can buck this trend and stay firm while what looks like record production out of Brazil and Argentina swamps the market.
U.S. exports could get a modest boost from Chinese buying, adding 50 to 100 million bushels of extra demand. Still, with carryout forecast at 955 million bushels, that amounts to a drop in the bucket.
Chinese buyers cancelled a load of beans before this week's purchases, according to the weekly report, which showed the EU as the biggest buyer, as it was all fall. The pace of purchases from Argentina slowed to 1.3 million bushels. Argentina was the third largest known buyer of U.S. beans this fall as it fought to keep processors running and replace supplies lost from bad weather. Normally those soybeans would have come from neighboring Brazil, but they were unavailable this year as China bought more from Brazil than normal to replace U.S. supplies.
Soybeans sunk to double digit losses as the reports sunk in, and corn was down a penny or two. Net new bookings of old crop corn slipped to 35.6 million bushels. That may have disappointed some traders after big purchases by leading customer Mexico announced earlier this week. Those deals likely will show up in next week's report.
Corn benefited from the absence of soybeans in the export pipeline this fall, which opened up shipping capacity. Corn is being shipped out much faster than normal as a result.
The U.S. lost out on Wednesday's wheat tender to Egypt, but weekly sales totals of 27.7 million bushels were better than expected and beat the rate needed every week to reach USDA's forecast for the 2018 crop. Sales and shipments were slow in the first half of the marketing year, causing USDA to trim its estimate of exports by 25 million bushels in Tuesday's monthly supply and demand report. The government expects business to pick up in the second half of the selling season and that appears to be happening, with good numbers two weeks in a row.
Hard red winter wheat accounted for 55% of last week's purchases.  Most of the deals were for a full cargo or less, with only Japan buying multiple loads under its regular weekly government purchasing system.
The complete reports for corn, soybeans and wheat are shown on our interactive map, which includes country-by-country breakdowns. Click the square in the upper left-hand corner of the map to bring up the index then check the box by the crop to dig into the data.
Subscribe to receive top agriculture news
Be informed daily with these free e-newsletters
You May Also Like
---