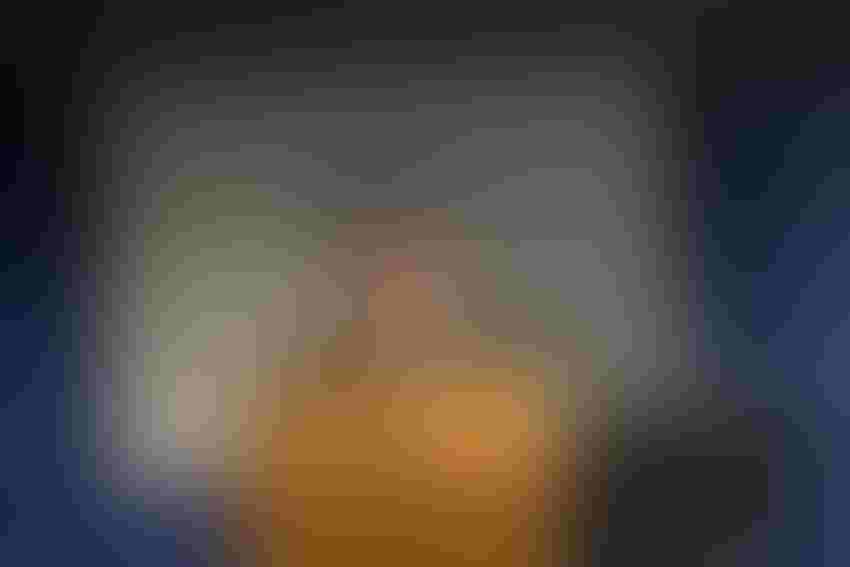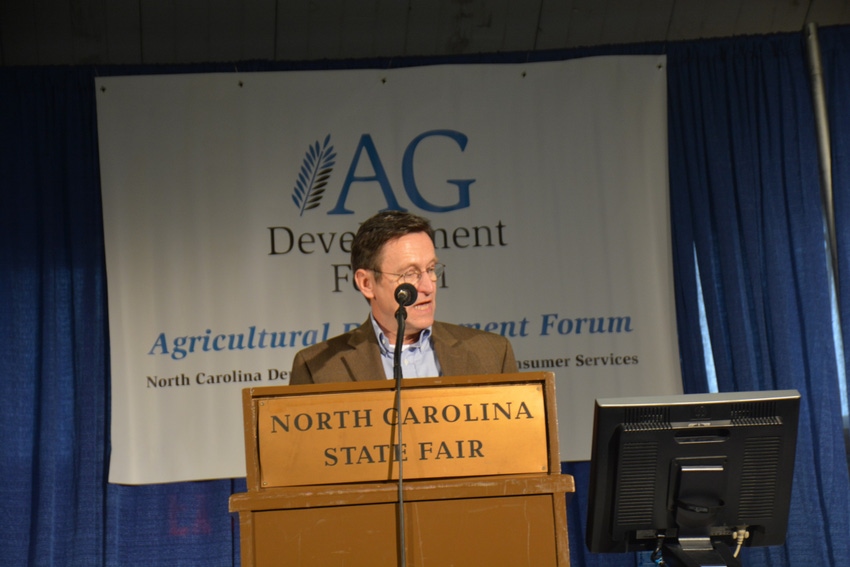 North Carolina State University Extension Economist Dr. Blake Brown addresses the Ag Development Forum at the Southern Farm Show in Raleigh.
John Hart
At this year's Ag Development Forum held during the Southern Farm Show in Raleigh Feb. 6, North Carolina Agriculture Commissioner Steve Troxler implored speakers to give the crowd some good news.
In his talk at the forum, Blake Brown, North Carolina State University Extension economist, said the Phase One trade agreement between China and the United States does indeed offer opportunity and some good news for North Carolina hog and poultry producers as well as tobacco farmers.
The U.S. Trade Representative forecasts China will import on average at least $40 billion of U.S. food, agricultural and seafood products in the first year of the agreement. Brown said that's a big number and to meet the goal, value-added ag products will have to be part of the mix. Still, he said North Carolina is well positioned to gain a share of that $40 billion.
"To get to $40 billion, China will have to buy a lot more than raw export products. They are going to have to buy value-added products and high value ag products to get even close to that $40 billion," Brown said at the forum held at the Holshouser Building on the State Fairgrounds.
Of all North Carolina commodities, tobacco was hardest hit due to the trade war with China. Brown said the good news is tobacco is part of the written Phase One trade agreement between China and the United States.
"When the trade war started in 2018, it devastated our tobacco industry. China said they were not going to buy any tobacco. This left buyers holding large inventories. I'm pretty optimistic China is going to come back for several reasons," Brown said.
China likes U.S. tobacco for its quality and the Chinese market is well-developed. Brown believes it is too late to impact contracted pounds this year, but he is optimistic the Chinese market will return for U.S. tobacco.
"The only problem we have is there are so many other factors that are causing use of U.S. tobacco to decline, including exports to other traditional customers. China is needed just to offset some of those declines Will it be a big increase even if they jumped right back in this year? Probably not because of all of those other factors we are seeing," Brown said.
In the meantime, Brown said the corona virus will slow trade with China, but he doesn't expect the impact to be huge and it won't derail trade between the two countries. He said the biggest factor on trade with China is still African swine fever which has devastated the Chinese hog industry since it was first detected in August 2018.
"African swine fever was a big factor in the Chinese coming to the table to settle Phase One because they need meat," Brown said.
USDA estimates China lost 40 percent of their swine herd due to African Swine Fever. "They raise 50 percent of the world's swine and they eat 50 percent of the world's swine, so you're talking about losing 20 percent of the global supply in one year. That's a huge disrupter," Brown said.
"That's why you don't see soybeans talked about with regard to the Phase One trade agreement. They don't need more soybeans; they need less feedstuffs. That's the reason we see soybeans ticking along and even diving below $9 because global demand is down because of African Swine fever," he added.
In 2017, China consumed 56 million metric tons of pork, half of the world's total production. USDA forecasts China will produce 36 million metric tons of pork this year, representing a 20 million metric ton shortfall between production and consumption. To put into perspective, Brown said USDA forecasts the United States will produce 13 million metric tons.
"China lost more in production than we actually produce in one year. That's how big it is," Brown said.
"China's imports of soybeans globally dropped by over 16 million metric tons in 2019. Most of that came out of our hide because of the trade war. But China didn't go to Brazil to buy more soybeans. Brazil's exports aren't up because China doesn't need their soybeans," he added.
Brown said global pork and poultry production would have to increase 11 to 12 percent to meet China's needs for more meat. But global production cannot respond that quickly. He said this benefits North Carolina hog and poultry producers, but the benefits won't all occur in just one year because North Carolina is constrained in housing for pork and poultry as well as the biological cycle of animals. However, the poultry industry is poised to take advantage of the market.
"In North Carolina, we are probably well positioned to take advantage of the huge export opportunity. Our broiler capacity expanded tremendously in the last five years. A lot of the capacity is coming online now. The Chinese, even though they like pork better than poultry, are going to have to eat a lot of chicken in order to get through the crisis," Brown said.
"I think I'm pretty conservative when I look at this and say poultry production in North Carolina could easily increase 10 percent in 2020. I think that's a fairly conservative measure. If we did that, we can expect revenues from North Carolina poultry to increase from $300 million to $500 million. That would be a big help," Brown said.
Subscribe to receive top agriculture news
Be informed daily with these free e-newsletters
You May Also Like
---