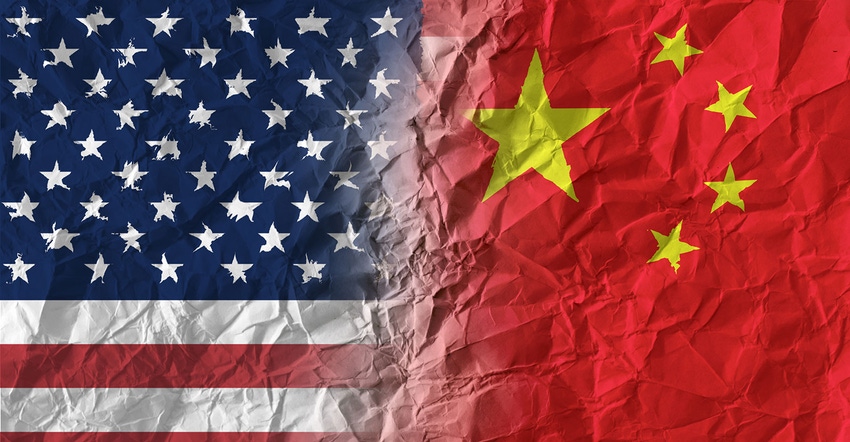 Getty Images/iStockphoto 971195458_0
Amid a tough farming economy, Phase 1 of the U.S./China trade deal was a hopeful topic two guest speakers discussed at the 2020 Red River Crops Conference in Altus, Okla.
National Cotton Council's Vice President of Economics and Policy Analysis Jody Campiche addressed the crowd on Day 1 about the trade deal's effect on cotton. Day 2, Bart Fischer, co-director & research assistant professor, Agricultural & Food Policy Center (AFPC), Department of Agricultural Economics, Texas A&M University, provided some history behind the trade issues.
"On the 15th of January, President Trump and Chinese leadership were in Washington D.C. to sign this Phase 1 trade agreement," says Fischer. "China committed to purchasing up to $80 billion in agricultural products over the next two years, with an endeavor to bump that up to $90 billion, which is double what they had been importing."
But, the question remains, is China going to deliver? "If they do follow through, it will be a big deal for agriculture," he states. "In the long term, I think that is still up in the air, but out of Phase 2 we're expecting a long-term look at what the trade relationship with China will entail."
Cotton
For the cotton industry, Campiche says, the Phase 1 agreement is good news. "We don't know a lot of the details yet, but we know China is going to make additional purchases of ag products, and cotton is on that list. We don't know exactly what those purchases will be, but over the next few years, for the 2020 and 2021 crop years, we think that'll be good news for U.S. cotton."
In the trade deal, China has a list of covered agricultural products grouped into categories, a category of cereals, for example. Cotton has its own line item, Campiche explains.
See video, Bart Fischer talks trade, WHIP program 
"That's very encouraging. China said they're going to purchase an average amount of ag products over 2020 and 2021, but that doesn't mean they have to purchase a specific amount in 2020 or 2021, so we don't know how much they'll purchase in 2020. They could push off some of the purchases to 2021 with cotton specifically."
Phase 1 goes into effect Feb. 14, but with the recent spread of the coronavirus in China resulting in significant business disruption, Campiche says the expected Phase 1 purchases may be delayed. 
Tariff
Not included in the Phase 1 trade deal is the removal of the 25% tariff on cotton and other agricultural imports into China. "We do know that China can allow some additional import quota for customers in China to import cotton without paying that tariff," she says. "It's still up in the air."
Long-Awaited
Fischer, who spent almost a decade on the House Ag Committee before becoming co-director of AFPC, says since the advent of the World Trade Organization (WTO), and China joining in 2001, there has been a conversation about the need to hold China accountable.
"That culminated in 2016," he recalls. "At the end of the Obama administration, the United States launched a couple of disputes in the WTO against China on how they handled agriculture: one, on some of their domestic subsidies; and two, on whether they were living up to the commitments they made to import U.S. products.
"Then came President Trump, who re-wrote the playbook and took the issue head-on."
But Fischer admits taking a stand creates challenges. "On the one hand, there's a lot of uncertainty. We ship a lot of soybeans and cotton, and over the last five years, increasingly, we've been shipping more sorghum. But beyond that, that's all we've been sending to China. So, the sky's the limit in terms of possibilities."
But for two decades, Fischer says Congress has said, 'China needs to live up to the commitments they've made.' "And now they're being held accountable. There are a lot of bumps in the interim, but to this president's credit, he has stepped in to help producers through two rounds of MFP or Market Facilitation Payments for the 2018 and 2019 crop years." (Since this interview, the Administration has announced the final MFP payment for the 2019 crop year.)
Though there is still uncertainty moving forward, Fischer says the Phase 1 trade deal is encouraging.
Phase 2
As for the next step in the trade agreement, Campiche says details are not yet known. "Eventually, what we would like to see is the removal of that 25% tariff because it creates a trade barrier. What we've seen with the tariff is that Brazil has taken a lot of our market share. U.S. cotton previously had about a 45% market share in China. That dropped to about 17% or 18% after this U.S.-China trade dispute. So, we're going to have to work to get that back."
See video, Campiche calls Phase 1 'good news for U.S. cotton'
Looking ahead, she says since the trade deal was signed, prices have increased "a bit." But world demand for cotton is lower than in previous years, Campiche adds. "That will definitely put a damper on prices until we can get world cotton demand back up."
About the Author(s)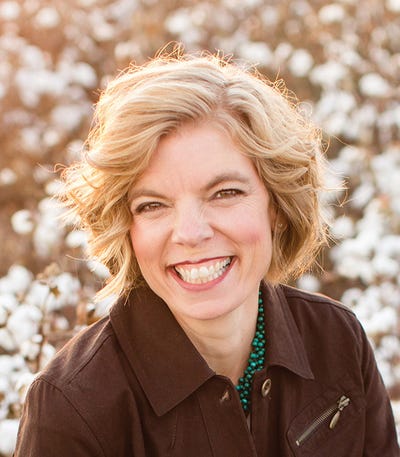 Editor, Southwest Farm Press
Shelley Huguley has been involved in agriculture for the last 25 years. She began her career in agricultural communications at the Texas Forest Service West Texas Nursery in Lubbock, where she developed and produced the Windbreak Quarterly, a newspaper about windbreak trees and their benefit to wildlife, production agriculture and livestock operations. While with the Forest Service she also served as an information officer and team leader on fires during the 1998 fire season and later produced the Firebrands newsletter that was distributed quarterly throughout Texas to Volunteer Fire Departments. Her most personal involvement in agriculture also came in 1998, when she married the love of her life and cotton farmer Preston Huguley of Olton, Texas. As a farmwife she knows first-hand the ups and downs of farming, the endless decisions that have to be made each season based on "if" it rains, "if" the drought continues, "if" the market holds. She is the bookkeeper for their family farming operation and cherishes moments on the farm such as taking harvest meals to the field or starting a sprinkler in the summer with the whole family lending a hand. Shelley has also freelanced for agricultural companies such as Olton CO-OP Gin, producing the newsletter Cotton Connections while also designing marketing materials to promote the gin. She has published articles in agricultural publications such as Southwest Farm Press while also volunteering her marketing and writing skills to non-profit organizations such a Refuge Services, an equine-assisted therapy group in Lubbock. She and her husband reside in Olton with their three children Breely, Brennon and HalleeKate.
Subscribe to receive top agriculture news
Be informed daily with these free e-newsletters
You May Also Like
---