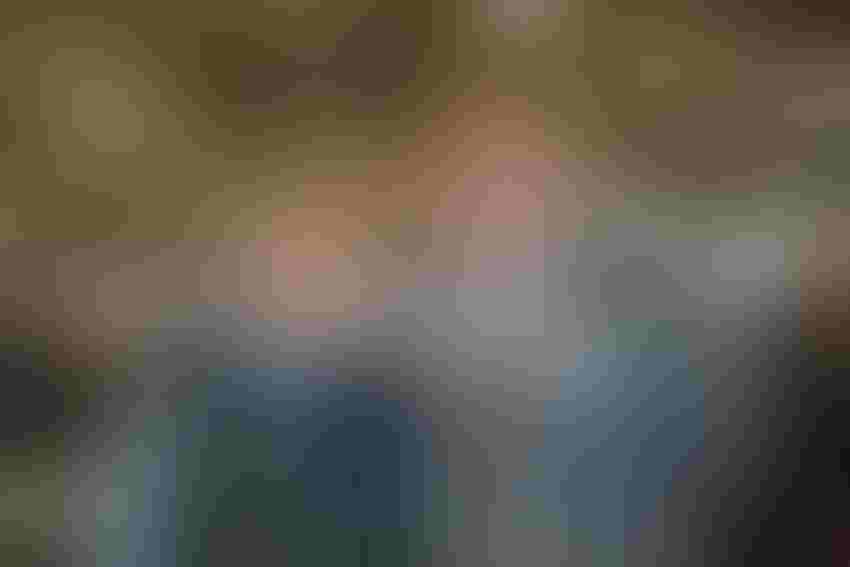 Discussing the wheat outlook during the Ag Development Forum at the Southern Farm Show at the North Carolina State Fairgrounds in Raleigh are left, Dan Weathington, executive director of the North Carolina Small Grain Growers Association, and North Carolina State University economist Dr. Nicholas Piggott.
North Carolina State University Agricultural Economist Dr. Nicholas Piggott continues to emphasize the importance of North Carolina producing more of its own feed grains to meet the demands of the state's livestock industry.
It's a message he recently delivered to the Ag Development Forum during the Southern Farm Show at the State Fairgrounds in Raleigh. The North Carolina feed grain deficit currently averages around 50 percent: That is the state must import about half of the grain needed to feed hogs, chickens and turkeys in North Carolina, while producing the rest within the state.
Estimates peg the need for feed for North Carolina hogs, chickens and turkeys at roughly 310 million bushels per year. In 2018, the state produced about 154,000,000 bushels of its own feed grain, importing the rest.
Piggott says producing more feed grain locally is better for both North Carolina livestock producers and North Carolina grain producers. Efforts to increase North Carolina feed grain production was the reason the North Carolina Feed Grain Initiative was launched in 2012 with funding support from Smithfield Foods.
"In the past 11 years, total planted acreage to row crops in North Carolina has gone down by almost 11 percent, but feed grain acreage has gone down 19 percent. That's a concern," said Piggott, Professor and Extension Specialist in the of Department of Agricultural and Resource economics at North Carolina State University.
Since 2008, North Carolina corn acreage has increased three percent. The biggest drop came in wheat acreage with a decline of 43 percent since 2008. Piggott says the big drop masks the huge runup in wheat acreage approaching nearly 1,000,000 acres in 2013. Today, current planted wheat acreage is estimated at roughly 200,000 acres in North Carolina, a fivefold decrease since 2013.
Piggott said the key to increasing feed grain production is improving basis. Basis is the component of cash prices which reflects local supply and demand conditions The addition of basis localizes futures prices to form the local cash or spot price. 
"When basis was increased, farmers responded, and we grew almost 180,000,000 bushels of feed grains in North Carolina. Now we are down to about 140,000,000 bushels," Piggott said.
Piggott believes basis should improve for North Carolina corn and soybean producers this year due to the shortfall in feed for livestock. "If we can't grow it locally, we have to get it from somewhere else," he said.
The concern for poultry and hog producers, Piggott said is that it costs an average of between $1.10 to $1.30 per bushel, depending on freight rates, to ship corn to North Carolina livestock operations.
"If this continues to rise, the cost of bringing corn into the state for feed really threatens the vitality of our livestock industry. One thing we can think about is investing in infrastructure that will address some of the inefficiencies and potentially lower the cost of doing that," he said.
Piggott said improving railways, roads and ports will benefit both North Carolina agriculture and other industries as well. He said more research and economic analysis is needed.
"In the interim, we can expect continued strong and further strengthening in corn basis which will benefit North Carolina feed grain producers. Continued high or even higher corn basis may in turn encourage corn production in North Carolina, which in turn could temper future corn deficiencies," he said.
In fact, Piggott believes North Carolina can potentially be self-sufficient in feed grain production in five to 10 years if yield gains and productivity increase. Research and the North Carolina Plant Sciences Initiative are vital for that. He said this is all vital for keeping the North Carolina agricultural industry viable.
"It's important to keep the livestock industry here in North Carolina. What does North Carolina have that Iowa does not? An ocean. We can become the world's bread basket for protein right here in North Carolina. We have an ocean. They don't," Piggott said. It is very wise to think about future investments in logistics and infrastructure to go along with our yield research."
Subscribe to receive top agriculture news
Be informed daily with these free e-newsletters
You May Also Like
---