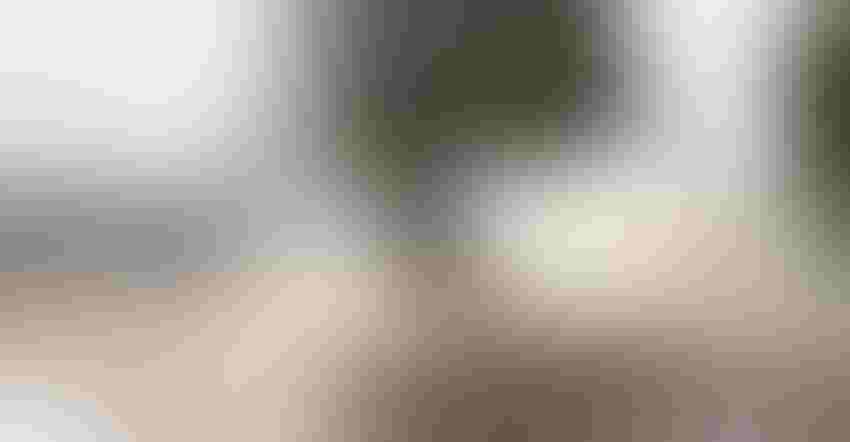 SHELL POINT BEACH, FL - OCTOBER 10: The storm surge and waves from Hurricane Michael batter the beachfront homes on October 10, 2018 in the Florida Panhandle community of Shell Point Beach, Florida.
(Photo by Mark Wallheiser/Getty Images)
As Hurricane Michael blasted into the Florida Panhandle early this afternoon, South Georgia agriculture prepared for the worst as the storm caught cotton, peanuts, pecans and other crops at their most vulnerable stages.
Devastating crop damage is anticipated. University of Georgia agricultural economist Jeff Dorfman estimates crop damage as high as $1 billion. Cotton losses could top $600 million; peanut growers could lose $150 million; pecan growers face $200 million in losses, and $30 million of soybeans are at risk.  
Dorfman says the hurricane is "threatening some of Georgia's most valuable crops right at the most crucial moment. Cotton is mostly still in the field, but the bolls are open and exposed to the rain and wind. Peanut harvest is a little farther along, but some nuts have been dug, but not harvested, meaning they are at risk of mold and severe quality loss.
"Pecan harvest has barely started and the crop could be blown off trees, plus farmers could lose trees that take a decade to replace at a cost of almost $10,000 per acre.
"Hopefully, losses will be smaller than these estimates, but overall Michael picked a very bad time to visit Georgia," Dorfman says.
Georgia Agriculture Commissioner Gary W. Black says the hurricane will hit at a precarious time for Georgia crops.
 "Michael is barreling deep through the heart of Georgia's agriculture and with only 5 percent of pecan, 15 percent of cotton, 30 percent of vegetables and 50 percent of peanut harvest completed, the risk for damage to those crops is certainly at a peak.  We must also consider the potential of damage to our poultry and dairy farmers in the path of the storm. 
"We will move rapidly with other state and federal partners to determine the extent of our losses and provide assistance throughout the recovery process. Our farm families will need help. They need our prayers immediately."
Commissioner Black says the Department will aid the state's food industry.
"Our Rapid Response Team is poised to assist over 900 licensed food sales establishments and processors in the storm zone with their efforts to safely reopen for business. Our team has worked with public and private partners to open 14 pet shelters. Fuel and Measures professionals are working to ensure the integrity of the fuel supply."
 Incredible Damage
Pam Knox, director of the University of Georgia
Weather Network, says the state will see "an incredible amount of damage, especially in southwest Georgia."
She says just before the storm made landfall, "the pressure keeps dropping, so if it doesn't become a Category 5 storm, it will be close."
Wind will be the damaging factor, Knox says, as the storm will still be at hurricane strength when it moves across southwest Georgia later tonight.
She agrees with Dorfman that cotton, peanuts, and pecans will be the most vulnerable crops. "Pecans will be blown off trees and some trees will blow over."
She says peanuts still in the ground could escape damage, "depending on how soon farmers can get in to harvest. Peanuts on the ground will be washed around." She says heavy rainfall is likely.
Power Outages
Knox says the storm will fell a lot of pine trees that will cause significant property damage and power outages. "Power outages could last a week," she says.
Knox says the fast-moving storm likely will not deteriorate as rapidly as did Florence. When storms come ashore, friction with the ground slows them down, she says, but a rapidly moving storm is not affected as much. She says the storm winds are exacerbated by the wind speed pushing the storm, on the east side of Michael.
Knox says South Georgia has never experienced a Storm as potentially devastating as Michael.
Dangerous Storm
A warning from the National Oceanic and Atmospheric Administration put the issue into perspective.
"The latest forecast shows Hurricane Michael will accelerate northeast over the Southwest and into middle Georgia tonight. Please note that torrential rainfall, strong winds and possible tornadoes will affect much of north and central Georgia this afternoon and this evening, well ahead of the arrival of the center of the storm.
"During the height of the storm, sustained winds of 30 to 55 mph will be possible with gusts up to 75 mph across portions of central Georgia, with the strongest winds roughly along and south of a line from Columbus to Macon to west of Augusta. Widespread rainfall amounts of 2 to 5 inches are expected, with the potential for locally higher amounts. An elevated risk of localized flash flooding exists due to the heavy rain potential." 
Subscribe to receive top agriculture news
Be informed daily with these free e-newsletters
You May Also Like
---