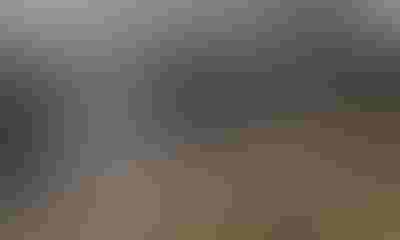 One of the most common mistakes when managing heat stress is not knowing when heat stress begins. Animals will experience heat stress sooner than people, so it's important to understand what's too hot for dairy cattle. 
In a recently posted YouTube podcast series from University of Wisconsin-Extension, experts talk about heat stress, its signs and symptoms, and various ventilation strategies. Mark Mayer, Extension agriculture agent in Green County, puts it into perspective when he said that, "Heat stress is certainly one of the largest profit robbers on dairy farms with annual losses of over $200 per cow seen on many dairies."

UNDER STRESS? Signs of heat stress include lower milk production, reproductive losses, and increased rectal temperature.
The ideal air temperature for dairy cows is between 40 and 60 degrees, so cows may already be experiencing low to mild heat stress effects without you even realizing it. The heat stress threshold begins at temperatures as low as 72 degrees when the humidity level is 50% or above.  However, it's not just our milking cows.
Dr. Vicky Lauer, professional services veterinarian for Animart, reminds us it's important to monitor dry cows too.
"They've done research and showed that cows that are cooled during their dry period will actually produce more milk, they'll have better immune function, a lower somatic cell count, and thus be a healthier cow", said Dr. Lauer.
Signs of heat stress include lower milk production, reproductive losses, and increased rectal temperature, usually above 103 degrees. Cows will also start to breathe faster and anything over about 100 breaths per minute will require immediate attention or else that animal may die. In severe cases, cows will start to sweat and begin drooling. If they start to pant with open-mouthed breathing and their tongue is sticking out, these are also signs of severe heat stress and these animals need to be cooled down immediately. In addition to managing the signs of heat stress, ventilation becomes very important especially on hot days.
One of the most important places on the farm to manage heat stress is in the holding pen. According to Dr. David Kammel, biological systems engineering professor for UW-Madison and UW-Extension, "Normally in a freestall barn cows have between 100 and 120 square feet of space per cow. In a holding area. we've only got 15 square feet per cow, so we've got a lot of animals all tightly packed together in a tight space." Fans and ventilation systems should be turned on to help reduce heat stress. Dr. Kammel reminds us that velocity fans just mix the air and they don't actually ventilate the barn. Because of this he suggests that we, "Think about ventilation first and add velocity fans next."
Tune in each week this summer as we cover a different topic about heat stress and the dairy herd. To watch the YouTube podcasts, you can subscribe to the Agriculture Brown County UW-Extension channel.
- Binversie is the Brown County Extension agriculture educator.
Subscribe to receive top agriculture news
Be informed daily with these free e-newsletters
You May Also Like
---