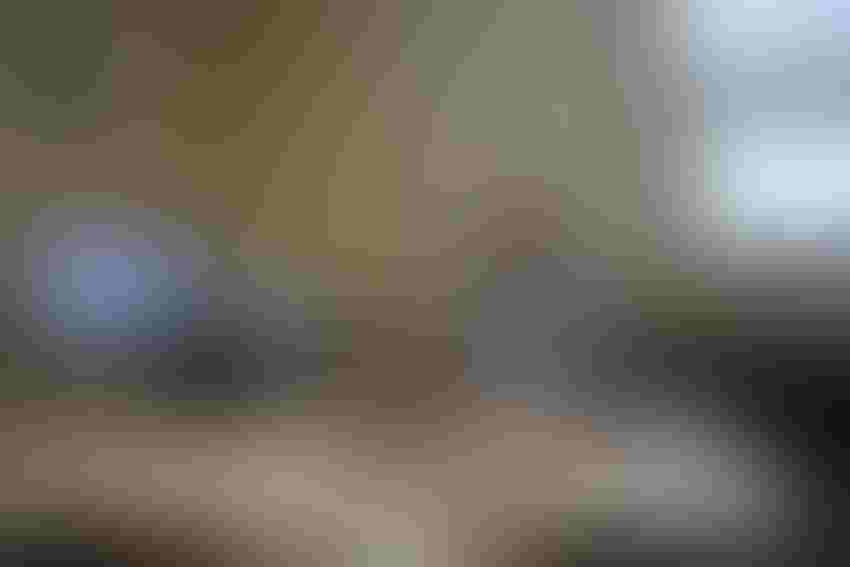 North Carolina State University Extension Economist Dr. Blake Brown says there will be no silver bullets for farmers in 2020.
John Hart
As farmers prepare for the 2020 crop, tariffs and trade with China will be top of mind no matter the crops they grow.
In an interview Oct. 30 with Southeast Farm Press, Blake Brown, North Carolina  State University Extension economist, said that in 2019, trade skirmishes impacted virtually all the state's top commodities, from corn to cotton to hogs. Of all the commodities, tobacco is the hardest hit.
For 2020, Brown sees more uncertainty and urges farmers to manage and plan accordingly. "It all depends on the China situation. If the trade situation gets resolved, then the livestock sector would be one of the biggest beneficiaries. It would certainly help corn and soybeans if the trade situation is rectified," said Brown, who recently returned to NC State after an assignment as a Senior Economist for the Council of Economic Advisers in the Executive Office of the President, where he focused on agricultural policy.
Brown said North Carolina hog farmers could benefit from increased sales to China if the tariffs are removed because of the African swine fever epidemic that has devastated the Chinese hog industry.
"China lost 40 percent of their swine herd. Since they have half the world's swine, that's 20 percent of global supply. This is huge. This may be one of the largest disruptions in agriculture that I've seen in my career,' Brown said.
China's African swine fever epidemic has impacted the market in two key ways: It has lowered China's demand for feedstuffs such as corn and soybeans, but it has also increased the demand for meat.
"China is buying more pork, but it also increased demand for other kinds of meat, predominantly poultry. China has been buying a lot more poultry meat from Brazil and pork from Europe and Brazil. Despite the 72.5 percent tariff on our pork, they've been buying more U.S. pork as well. But they would have bought a lot more if we didn't have that 72.5 percent tariff," he said.
Tobacco Fall
While all commodities are experiencing pains due to tariffs, tobacco is hardest hit. Brown sees another troubling year in 2020 unless the China trade situation is resolved.
"Tobacco was the historical fallback crop when times were tough in North Carolina. We just don't have it to fall back on now. Tobacco has been more adversely affected than anything else we produce in the state by the trade situation," Brown said.
China had purchased 60 million to 80 million pounds of U.S. flue cured tobacco. In 2019, China bought no tobacco at all from the United States due to the trade war. In the past, China represented 13 percent of the U.S. flue cured tobacco crop.
The impact of China not buying any U.S. tobacco in 2019, due to the 25 percent tariff has been dramatic. Brown noted that the Chinese Tobacco Company, a state monopoly, has interpreted the tariffs as saying, "we aren't going to buy any U.S. tobacco."
In 2019, the U.S. tobacco industry responded to the Chinese tariffs with a drop-in flue cured production to 320 million pounds. This compares to 461 million pounds of U.S. flue cured tobacco production in 2017 when China was last a big U.S. customer. Hurricane Dorian further reduced the crop.
U.S. flue cured tobacco inventories remain high due to China's unexpected cuts in purchases in 2018 and the fact that there were no U.S. flue cured sales to China in 2019. If China does return to the U.S. as a  buyer in 2020, Brown said it will still take time to move the inventories down which will have an expected negative impact on prices for new crop.
"The best scenario is for the trade deal with China to be worked out. China will buy inventories and buy new supply next year. It may not be until 2021 until we see much impact of China returning to the U.S. market," Brown said.
Not as Dire
Unfortunately, Brown sees another tough year for ag income in 2020. In 2019, net farm income was down for the second year in a row. Farm income has been down each year since 2014. The high point for net farm income was in 2013.
The good news is that the farm debt situation is not as dire as the farm debt crisis in 1983. The challenge now for North Carolina is that in 1983 a strong tobacco market and the tobacco program helped North Carolina farmers better navigate the farm recession that year. That's not the case now.
"This time, we are probably in worse shape, because our tobacco sales are impacted so dramatically. This is probably a more difficult time in our tobacco growing area than in 1983," Brown said.
Still, not all tobacco farmers are suffering. For example, tobacco farmers who contract with Altria, which relies solely on the domestic market, are faring better than tobacco farmers who historically have sold to China. "If you have a contract with a leaf dealer reliant on China or a direct contract with China Tobacco then you were impacted severely." Brown said.
One bright spot is sweet potatoes. Prices were generally good this year and North Carolina farmers harvested a generally good crop. "Demand has continued to grow, and exports have continued to increase. This is all very positive, but we can still over-produce," Brown said.
Peanuts are also faring a bit better than other crops. Brown says generally good yields, mostly favorable weather and fewer planted acres in Georgia helped those growing Virginia-type peanuts.
Corn farmers across the Southeast, particularly those who have center pivot irrigation, are faring better despite the trade war. "Farmers in North Carolina have a strong basis for corn of 80 cents or more per bushel than in the Midwest due to our livestock industry. North Carolina farmers have a good market for their corn," Brown said.
Brown stressed that irrigation remains critical for farmers to produce the yields necessary to make money. "If we get hot, dry weather at the wrong time during corn pollination, it can just throttle your yields. Center pivots are important to counter dry weather when your corn needs water," he said.
Unfortunately, Brown said there are no silver bullets for farmers in 2020.
"I know farmers are taking austerity measures by cutting capital purchases and those kinds of things. They will have to be careful and not make too many risky moves," Brown said.
Subscribe to receive top agriculture news
Be informed daily with these free e-newsletters
You May Also Like
---