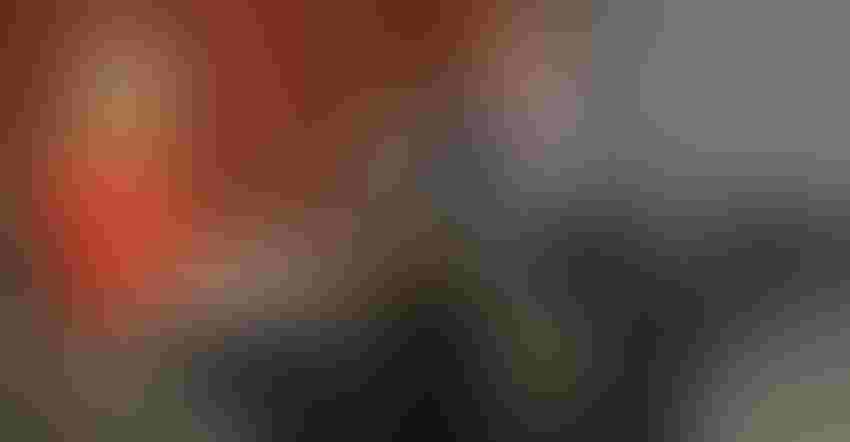 TRADE HURDLES: USDA deputy secretary Steve Censky sits down with Yeutter Institute director Jill O'Donnell to discuss one of the key factors affecting the future of U.S. agriculture – trade.
"Leadership and the future of agriculture" was the topic of Steve Censky's Heuermann Lecture at the University of Nebraska-Lincoln's Innovation Campus earlier this week. In conjunction with UNL's 150th Anniversary, the USDA deputy secretary talked specifically about the role of research and technology in feeding a rising world population. After the lecture, Censky sat down to discuss another factor affecting the future of U.S. agriculture – trade, and the ongoing discussions for trade deals with countries like China, Japan, Mexico and Canada.
While President Trump signed an executive order withdrawing the U.S. from the Trans Pacific Partnership in 2017, there have been discussions surrounding a potential bilateral trade agreement with Japan – which Censky noted was the "crown jewel" of the TPP for U.S. agriculture. Toward the end of 2018, U.S. Trade Representative Robert Lighthizer submitted negotiating objectives to Congress, one of the first steps involved in establishing a trade agreement with Japan.
"Japan is part of the TPP 11. So, tariffs for some of our competitors, whether they be Australia, or Canada, are starting to come down. Japan also has some trade agreements with others, like the European Union, and their tariffs are starting to come down," Censky said. "What we're going to see, unless we move quickly, is that U.S. agriculture products are going to lose the competitive advantage that they have just because of unequal tariff treatment."
Regarding trade, the biggest country on everyone's radars right now is China. Following the recent trade spat involving tariffs on U.S. products and concerns over China's treatment of intellectual property and practices like forced technology transfer, Censky noted U.S. Trade Representative Robert Lighthizer, Treasury Secretary Steven Mnuchin, and USDA Under Secretary for Trade Ted McKinney are in the process of discussing a trade deal with China.
Two primary goals are getting purchase commitments from China to help make up for lost sales over the last year, and to establish structural reforms to China's trade policies that have hindered U.S. exports in the past.
"While achieving a trade agreement and solving these agriculture issues is a necessary part of the agreement, it's not sufficient," Censky said. "The president has made it very clear that China also needs to reform its intellectual property practices, it needs to stop forced transfer of technology from U.S. companies that want to do business in China, or if they want to have a partner in China, that it be majority-owned by the Chinese."
After President Trump and China agreed to withhold any additional tariffs for 90 days back in December with a March 1 deadline for reaching a new trade agreement, Trump has indicated an extended deadline may be necessary. Censky said there's still a lot of work to do to reach an agreement, but it's not yet certain whether there will be an extension.
Earlier this year, China approved the import of five corn and soybean biotech traits, and Censky noted while that's a positive step forward, it highlights the challenges the U.S. has faced with China's biotechnology approval process.
"Some of these products that were just approved were pending in China for 5, 6, 7, 8 years. That's not a predicable or science-based approval process," he said. "While it's good that we had these approved, what we're looking for is to have a science-based and predictable process. You shouldn't have to have a presidential summit or threats of a trade war in order to have a proper-functioning approval process."
Replacing or revamping the North American Free Trade Agreement (NAFTA) has been a goal of President Trump since before he took office. While U.S. agriculture received some good news last year that Trump, Canada Prime Minister Justin Trudeau and Mexican President Enrique Peña Nieto had signed the U.S.-Mexico-Canada Agreement (USMCA), the agreement now awaits congressional approval – and while producers were anxious over withdrawing from NAFTA, Censky noted the USMCA brings some new benefits for agriculture.
"It is a good agreement. It preserves duty-free access we've had for U.S. agriculture into Mexico, it cracks open new market access opportunities into Canada," he said.
This includes eliminating discriminatory treatment of U.S. wheat exported to Canada, which was automatically classed as "feed grade" wheat and priced accordingly, and eliminating Canada's "Class 7" milk ingredient pricing system.
Despite these benefits, Censky noted, "we have our work cut out for us," in getting congressional approval of USMCA.
"I think we in agriculture have a big task ahead of us to make sure we're educating our senators and our congressmen and women on the benefits and to make sure we're selling it," he said.
This underscores what Censky said is an ongoing challenge for agriculture: raising awareness of the importance of trade.
"The rest of the world is marching on. The rest of the world is striking new trade agreements. They're bringing down barriers," he said. "I think we have a choice of whether we're going to just sit on the sidelines and see other countries get tariff advantages and preference in markets or whether we're going to join in as well. But I think we have to change the conversation on trade in this country."
Subscribe to receive top agriculture news
Be informed daily with these free e-newsletters
You May Also Like
---