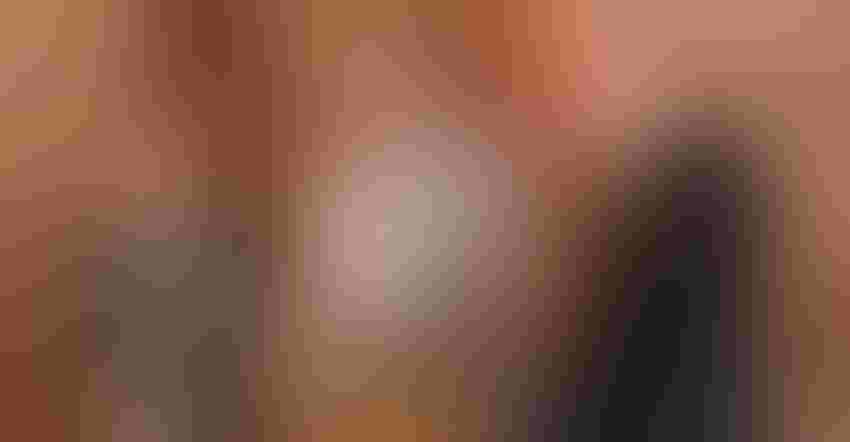 Mississippi Land Bank Chairman Abbott Myers, congratulates outgoing directors, James Gordon Robinson, left, and Travis Satterfield, center, at the annual stockholders meeting.
Before he would cut into the tender steak on the menu at the recent Mississippi Land Bank annual stockholders' meeting, Board Chairman Abbott Myers said he had to take a bite of something a bit less appealing.
"It's time to eat some crow," Myers said. "Last year when the China issue came along, I said it was no big deal. I said we would work through it quickly.
"I was wrong. I was badly wrong. Soybeans fell off by $1.50 and have stayed there."
The reason the stalemate has persisted so long, he says, "China President Xi didn't realize that President Trump is as stubborn as he is, and Trump didn't realize that President Xi is as stubborn as he is."
Myers, who grows rice and grain near Dundee, Miss., holds to his initial assertion that the tariffs were necessary. "It needed to be done," he says. "China was taking advantage of us. But I hope the Trump administration can work it out soon."
He says some reports offer promise that the issue will be resolved soon. "I hope so, but I don't see an end in sight."
Brazil meeting China's needs
Brazil, he adds, has been meeting China's soybean needs.
Another hit to the soybean market, Myers says, comes from the swine flu, which devastated China's swine herd. "They lost about 60 percent of their hog numbers."
He struck a more positive note on land values. "They are holding stable," he says, "or in some cases going up." The stable market holds for pasture land, recreational land and crop acreage.
"We're not seeing a lot of volume," Myers adds. "Not a lot of land is for sale."
He says land prices should be moving down, for sale as well as for rental rates. "Land value should come down because of low commodity prices, but it has not."
More good news, he says, is continued low interest rates. "The Fed did not raise rates in March. That's good news for agriculture."
He says expectations indicate rates will not go up anytime soon.
Shrinking worker pool
High employment rates across the country mean a shrinking worker pool for agriculture. Myers says more needs to be done to improve opportunity. "We need to build more things in the United States."
He also asked: "Is the wolf at the door? Is the wolf at agriculture's door? It could be. Rising expenses and lower commodity prices put a squeeze on farmers. They must watch their Ps and Qs, their pennies and quarters. The best managers will show up in tough times."
He encouraged producers to look hard at costs, including technology expenses. "We have a lot of good technology, but will it make you money?"
Myers responded to a question regarding the impact of recent flooding on commodity prices. "Nebraska had a lot of grain destroyed," he responded. "We also lost grain in the Mid-South. But we have so much grain on hand. We have an abundance of soybeans, and that affects the price more than the disaster."
He added that prices may be more likely to inch up at planting time.
Corn acreage, he said, may be affected by persistent spring rain. "We know what planting intentions are," he said, "but planted acres are more important."
Land Bank financials are strong, Myers said. "They are not quite as good as they were last year, but they are good. The Farm Credit System in Mississippi is in good shape as is Farm Credit across the nation."
Myers concluded his remarks by noting that good farmers continue to watch costs and produce good yields and survive.
"The wolf has been at the door before."
Subscribe to receive top agriculture news
Be informed daily with these free e-newsletters
You May Also Like
---