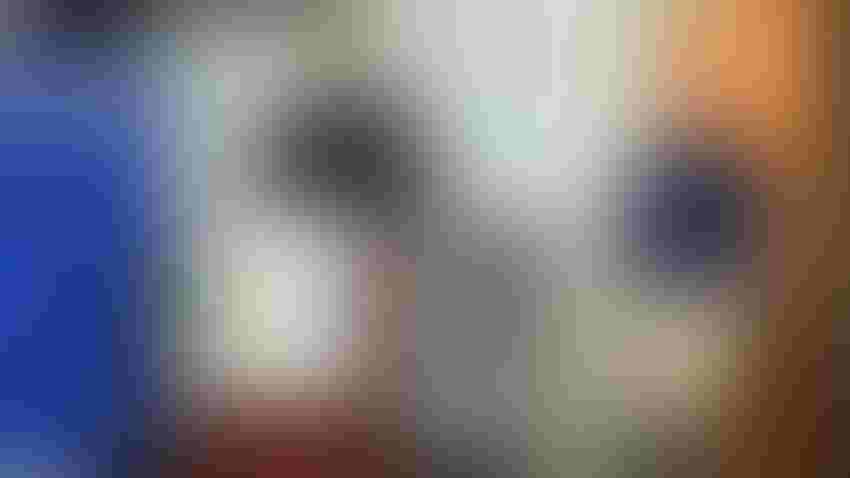 STEADY: Luke Worrell, Worrell Land Services in Jacksonville, Ill., along with University of Illinois ag economist Gary Schnitkey, present results of the midyear land values survey at the 2023 Farm Progress Show.
Holly Spangler
After two years of 40% and 50% gains in farmland values, the Illinois land market has stabilized in 2023.
That's according to the Midyear Snapshot Land Values Survey conducted by the Illinois Society of Professional Farm Managers and Rural Appraisers, in conjunction with Gary Schnitkey, University of Illinois ag economist.
"The market appears to be catching its breath," says Luke Worrell of Worrell Land Services, Jacksonville, Ill., and chair of the ISPFMRA report.
In the first half of 2023, Class A and Class B farmland values have held steady, with little to no change in the "cream of the crop" land. Subsequently, there's only been a 1% to 2% decline in marginal Class C and Class D land.
"From a values perspective, not much has changed since the calendar rolled into 2023," Worrell adds.
Of those responding to the survey, 44% expect prices to remain the same for the rest of the year, while 36% expect prices to drop 1% to 3%.
Land is not in a decline or a drawback yet, but Worrell says they'll keep an eye out for that in the second half of the year. A full 53% of respondents expect land values to drop over the next two years, while 38% expect them to remain static.
The ISPFMRA survey asks professional farmland managers to report on trends and land sales in their regions, and results of the midyear survey are announced each year during the Farm Progress Show. Here are more details:
Interest rates. About 63% of survey respondents expect interest rates to continue climbing, from 0.25 to more than 1 points. One-third expect stable interest rates.
Sellers. Not surprisingly, Worrell says, two-thirds of all farmland sales are coming from settled estates.
Cash rents. Most farm managers expect 2024 cash rents to remain the same or decline from 2023 levels. They expect excellent farmland to decline by $7 per acre, good and average farmland to decline by $5, and fair quality land to decline by $3.
Average cash rent? Worrell says the average cash rent on average farmland in Illinois is $300 per acre.
Leases. According to the survey, 27% of all leases are share rent leases, 9% are modified share rent leases, 25% are cash rent leases, 32% are variable cash rent leases, and 6% are custom farming.
Energy leases. A total of 34% of farm managers have a lease arrangement with a wind company; 31% have an agreement with a solar company. Worrell calls that a "slow burn" and expects it to gradually increase.
Subscribe to receive top agriculture news
Be informed daily with these free e-newsletters
You May Also Like
---