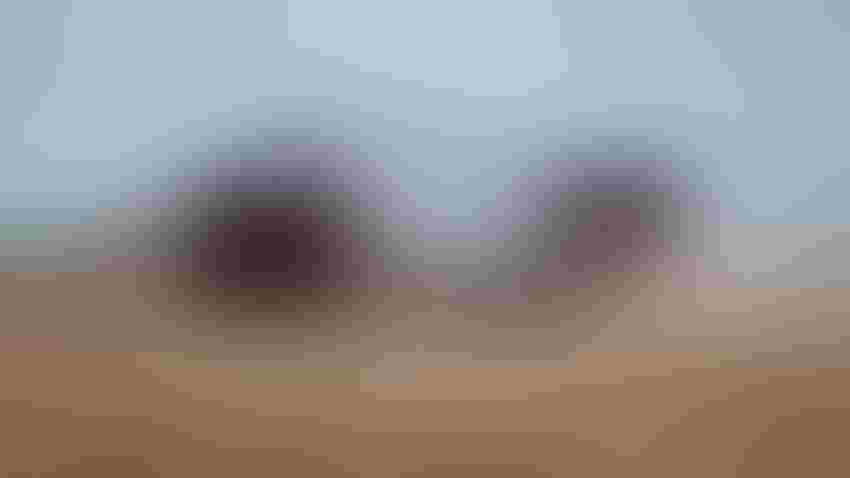 By the time cotton gets near harvest, producers have invested a lot of money, making crop insurance a necessity for managing risk.
Logan Hawkes
Most critics of crop insurance subsidies don't understand that, even with government assistance, coverage can be a significant expense, because farmers pay part of the premiums, and without the insurance the nation's food security can be at risk. 
"A farmer puts everything into a crop, without any expectation of any return for at least six months," says Bambi Sidwell, Sidwell Insurance Agency, Piedmont, Okla. "Cash flow is a constant issue." A lot of Oklahoma wheat producers are growing "at a loss," she says, and need risk protection to prevent a dual calamity.
The highly erratic weather in Oklahoma and Texas makes crop insurance a necessity, she says. "We are much more vulnerable than farmers in Illinois." She points out that farmers who have a better than average crop and lose it don't get the value of the lost yield, since coverage is based on actual production history.
ESSENTIAL TOOL
A recent report from National Crop Insurance Services notes that "crop insurance has been hailed by lawmakers and farmers alike as an essential risk management tool during recent House and Senate Agriculture Committee hearings. Despite the praise, some critics hope to weaken farmers' protection against natural disaster and wild swings in the market."
Farm policy opponents, the report says, want to cap the discounts farmers receive on insurance premiums, eliminate a key revenue insurance product pegged to commodity prices, and exclude some growers from the system altogether, based on their income.
Sidwell takes issue with the proposed cap on revenue insurance. She says farmers who forward contract part of their anticipated production face severe financial loss if in-season disaster prevents them from delivering on the contract. "Farmers need field protection — but they also need market protection. Without revenue protection, a lot of farmers might opt not to buy insurance." That, she says, would deplete the pool of funding.
See also: http://bit.ly/2wBvlOE
 BIG FARMS TARGETED
National Crop Insurance sources say critics of insurance subsidies want to target America's biggest farms. Recent work at University of Illinois and Kansas State University, the report says, shows that the effects would be far wider, hitting many family farms as well.
Dr. Gary Schnitkey, University of Illinois, looked at the heart of the Corn Belt, McLean County, Ill., an area with prime growing conditions and deep, fertile soils. He found that farmers with insurance coverage on 85 percent of their crops — the highest amount offered — would hit the proposed $40,000 premium discount limit after 2,944 acres, which is a large farm, but by no means a giant operation in today's agriculture.
In Illinois counties with less fertile land, Saline County, for instance, the cap would be hit at the same coverage level on just 884 acres, which ranks as a mid-size farm, similar to most family farming operations.
KANSAS RESULTS
Art Barnaby and Mykel Taylor, Kansas State University, found similar situations in other Midwest states. For example, nearly 15 percent of Kansas farms would hit the cap. "Very few farmers in Oklahoma and Texas don't have crop insurance," Bambi Sidwell says. "Also, without crop insurance, many can't cash flow, making financing extremely difficult."
Farmers are on the hook for a season's worth of crop expenses, she says, and without insurance risk, they face the possibility of no return after six months of tending a crop. She insists that crop insurance subsidies are good for U.S. taxpayers by helping to ensure a stable and safe food supply.
Crop insurance, with a reasonable subsidy, makes more sense, Sidwell says, than ad hoc disaster payments that pay on county averages instead of proven crop yield history. Farmers who plant to make a high yield receive no more benefit than those who put in minimal inputs, she says.
"With disaster payments, farmers have no skin in the game, thus no incentive to manage for high yields." Many of her customers strive to push up their APH (actual production history) to improve insurability and reduce costs.
 PEACE OF MIND
William Cole, Batesville, Miss., crop insurance agent, has testified before the
Senate Committee on Agriculture, Nutrition, and Forestry about the importance of crop insurance.
"A farmer can know at the beginning of the year what kind of insurance he has in force," Cole says, "and in the event of a loss, he knows relief is on the way, usually within 30 days of a claim being finalized. Crop insurance offers peace of mind to farmers, helps themsecure credit and invest in their farms, and helps them better market their crops. It also stabilizes the economies of rural communities, especially in times of natural disasters."
Cole agrees with Sidwell that ad hoc disaster payments are not as effective as crop insurance coverage. "Many members of this committee undoubtedly recall that ad hoc assistance was far more costly and far less effective than crop insurance," he said in his Senate testimony. "It would patch holes at a 65/60 maximum rate, but it did nothing to help farmers leverage risk and make critical investments to improve their operations. Estimates are that, even under this model, the 2012 drought could have cost taxpayers more than $17 billion had the program mirrored the 1988 drought package. That is $3 billion more than the total cost of crop insurance in that worst of all years."
 A SHARED RISK
The savings continue, Cole says. "Earlier this year, the Congressional Research Service (CRS) issued a report that the Congressional Budget Office (CBO) overstated the 5-year costs (FY 2014/18) of Federal Crop Insurance by almost $10.9 billion. In fact, the revised CBO cost estimate of Federal Crop Insurance for this year is $3.471 billion, a level of spending that approximates the costs of crop insurance 13 years ago, despite the doubling of participation that has largely occurred over the same period of time."
"If crop insurance is not a shared risk," Sidwell says, "we will need another safety net to keep our food supply secure and safe." 
Kansas State economists Barnaby and Taylor explained that eliminating harvest price tools for revenue coverage leaves farmers at great risk. "These tools enable a grower to insure a crop at its harvest price, rather than its price at planting, in order to take advantage of forward contracting opportunities." Eliminating that coverage would "reduce crop insurance protection for nearly 95 percent of Iowa's crop farmers … and about 80 percent to 90 percent of the crop acres in many other states, including Kansas."
Income caps also threaten adequate coverage. The National Crop Insurance Service report indicates that the anti-agriculture proposal to exclude farmers with incomes over $250,000 from crop insurance benefits would also have an impact on ag country — and not just large farms.
"Such a policy would likely impact farms that had high levels of off-farm income from a spouse and/or other business activities," say Barnaby and Taylor. Because most farmer incomes are tied to crop prices, some growers could be ineligible in some years and eligible in others, creating a compliance nightmare for the USDA and farmers alike."
Subscribe to receive top agriculture news
Be informed daily with these free e-newsletters
You May Also Like
---