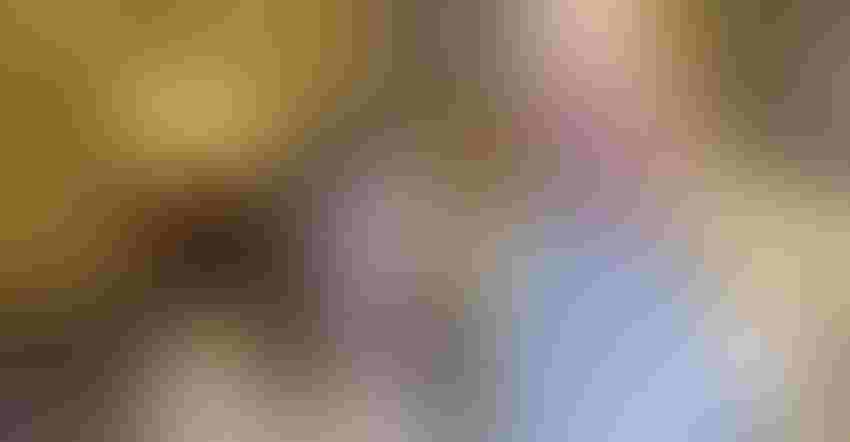 R.L. Frazier, Madison Parish, La., Extension agent, chats with Kylie Miller, Extension agent in Concordia Parish, following Frazier's presentation at the Ag Technology and Management Conference in Marksville, La.
One of the most important tools available to a farmer doesn't come from an equipment dealer but from field history, routine testing, and numerous on-farm trials.
Data available from multiple sources allow producers to manage equipment and natural resources efficiently.
"The more information we have, the more efficient we can farm," says R.L. Frazier, LSU AgCenter, Madison Parish Extension agent.
Frazier, speaking at the recent Louisiana Agricultural Technology and Management Conference in Marksville, La., said ongoing research and on-farm demonstrations show farmers the value of collecting and using data.
"We need to look for economical advantages," Frazier says. "The highest yield does not always equate to the most profitable yield. We have to get over looking for the highest yield."
Frazier showed results from several research projects to prove the point. Seeding rate studies in corn looked at plant populations above and below the recommended 34,000 plants per acre. "We pushed that seeding rate up by a certain percentage and we also decreased the rate by that same amount.
"We did not increase yield with the higher rate," he says. One caveat, he mentions, is that the trial did not increase fertilizer rate with the higher populations. "That could have made a difference.
"The most efficient rate was the standard recommendation," he adds.
Soil test
Soil test and analysis, Frazier says, are critical to make variable rate fertilization feasible. "The more information we collect, the more we know about how much fertilizer and what analysis we need," Frazier says.
"We need to consider soil types and pH, for instance. Then we can fine-tune spatial results so that it's repeatable."
He says producers should consider the four Rs of compatibility: Right location, Right amount, Right time and Right product.
"Timing is always a critical factor," he adds.
"I've been following several podcasts and a frequent message is soil health. We have to get the basics right in the soil. If that's not right, variable rate applications are just a waste of time."
In some cases, recommendations are calling for annual soil tests, especially on highly variable soils. In some cases, they recommend decreasing grid size. "That's a lot of samples and farmers have to balance it all against profitability."
Frazier says farmers have a lot of data available through GPS, yield monitors and sensors. The next step is using that information to improve efficiency and profitability.
He also asks for farmer-cooperators to expand research into data collection and management. "We could use some volunteers for corn and rice," he says.
Subscribe to receive top agriculture news
Be informed daily with these free e-newsletters
You May Also Like
---