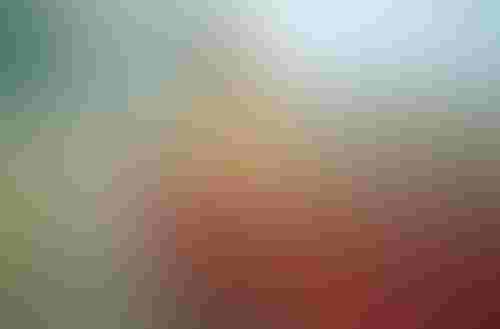 We have the USDA projected 2011 corn production numbers as of Aug. 1, so we have a baseline.
Now we need to figure new information such as growing weather since early August and factor in what couldn't yet be accounted for when the survey was taken.
 Since the USDA survey was taken, we have had adequate moisture in some areas, not in others, the hot weather continued in some areas and not in others.
The true damage to pollination was not clear in many areas in the August report, but appears to be significant.
Have these cool nights in Michigan and some other areas put the late planted corn in jeopardy? And all these factors will affect the soybean and spring wheat crops as well.
Yes, I have just asked more questions, than answers. But new information is coming out to help give you a pretty good idea if the USDA production number should be adjusted.
There are the weekly crop reports. The first August report showed some deterioration in the corn crop, but some of that was accounted for in the next report. The second week was flat.
How about the Aug. 15, Aug. 22, and Aug. 29 weekly crop progress reports?
On Aug. 11 the USDA released the aforementioned Aug. 1 Crop Production Report, and it surprised the market.
The average trade guess was 155.6 bushels per acre and the USDA estimate was 153 bushels per acre. This is 5-9 bushels per acre less than trend, depending on whether you use a pre-1980-2010 period or a 1991-2010 time period.
This meant about 170 million bushels less production than the trade was expecting. Michigan's projected 2011 corn yield was 142 bushels per acre, a bit above trend, but way below last year's 150 bushels per acre, and remember this report doesn't assume an early frost or the recent cool nights.
The report used an objective yield survey in 10 states (soybeans is 11 states, Michigan is not in either the corn or soybean objective yield data), and farmer surveys in all corn growing states.
Critical information
Within the objective yield states the farmer surveys were farther below the USDA objective surveys than normal, and this was critical information.
It was the farmer surveys that pulled the yield down so low. The farmer projected yield per acre was used to help estimate the weight of the ears.
In the Sept. 1 survey to be released Sept. 12, the objective survey is done in the same 10 states, but a larger number of samples are taken and more information is available from the samples.
On Aug. 11 the USDA also released their updated Supply/Demand Report.
The USDA raised the estimated 2010-11 ending stocks number for the second straight month since the June stocks report.
Corn used for ethanol was lowered 30 million bushels and exports were lowered 50 million bushels as the weekly export rate slowed.
This put the ending stocks to use ratio at 7.1 percent, very tight, but not super tight as it had been.
However, even with the larger 2011-12 beginning stocks, the projected drop in production means very tight 2011-12 ending stocks, even after lowering projected use.
Projected supply was lowered about 600 million bushels. Projected use was lowered 240 million bushels, partially because that uses up most of the corn we are projected to have.
The 2011-12 corn ending stocks to use is projected to be an extremely tight 5.4 percent, and world stocks are projected to be very tight as well. The market will not really allow ending stocks to use to go below 5 percent. Price will go up until we have about that much left over.
This puts us in an explosive situation, up or down.
If the September report shows a lower projected corn yield, prices up, and vice versa.
As of this writing, December 2011 corn futures were at $7.34, new highs for the new crop contract. If you have not priced much or any new crop corn, consider pricing some at these levels.
If you have already priced a good deal, consider waiting for the report, or closer to the report. The market will stay volatile, so in either case have pricing points identified. Think of a risk management approach for much of your pricing.
Subscribe to receive top agriculture news
Be informed daily with these free e-newsletters
You May Also Like
---