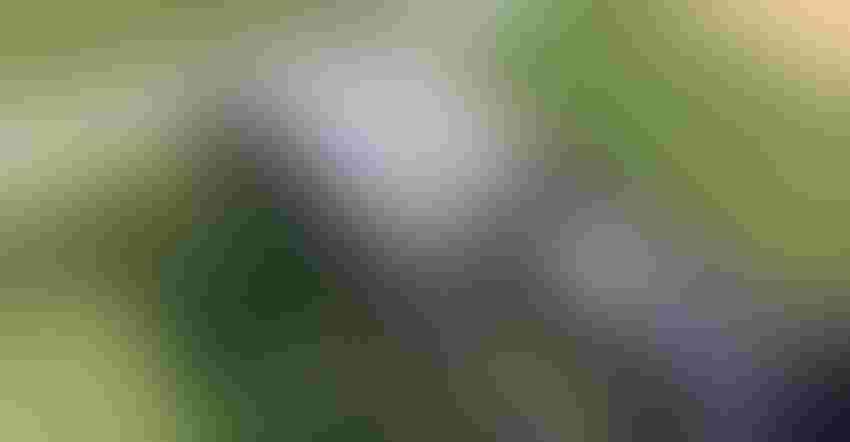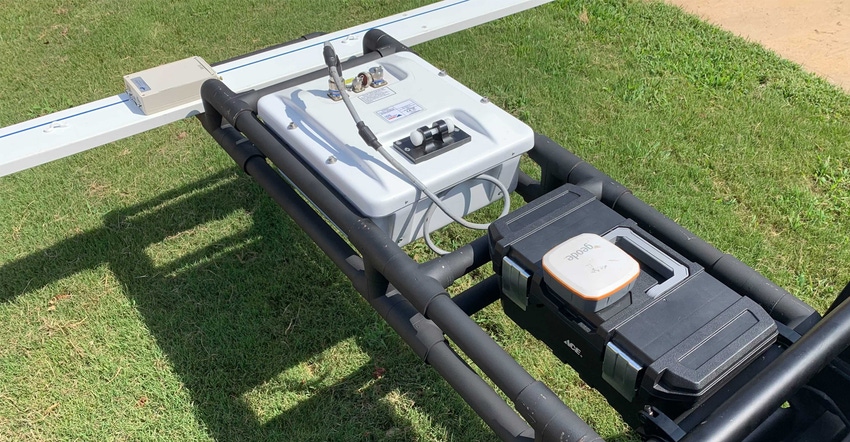 PRECISION MEASURING: EarthOptics combines sensors like this GroundOwl unit with other measurements to record the amount of carbon stored by a specific crop in a single year. That's credit a company can buy to link carbon stored information to a finished consumer product.
Courtesy of Earthoptics
Consider yourself an executive of a food company under increasing pressure to demonstrate you're lowering your carbon footprint. The shareholders want it. Consumers want that commitment. How do you get it done?
The folks at EarthOptics may have a method for companies to obtain that carbon-saving benefit in a new way. The startup has created the Soil Carbon Project, a product-labeling initiative to benefit the consumer packaged goods industry.
Related: Soil system's aim: Measure everything
"We've been doing carbon mapping and carbon verification to help farmers enter the carbon economy," says Lars Dyrud, CEO, EarthOptics. "We started the Soil Carbon Project because we were making these incredibly detailed maps of soil carbon and soil bulk density. But a carbon credit doesn't really care about a map."
That led Dyrud and his staff to think about other ways to use the company's very detailed maps. He notes that farmers are going to get more involved in "carbon farming," often by looking at field maps, and seeing they have more carbon in one field area and less in another.
"They can learn what worked here and what worked there," he adds. "That's great, but we wanted to think of what else could be done with that super-accurate carbon map."
How it might work
Dyrud explains that for about $8 per acre, the company can measure carbon so accurately that on a 5-acre grid, it can estimate total carbon stored within a half-ton accuracy. "That's sufficiently accurate that year over year, we can make maps of soil carbon and bulk density," he says. This would be a way to measure the change in carbon contributed by a single-season crop.
From that food ingredient, producers and then food companies can take that number, the amount of carbon stored, and divide it among their food products. "Then you might see an icon, for example, on a box of cornflakes that says the company making this box of product took 1 pound of carbon out of the atmosphere. That number would actually be a real number tied to our actual measurements in the year the product was grown," he explains.
EarthOptics is a startup, and this is a new business approach the company is pioneering into the market. Dyrud wants food companies to join in, paying for that stored carbon, but also helping to educate the consumer about the carbon capture and how it works on the farm.
"But ultimately, what I really would like to see is that consumers, through spending a little bit more for food, are actually injecting a significant financial incentive all the way through the supply chain, down to the grower," he says. "We want to incentivize the grower to figure out how to get more carbon in his or her soil."
A different approach
Rather than some "long-term" commitment, the program would measure the different in current-year carbon, versus the year before as stored. That "difference" can be sold to food companies that buy into the program. Collecting detailed annual carbon data in a consistent fashion creates a single measurement standard for those consumer goods companies, and Dyrud is counting on those buyers liking the simplicity of the idea.
Measurement accuracy begins with baseline soil core samples used as training data for the EarthOptics ML software. Then the GroundOwl sensor suite, mounted to a UTV or tractor, uses electromagnetic imaging and ground-penetrating radar derived from technology sourced from DARPA (Defense Advanced Products Research Agency) and the Massachusetts Institute of Technology (MIT) to scan the soil. Any time the farmer drives over a field, the sensors collect data.
"We envision companies working with their contract growers to implement our GroundOwl and C-Mapper technologies. Then that information can be displayed on product packaging to appeal to consumers demanding climate-smart products," Dyrud says.
You can learn more at earthoptics.com.
Subscribe to receive top agriculture news
Be informed daily with these free e-newsletters
You May Also Like
---