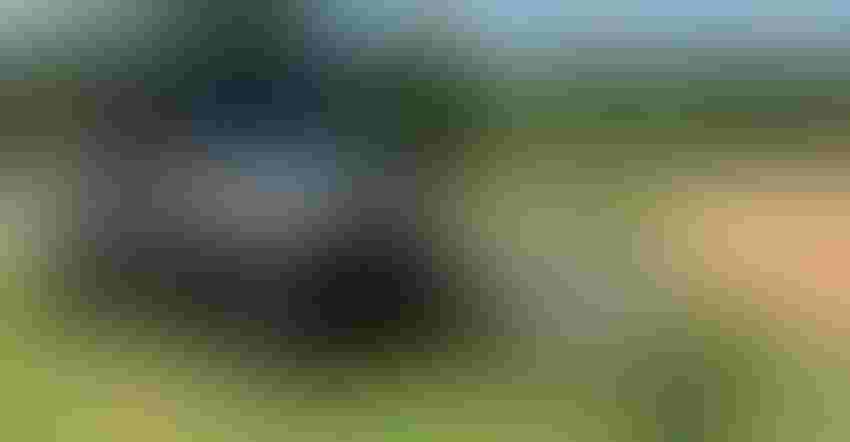 GATHERING DATA: EarthOptics is using a range of sensors mated with artificial intelligence to capture soil information for fertility and crop management. This side-by-side is outfitted with sensors the company uses.
Courtesy of EarthOptics
"We've got a very simple goal," says Lars Dyrud, CEO of EarthOptics. "What if we can just map out all the soil parameters that are of interest to any stakeholder around the soil?"
EarthOptics, a Virginia-based startup, is pulling together sensors, field samples and machine learning to paint a detailed picture of what's happening in the soil. "We're focused on working with growers and their experts, to give them new information faster and more efficiently so they can make better decisions," Dyrud says. "And now, there are new carbon programs and others that have a separate unique interest in soil information, as well."
The key is to make a trip across the field gathering soil information that's as complete as possible. Dyrud notes that if you're going to capture samples, ask what other soil parameters can be measured. "Once you make a trip to the field, you might as well measure as many things as you can while you're there," he says. "That's one of the things that drives our approach. Go measure everything."
Sensors at work
EarthOptics began looking at the soil with technology developed by the Defense Advanced Research Products Agency. This technology was used to gather baseline information that feeds the machine learning software. The company has put together a suite of sensors that is deployed to scan the soil profile and continue feeding the ML software. This is combined with the traditional soil sample measurements to validate the data.
Dyrud explains that sensors can be mounted on utility vehicles or tractors driving across a field. The aim would be to reduce the need to collect soil samples while providing a complete view of the soil characteristics.
The ultimate goal would be to reduce the need for physical soil sampling and bring soil analysis into the 21st century. "Right now, for most of our key [soil] properties like carbon or nutrients, we're doing about one-third the soil samples you would normally need to produce an equivalent fidelity product," Dyrud says.
The company can also measure soil compaction, including how it changes over time.
As it collects more data, that information gets rolled into the machine learning system. Dyrud says they're training the system, which requires taking some samples, but eventually non-contact sensors will be able to measure soil changes, with occasional soil samples to reaffirm the data in the machine learning software. In essence, every time a tractor or other vehicle goes through the field (with sensors on board), soil measurements could be taken.
Sensing through residue
A bare soil map is a great tool for measuring soil quality and organic matter, and EarthOptics does capture that information from satellite data. But the company is using electromagnetic induction sensors that can capture soil variability and ground-penetrating radar to capture soil compaction data. The EMI and GPR sensors are part of the GroundOwl tool and can be attached to a UTV, tractor or other vehicle.
But what about those high-yield, high-residue fields? How do those work?
"These electromagnetic induction sensors work like a metal detector using radio waves," Dyrud says. "They see right through residues. They're measuring at different depths. And the second sensor we use is ground-penetrating radar, which does just what it sounds like."
Essentially EarthOptics is measuring radio reflections that can report changes in soil density for compaction information. The electromagnetic conductivity captures soil conductivity properties. "Between these two, we can get a pretty good picture of soil variability," he says.
The data gathered by soil samples and GroundOwl is fed into the EarthOptics mapping software products. TillMapper provides 3D maps of soil compaction, while C-Mapper can provide a view of the carbon density and percentage of carbon in the soil, which could be used to verify improvements as part of a carbon sequestration program.
At one time, adding radar to accurately measure tractor speed was thought to be innovative. Someday you could be driving a tractor with a sensor suite that captures key soil information for your farm. EarthOptics is on the road to making that a reality. Learn more at earthoptics.com.
Subscribe to receive top agriculture news
Be informed daily with these free e-newsletters
You May Also Like
---