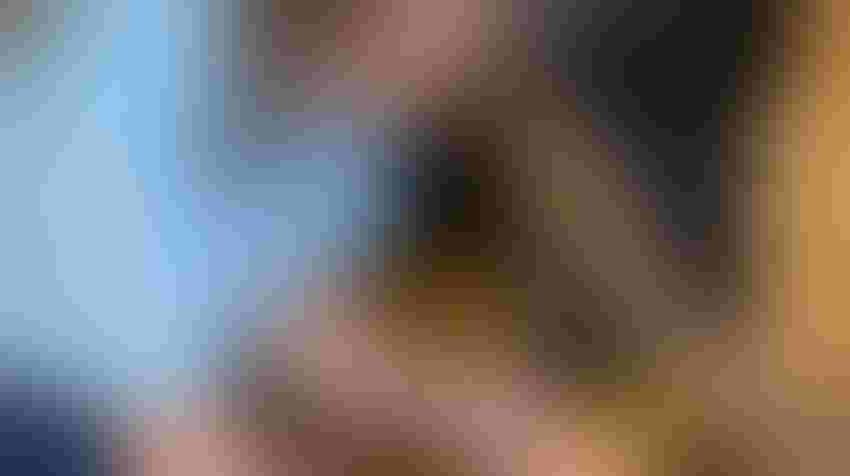 Ashley Edwards, Extension livestock specialist at LSU AgCenter, demonstrates a fixed nose flap, which can be used in two-stage weaning.
Pam Caraway
How long do your calves bawl when you wean? You don't have to listen to it that long.
The weaning method a rancher chooses impacts how long that calf bawls – and how much stress the calf and the momma cow undergo. At a recent LSU AgCenter field day, Livestock Specialist Ashley Edwards offered information on three weaning styles and how they impact calf performance.
The most stressing form of weaning is abrupt, which just happens to be the practice ranchers in Louisiana favor, Edwards said. Abrupt weaning, she said, inflicts the most stress, which causes calves to be more prone to sickness.
"You don't see it," Edwards said, "but your buyers do."
Fence-line or two-stage weaning are better options, Edwards said.
"Fence-line weaning is the method we recommend," said Marcelo Vedovatto, LSU AgCenter beef cattle nutritionist. "Once you start fence-line weaning you probably will not go back to abrupt."
With fence-line weaning, calves can still see their mommas – and the cows can see them. With fence-line weaning, Edwards said, data shows improved performance immediately after with a 1- to 2-pound increase in average daily gain during weaning and for a month or longer afterward.
"They are less likely to get sick when they are less stressed," Edwards said.
Fencing needs
For ranchers concerned about fencing needs and cost, Edwards said, "you need decent fences, but you don't need anything fancy."
She does encourage a hot wire to keep the cows from leaning against the fence, which gives calves the opportunity to push their heads through to suckle. She also recommends putting hay near the fence because the calves will go to it quicker.
With two-stage weaning, ranchers allow the calves to stay with the cow and use nose flaps to prevent suckling.
"The flap blocks them when they turn their heads up so they can't get hold of the teat," Edwards said. "They can still eat grass when they look down."
Staying with their mothers reduces calf stress, but the nose flaps cause some stress, Edwards said. Overall, she noted, calf performance is better than when abrupt weaning is practiced.
Any of several commercially available nose flaps can be used, Edwards said. She does not, however, recommend using metal nose flaps. They are heavier and can irritate the animal's nose, she said.
Plastic nose flaps are available with either fixed or flexible connectors. The fixed nose flaps stay put, but can be difficult to attach to bigger calves, Edwards said. The flexible nose flaps secure to the nose but can get knocked off. For that reason, Edwards prefers the bright yellow flaps or the green – yellow is easier to find in the pasture.
During drought years, such as ranchers experienced in 2023, ranchers might consider early weaning, Edwards said. "Early weaning helps protect the condition of the cows," she said. "It supports good reproductive health."
In each practice, the LSU AgCenter specialists recommend farmers consider using a bovine appeasing substance, a calming agent. Because it's a fatty acid, Edwards said, it qualifies as a natural additive.
"We have some results that show the calves are calmer," Vedovatto said. "They are less stressed, and they have fewer respiratory diseases."
Subscribe to receive top agriculture news
Be informed daily with these free e-newsletters
You May Also Like
---