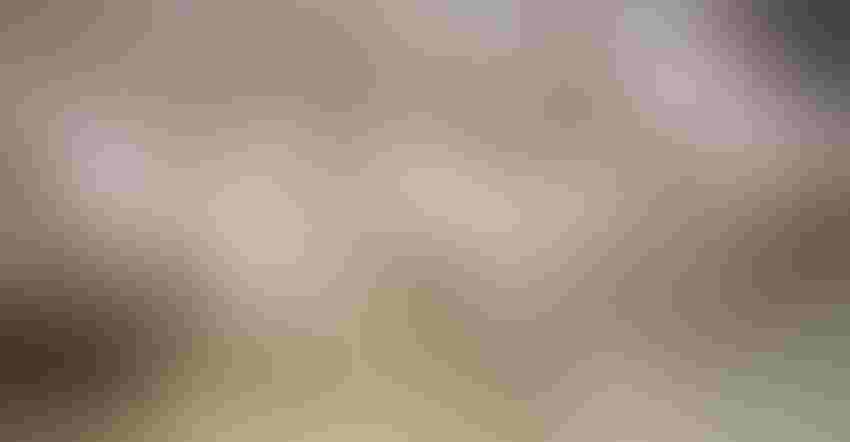 MANAGING MATURITY: Concerns about pig castration has led to gene editing work to produce pigs that don't reach puberty. The work has shined a spotlight on the challenges of the new approach, but also offers insights on swine reproduction.
Kelli Jo/iStock/Getty Images Plus
It's been just over two years since a group of gene-edited piglets was born in the U.S. As explained in National Hog Farmer in 2020, this signified a large step forward in the attempt to commercially produce pigs that never reach adolescence, with males that therefore do not need physical castration to prevent boar taint in their meat.
Piglet castration (without pain medication) is a practice being closely examined around the world because of cruelty concerns. For example, in France, carrying out castration without anesthesia will be banned starting Jan. 1.
Looking at Europe as a whole, two scientists note in a February 2021 paper in the journal Animals that there are two other main castration alternatives beyond using anesthesia or painkillers: immunocastration and raising only females (but sperm sexing is not yet viable). The scientists note, however, that "after more than three decades of research and debates, stakeholders in the European Union have yet to agree upon a harmonized approach to end the pain that piglets experience due to castration."
And, after gathering perspectives from stakeholders in four EU countries in their study, these scientists concluded that achieving consensus on one universal approach is a pipe dream. They recommend allowing all three methods to be used across the diverse pork-production systems that exist in Europe, even if it may cause headaches with intercountry trade.
There has also been exploration of how breeding could reduce the production of boar taint hormones, especially in breeds that already have lower levels of boar taint.
Direct genetic intervention may also be viable.
For example, in 2019, Dr. Björn Peterson of the Friedrich Loeffler Institute in Greifswald, Germany, and his colleagues, published results on how preventing expression  of genes on the Y chromosome can produce males that develop with female attributes and perhaps no boar taint.
And then there are the gene-edited piglets.
They were born in 2019 through an alliance between Recombinetics-Acceligen and Hendrix Genetics. Closely related research has been conducted at the USDA Agricultural Research Service (Clay Lents) and at University of Nebraska-Lincoln (Brett White).
Gene editing project details
These pigs were born with a gene edit that stops expression of a gene that triggers the release of hormones necessary for sexual maturation. The gene, called KISS1, is normally expressed in the hypothalamus of the pig's brain during puberty, triggering the production of hormones from the pituitary gland which propel puberty forward.
As Tad Sonstegard, project lead, CEO and scientific officer at Recombinetics, explains, the KISS1 gene has been studied in pigs for years for several reasons. "These include learning how puberty might be accelerated, to increase fertility and to determine its effects on sow longevity," he says.
The gene edit to remove KISS1 was completed at the embryo single-cell stage, with embryos harvested from slaughtered sows. The embryos were then placed into recipient gilts.
Not all the piglets were born with the edit. Among those male piglets that did have the edit (and therefore did not reach puberty and produce the hormones that result in boar taint), tissue sample analysis has confirmed an absence of taint.
"These pigs have also shown no difference in performance compared to conventional pigs, and their carcass attributes seem similar," Sonstegard says. "However, hundreds of pigs would be needed to provide a definitive comparative analysis of carcass attributes."
Steps to commercialization
To enable commercial production of male pigs without boar taint, the gene edit must be passed on.
This means that at least some male and female pigs with the gene edit, which ensures they never reach sexual maturation in the normal fashion, must reach maturity in some other way. Said another way, full development of the reproductive organs, along with puberty, must be induced so that eggs and sperm are eventually produced. It's known as "fertility rescue," and it has been done successfully with humans with a natural mutation which is similar to the gene edit.
The fertility rescue strategy being tested in this project involves supplying C6, an analog of KISS1 that must be imported from France. It's been given to the gene-edited pigs by injection, but on the large scale of commercial-nucleus farm settings, there would need to be a method developed that's both more efficient and more economical.
The C6 must be delivered in the right amount at the right time. "In our first trial, we didn't get a response in males, likely due to incorrect timing, and now we are doing a trial with females," Sonstegard says.
Nebraska's White and USDA's Lents have been involved in these trials and have both worked on the KISS1 gene for many years. As the project has progressed, they've been building their understanding of the role of KISS1 in both male (White) and female (Lents) pigs. Lents says understanding has come a long way for females.
Regarding fertility rescue, Lents says "getting the females to ovulate and sperm production in males is a very difficult task to achieve in these gene-edited pigs. The C6 is one part of it, and the other part is to apply hormones to ensure the reproductive organs develop appropriately."
However, taking this research further may be impossible, as funding has run out. No one on the team is sure if more funding will be secured, or if industry will want to invest in taking the research forward.
Research brings other benefits
At the same time, White and Lents stress that their research in the project has helped propel understanding of pig reproductive health forward. "Reproductive failure is a serious issue in the pork industry," Lents says. "Sows don't ovulate and this involves gonadotropin hormone not being secreted from the pituitary gland, and how the ovary responds to these hormones. Now, we are gaining a better understanding of how this happens for proper development of ovarian follicles and ovulation."
White agrees. "We're learning a lot more," he says, "about how the reproductive tract develops during the timeline from in utero to sexual maturation."
For both Hendrix Genetics and Acceligen, representatives say it has been exciting to be part of this work, exploring new technology that could help increase the welfare of pigs and pig producers. They believe application of this technology requires careful evaluation, and the improvement of animal welfare is the most promising domain.
Hein writes from Ottawa, Canada.
Subscribe to receive top agriculture news
Be informed daily with these free e-newsletters
You May Also Like
---