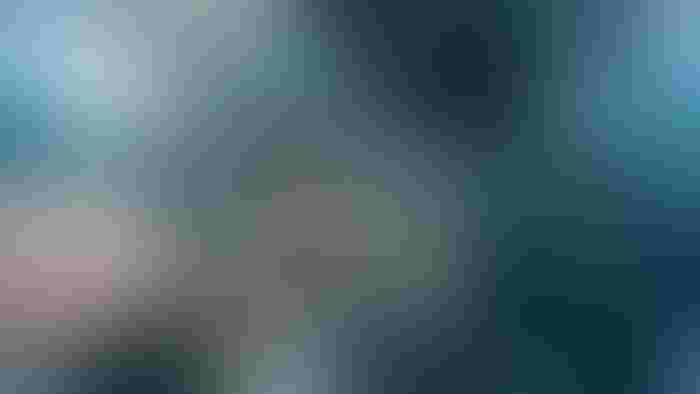 Tablet and smart phone apps can quickly and remotely help Centennial Livestock monitor water in stock tanks on their grazing lease near Lebec, Calif. The Ranchbot system of sensors can alert livestock operators to issues that need to be immediately addressed.Todd Fitchette
Managing water for livestock across tens of thousands of acres is a time consuming and costly necessity for ranchers. The advent of satellite connectivity and smart phones now makes it as simple as logging onto an app.
Seth Scribner grazes cattle across two California counties. At his Wind Wolves Preserve lease in southern Kern County it can take an employee an hour in a vehicle to check the uppermost water tank in a remote location above the San Joaquin Valley floor. If problems arise, such as a leak in the system, the cost of time increases dramatically.
Scribner is an operations manager with Centennial Livestock. He began using Ranchbot sensors about three years ago to keep him posted on water availability for his livestock. These sensors do more than give him a real-time thumbnail of water supplies in the various stock tanks on his operation.
"They've been a real game changer for us," he said.
The system of solar-powered sensors, rain gauges, and pump controls communicate by satellite telemetry, a significant benefit for this remote location where cellular service is spotty to non-existent. At any time, he or fellow employees can view a computer, smart phone or tablet app and see the level of water in stock troughs, the large water tanks that fill them, and view the change in water levels of each. This can be valuable in determining if there is a leak in the web of water lines traversing his mountainside grazing lease.
What is Ranchbot?
Ranchbot is a remote, digital management platform that offers real-time alerts and reports. These alerts can come by email and text messages. Water level monitors do just that: provide real-time information on stock tank and water trough levels. Pump controls can automate pumping activities based on predetermined levels. Pumping can also be activated by a single click on a smart phone or tablet app.
Rain gauges with the system let livestock producers know how much precipitation fell, giving them a picture of how grazing conditions may soon change. For Scribner, this is important as his grazing lease receives anywhere from 12-15 inches of rain annually.
Scribner says the system is easy to install. He praised Ranchbot for the simple-to-understand instructions, and most notably, including all the high-quality parts and brackets necessary to install them.
"We've got to commend Ranchbot in the sense that they provide everything we should need to mount it to the variety of different types of tanks we have," he said. This forethought keeps customers from unnecessary trips into town for added materials.
Ben Hay, ranch manager at Centennial Livestock's San Emigdio ranch, likes the instant reports he can receive on his smart phone to a problem needing immediate attention.
Centennial Livestock had previously used another system, Scribner said. The lack of reliable cell service in the region made them look elsewhere for sensors.
"One of my coworkers knew a guy who was selling this," Scribner said. "We'd been using some other sensors in the past that were not as effective. Our cellular service out here was a limiting factor with this technology."
The switch to satellite communications "was a game changer for us," he added.
Livestock operators in Arizona, California, and elsewhere in the country report that the Ranchbot system saves them valuable employee time checking stock tanks. Scribner says it has saved the equivalent of one and a half employees in his operation.
The added benefits of knowing when a leak occurs and where is significant too. Hay said these alerts can pinpoint exact locations of troubles in the intricate water system. The steep hillside location would take employees hours of drive time to find and troubleshoot water leaks before the remote sensing system was installed.
"It's a lot easier to figure out where problems are instead of chasing your tail for a couple days trying to figure out where the problem is when you find a leak," Hay said.
Subscribe to receive top agriculture news
Be informed daily with these free e-newsletters
You May Also Like
---