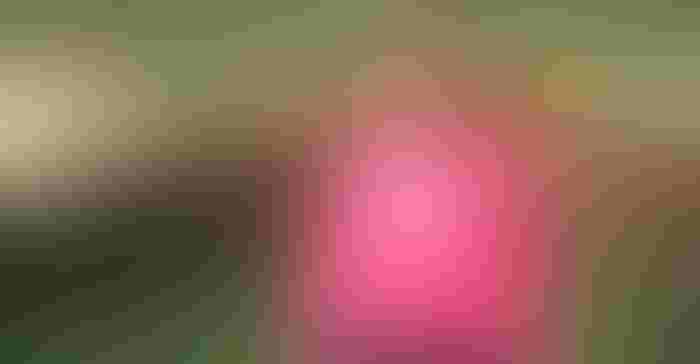 When Savannah Moore was 8 years old, she showed her first steer at the Boone County Fair. His name was Charlie Brown, and he sorted to the top of the classes, earning the title Grand Champion. She sold him at the fair auction, and the steer went to a local meat locker.
"The person that ended up eating the beef from him told me how much they loved the taste," she recalls. "I think that feedback, so young, really stuck with me. It was a great experience."
Today, the 27-year-old owner of Savannah's Farm Fresh tries to duplicate that experience with every customer of her farm-raised beef and lamb. Moore grew up in the beef cattle business as her family raises Charolais cattle. That agriculture background led to her entrepreneurial spirit.
"I like the customer interaction side of the business," she says. "A lot of time on the farm, you don't get to interact with the people who actually consume what your grow or raise. I like the idea of meeting and talking to my customers. And I like owning my own business."
Road to direct-farm marketing
Early in Moore's education, there was a crossroads. "I knew I could have a job where I go to work and do the same thing every day, or I can do something different," she says. "I chose different."
Moore received an animal science degree from the University of Missouri College of Agriculture, Food and Natural Resources. Understanding the production aspect of the beef industry was second nature, but she wanted to learn more about the meat science and marketing side of the industry, so she took classes and then worked at the Hermann Wurst Haus.
"Even if you grew up raising cattle, selling beef is different," she explains. "I needed to expand my knowledge and skills to market directly."
And Moore admits, at that age, she did not do much in the way of cooking or grilling. "Just learning the cuts of beef and how to help consumers choose and prepare them is important for my type of business," she says.
Working at the Wurst Haus provided Moore with a mentor. The owner, Mike Sloan, offered a sounding board for her ideas. "He walked me through the different ways I could sell my beef," she notes.
Direct from the farm can mean larger quantities such as halves, quarters or whole beef. Then there are the smaller retail cuts, along with further processed items such as snack sticks and jerky.
After many conversations, in 2015, Moore launched Savannah's Farm Fresh with a business model that is primarily retail cuts direct from the farm, along with point-of-sale beef sticks and jerky.
She also sells ground beef directly to a local restaurant in downtown Centralia, which offers a Savannah's Farm Fresh burger. Still like any business owner, the model adapts with customer demand.
Farm business plan
When COVID-19 hit last year, customers were interested in filling their freezers.
"I've sold more quarters and halves in the past year than since I started my business," Moore says. She says it is a market that will likely continue to grow. For many customers, it was their first time buying a half of beef for their families, and there was a learning curve. Some did not realize that wait time for processing. However, once she explained it, they were understanding.
"I think COVID made people realize they really wanted to know where their food was coming from, because when they went to the grocery store and it wasn't there, it made them realize they needed a more direct connection with their food," Moore says.
She found customers also appreciated the local aspect of Savannah's Farm Fresh business, especially when they learned the origin of the cattle.
Local meat supply
Moore purchases calves at weaning and finishes them on a little grass, but mostly grain. Her primary suppliers are Russ and Sally Thomas, her mother. "It is a really fun element of my business because I like working with my mom and family," Moore says. "We're supporting each other's business."
The cattle are Charolais and Charolais cross and reside on a rented farm outside of town. Moore uses a state-inspected local meat locker in Center, Mo., for processing, where the beef is dry-aged. It is a process that can take weeks, but she says the tenderness of the cuts is worth it. "This type of beef is not common in grocery stores," she adds. "It offers a great beef-eating experience for my customers."
The lamb aspect of her business is in its infancy. Moore and her husband, Justin, raise the sheep on their farm. "This is a market we've expanded into and are still trying to develop a following," she says. "It is a slower process than beef because consumers are not as familiar with preparing lamb." Again, it is an opportunity to interact with customers.
"It is education, which is a perk for me," Moore says. "I am able to talk with consumers about the product and offer advice on preparation. Then I can hear their successes and share with others. It is all about interacting with consumers. That is what makes my business fun."
Find more about Savannah's Farm Fresh on Facebook or the farm's website.
Fulfillment beyond a business
There is more to life than developing a successful business. For Justin and Savannah Moore, it is about sharing their lives and caring for others. They are foster parents by choice.
As a young girl, Savannah walked by a kiosk in the Columbia Mall that showcased Missouri children for adoption. "There was always a little story about them," she says. "Ever since, I've been fascinated with the idea of foster care. I think it was an early seed planted."
Her husband is a firefighter. Justin sees emergency situations and has a desire to help. "It's just who he is," she adds.
So even before the two married, they talked of being foster parents. Now, they opened their home to two young children, ages 5 and 2. "Honestly, growing up on a farm, I loved my life and time there," Savannah explains. "I thought it would be a great way for these kids to get outside of the circumstances and just be a kid and enjoy life."
For her, it is more of an answer to a calling. "God's calling on your life can sound more like a whisper," Savannah explains. "I've been interested in foster care for a long time. It was a faint whisper early on. You just have to listen."
Subscribe to receive top agriculture news
Be informed daily with these free e-newsletters
You May Also Like
---