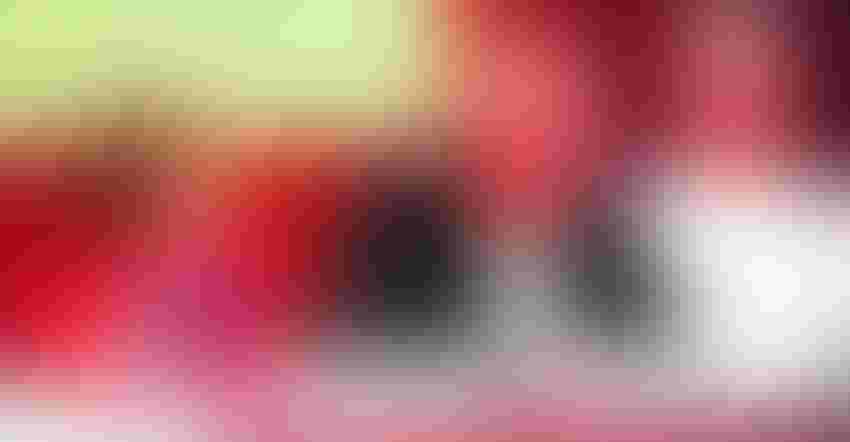 Chelsea Good, left, addresses Dealer Trust issues during a board meeting of the Livestock Marketing Association. Good is the VP of government and industry affairs for the association. Seated next to her are Jim Akers, a member of the association's government and industry affairs committee, and LMA Board Member Randy Heselschwerdt
Todd Fitchette
Livestock sales yard owners and industry representatives heard from their national association in central California recently on efforts to address laws related to hauling livestock and getting paid when a producer's check bounces after buying cattle at auction.
The Livestock Marketing Association (LMA) held its annual convention and World Livestock Auctioneer Championship (WLAC) in Visalia and Tulare in early June. This year's host livestock facility for the WLAC was the Tulare Sales Yard and owners David and Tina Macedo. David is the 2006 world livestock auctioneer champion.
Russele Sleep of Bedford, Iowa was named the 2019 World Livestock Auctioneer Champion during the convention. The 56th annual auctioneer competition included a live auction and interview questions scored by five judges on presentation, auction chant, execution of the sale and how likely the judge would be to hire the auctioneer.
ISSUES
High on the list of concerns for the auction yard owners relates to default payments on livestock purchased at auction. Jara Settles, LMA general counsel, said the association would like tweaks to the hours of service commercial livestock haulers must comply with under laws enforced by the Federal Motor Carrier Safety Administration.
Livestock haulers currently have exemptions that aid them at the beginning of a trip by exempting them from federal hours of service rules for the first 150 air miles of picking up livestock. Livestock haulers are also currently exempt from using mandated electronic logging devices in their trucks.
The association would like to see the hours of service exemption extended to the last 150 air miles as well to give haulers a greater chance of making more non-stop runs. Settles says the move will help the haulers and aid in animal welfare.
Dealer Statutory Trust was another hot topic of discussion as livestock dealers were asked to comment on a U.S. Department of Agriculture payment protection study by June 24.
Dealer Trust, as it is called, would give unpaid sellers of livestock priority to reclaim them in a default situation, according to Chelsea Good, LMA's vice president of government and industry affairs. Sellers currently do not have the legal ability to repossess cattle when a buyer's check bounces.
Good said the Dealer Trust plan is modeled after existing Packer Statutory Trust, which was put in place in the 1970s after packer defaults left sellers unpaid. The current plan, according to Good, places the unpaid livestock seller at the front of the line to get their livestock back, or in the case the animals were resold, to be first to be paid from those proceeds.
Producers selling through a livestock auction market are paid for their consignments through the market's mandated federal custodial account, regardless of if the market receives payment from the buyer. In a default situation, instead of making a small commission for selling the cattle, the market ends up unpaid, much like the rancher.
 "We think this would be a good tool that would add an additional layer of protection and improve the recovery of these default situations," she said.
National Cattlemen's Beef Association, the American Farm Bureau Federation, U.S. Cattlemen's Association, American Sheep Industry and numerous state producer groups have joined LMA in supporting Dealer Trust.
Subscribe to receive top agriculture news
Be informed daily with these free e-newsletters
You May Also Like
---