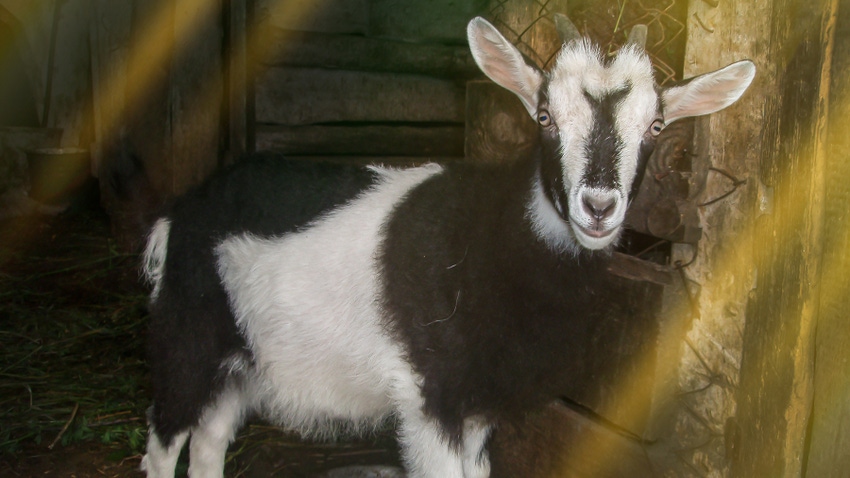 CEDAR EATERS: Although goats will eat cedar trees and can kill smaller trees up to 24 inches, as well as mortally stunt larger trees, it still takes considerable management to maintain the health and well-being of the goat herd.
lesichkadesign/Getty Images
Mike Wallace did the math, and the results were amazing. After exposing 41 Spanish-Boer goat females to a male in November 2020, his Double M Farm near Nelson, Neb., had a kid crop of 81 head — all kidding in sheds and lots by April 2021. The families of goats were sent to pasture with his herd of cows and sheep when the kids were a month old.
When the season was over and he marketed 57 head of goats that October, his net income per head was $148.33. The profitability of this enterprise rivals his cow-calf operation in many ways.
But there is one big difference: Cows don't eat cedar trees.
Wallace's farm is a pasture-based, multispecies livestock operation featuring a 12-month grazing system, with minimum usage of mechanically processed and delivered feedstuffs. One big part of the foliage and forages eaten by Wallace's goats is juniper or cedar.
Cedar eaters
"Goats will consume cedar or juniper throughout the year," says Randy Saner, a Nebraska Extension educator based in North Platte, "but intake varies by season." Much of this depends on the availability and palatability to goats of other available forages at the time.
"For instance, during the winter, most will browse other plants that are dormant, which can increase the rate of cedar tree browsing," he explains. "Protein supplementation has been shown to increase juniper intake in goats."
Much of the cedar browsing is learned behavior, Saner says. "Much of this is taught to kid goats by their mothers," he says. "Goats reared in an environment without cedar or juniper species are less likely to be effective at cedar control until this grazing behavior is learned. The rate of cedar intake by an individual goat is likely to be improved if its herd mates are consistently browsing on cedar trees."
Reports, Saner says, have purebred Spanish goats consuming more cedar and juniper than purebred Angora or Boer goats, for instance. "Researchers have shown that cedar intake is a heritable trait, and genetic selection for cedar intake can be improved with selective breeding or any breed or composite of breeds," he adds.
In fact, Texas A&M AgriLife Research has bred a line of goats based on the amount of cedar intake, which are referred to as "Super Juniper Eating Goats," Saner says. They are willing to consume and thrive on cedar as a major part of their normal diet, but this means that these goats must be genetically able to tolerate and digest the plant defense chemicals — terpenes — that cedar and junipers produce to ward off grazers.
The average goat will consume as much as 20% of its diet as cedar trees. Some have been known to consume up to 50%. Saner says that if the goat consumes 20% cedar as part of its diet, the average goat — at 100 pounds — will eat about 0.6 pound of cedar foliage per day.
"From this, we can estimate the amount of total cedar to be harvested," Saner says. "We suggest that growers set a goal for the amount of cedar they wish to be harvested in a particular season. Remember that too many goats for too long of a period can be detrimental to the other rangeland forage species."
There are considerations for using goats as cedar control. "Predator control is very important, as I have had producers lose goats if they don't have good guard animals like dogs, donkeys or llamas," Saner says. "Net fencing works well if you are trying to graze a certain area of the pasture. Of course, water is an issue, and goats will die without a water source. Sometimes it is feasible to haul water, but a better way is to have a supply line hooked to a tank."
Get the kill
Most cedar trees less than 24 inches tall can be killed by goats in a paddock grazing system, but as trees get taller, up to 4 to 8 feet, the kill percentage goes down to 50%. Goats generally will defoliate the bottom branches of these taller trees and strip bark from the trunks up to 3 inches in diameter, according to University of Nebraska research.
In that case, it might take several years of grazing by the goats to actually kill those larger trees. Eastern red cedar, once defoliated and debarked by the goats, will not resprout and will eventually die.
While no real guidelines have been established for goat stocking rates to kill cedar trees, most researchers are suggesting at least 10 goats per acre of infested land to significantly damage the cedar population, depending on the size of the trees and the intensity of the infestation, Saner says.
For Wallace, the control of cedar and juniper species is just a bonus on top of the net profitability of his goat enterprise, in coordination with his sheep and cattle. But for Great Plains producers struggling with the time, cost and continued management necessary to control an eastern red cedar invasion, goats may offer a profitable and manageable method to eradicate those invasives from their grazing lands.
Learn more by emailing Saner at [email protected].
Subscribe to receive top agriculture news
Be informed daily with these free e-newsletters
You May Also Like
---