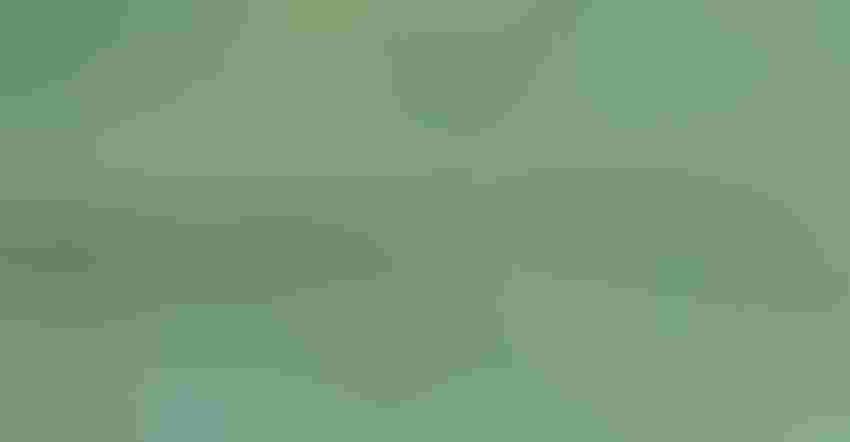 APHID OUTLOOK: With buckthorn spreading in the state, soybean aphid populations more than likely overwintered across Minnesota. Depending on the spring weather, if it's warm and dry, those conditions favor aphids.
Daren Mueller, Iowa State University, Bugwood.org
Looking ahead to the 2020 growing season, a University of Minnesota integrated pest management specialist offers his best prediction for what insects may cause challenges for growers.
Bruce Potter, based at the U-M Southwest Research and Outreach Center in Lamberton, shared insights in a recent e-newsletter.
"While in general, crop pest species are more problematic in some years than others, they are still field specific problems to some extent," Potter said. "Growing season weather has a large effect on both crops and their insect pests."
He offered the following predictions, based on educated guesses and general biological principles, yet lacking in timely key variables needed for accurate predictions.
Soybean aphid
The 2019 fall populations of soybean aphid on southwestern and south-central Minnesota buckthorn were much higher than the previous year. It is prudent to consider many Minnesota soybean aphid populations are pyrethroid insecticide resistant, complicating insecticide management decisions
While we had several brief bouts of sub-zero temperatures in southern Minnesota, they were short-lived. In northwest Minnesota, temperatures briefly flirted with minus 29 degrees F — the average temperature that a lab study showed soybean aphid eggs will freeze. Even in northwest Minnesota, snow cover might have moderated temperatures for eggs on lower canopy buckthorn buds. This might indicate higher early season aphid populations in 2020.
However, a major and yet unknown variable for 2020 soybean aphid populations will be spring and summer weather. Warm, moderately dry conditions will favor aphids. Wet, cool conditions favor fungal pathogens and heavy rain events, particularly when soybeans are small, can suppress soybean aphid populations temporarily.
Although aphids leaving buckthorn can colonize volunteer soybeans, early soybean planting can provide many more plants to choose from. Season-long, winged soybean aphids colonize new fields. Even when early spring aphid populations struggle they can receive reinforcements. Particularly during late July and early August, winged aphids can infest fields in distant areas.
We can use accumulated temperature to estimate how quickly soybean aphid can complete a generation, and in the case of soybean aphid, can roughly predict how many nymphs a female can produce.
A final variable that cannot be quantified ahead of time are populations of lady beetles and other predators and parasitoid wasps. Their populations depend on their own interactions with weather, prey and parasitism. All these variables could be incorporated into predictive models for soybean aphid populations, but it gets complicated.
Migratory insects
Insects capable of flight can move short distances within or between fields, sometimes much farther if they take advantage of weather systems. Unable to survive a typical Minnesota winter, the adults of migratory species, such as black cutworm, green cloverworm, thistle caterpillar, potato leafhopper and cereal aphids, must make the trip north each spring.
Each year's populations depend on the insects' survival and reproductive success in southern wintering areas. These insects then need spring weather patterns that can help move them into Minnesota. Once they arrive, the immigrants need to find suitable host plants and subsequent favorable weather for survival and reproduction.
Watching for the weather systems capable of bringing migrant insects can provide clues for timing scouting. In some cases it's possible to track when, where and how many insects arrive with pheromone traps, light traps or timely field scouting. That's when we'll start getting a fix on 2020 problems from these insects.
In the case of black cutworm, pheromone traps detect moths arriving in Minnesota and degree-day development models for cutworm development, which both help determine when to start and stop scouting. For 2020, trap captures and cutting predictions will be available at the Cooperative Black Cutworm Reporting Network.
Source: University of Minnesota Extension, which is solely responsible for the information provided and is wholly owned by the source. Informa Business Media and all of its subsidiaries are not responsible for any of the content contained in this information asset.
Subscribe to receive top agriculture news
Be informed daily with these free e-newsletters
You May Also Like
---