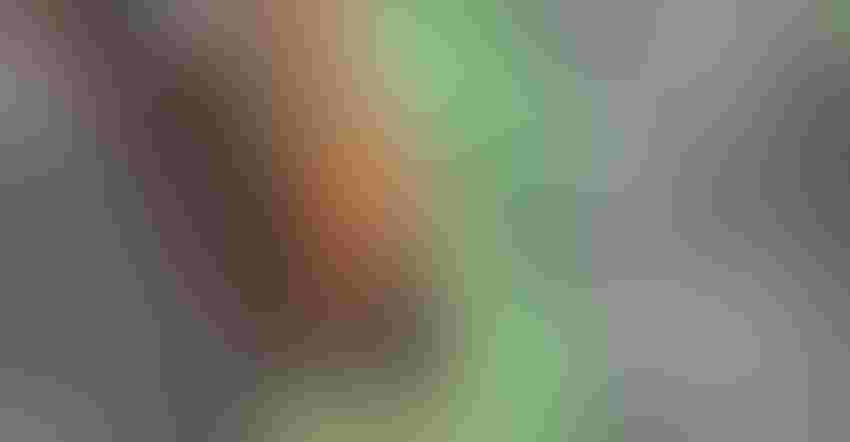 INVADERS: Soybean gall midge larvae turn orange as they mature. Note discolored plant tissue near feeding sites.
Mitchell Helton, ISU
Soybean gall midge and thistle caterpillar are insect pests that have been found on soybeans in some fields in Iowa this summer. Iowa State University Extension field agronomists are advising farmers to scout fields, watch for these insects and keep tabs on their activity.  
"For most of the state, instances of these two pests are low and farmers need to be in a scout-and-wait mode before the pests increase their presence enough to justify spraying an insecticide," says Drew Clemmensen, an Iowa Soybean Association agronomist. "Continued scouting could determine the need to treat affected fields." 
Adam Bierbaum, a soybean grower near Griswold in southwest Iowa, has already seen signs of gall midge in some fields in his area. This pest damaged his soybean fields in 2018, when it was first discovered in Iowa. Gall midges ate their way from the field edge to about 60 feet inward and robbed about half of the yield. 
Lots of questions about new pest 
Adam and his dad, Brent, have set up emergence traps and tested insecticide treatments to determine the best way to prevent and control the overwintering midge pest. Last year the Bierbaums saw gall midge larvae in more fields, but there was less damage than the year before.
"There are still lots of questions," Adam says. "Hopefully, on-farm research trials this year being conducted by Iowa State University and ISA will provide more answers." 
Soybean gall midge was confirmed as an economic pest of soybeans in 2018. Worldwide, this insect pest is only known to occur in five states in the Midwestern U.S., as the accompanying map shows. Research began in 2019 to monitor the emergence of adult soybean midge and incidence of larval feeding in Iowa and nearby states. Entomologists also began evaluating management options for controlling the pest.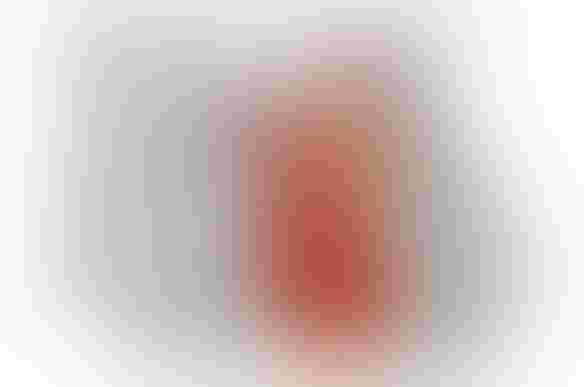 Map by Justin McMechan, University of Nebraska-Lincoln
This year in Iowa, soybean gall midge adults were first collected on June 12 and larvae were detected in soybean on June 23, according to ISU Extension entomologist Erin Hodgson and her colleague Ashley Dean. 
Identification of gall midge 
Adult soybean gall midge is a small fly, approximately a fourth of an inch in length. They have long white and black banded legs and an orange abdomen. It is unlikely you will see adult soybean gall midge in the field, Hodgson says. 
The larvae or worm stage of soybean gall midge are maggots, which lack legs and any distinct features, she explains. They go through three stages of development, or instars. First instars are small, translucent and difficult to see with the naked eye. Second instars are larger and milky-white, or light orange. Mature, third instars are a bright orange larvae and very active.
CHECK STEMS: Split the soybean stems open near the soil line to look for midge larvae and feeding injury inside.
Photo by Mitchell Helton, ISU
The larvae are the damaging stage of this pest, Hodgson explains. "Gall midge larvae feed on tissues within the soybean stem, disrupting nutrient and water movement within the plant. At first, the stem may become dark and discolored near the soil line. Initial symptoms can be confused with fungal disease pathogens such as phytophthora and rhizoctonia. A gall may form on the stem, which appears as a swelling, discoloration or outgrowth of the stem. Infested plants will quickly wilt and die or break off at the site of feeding."  
Scouting for gall midge 
Soybean gall midge overwinters as mature larvae in fields that were planted to soybeans the previous year. Adults emerge from the soil and, since they are weak fliers, seek out the nearest soybean plants to lay eggs. Hodgson says infestations typically begin at the field edge and expand to the field interior over the summer. 
Fields adjacent to a field that was injured by soybean gall midge the previous year should be prioritized when scouting, she says. In the first few soybean rows, look at the base of the plants for a dark discoloration at or above the soil line. Carefully peel back layers of the discolored portion of the stem with your fingernail to look for white or orange larvae. A hand lens can aid in seeing larvae inside stems. 
"Unfortunately, there are no research-based effective management strategies to suppress these larvae at this time," Hodgson says. "We are working to develop insecticide treatment and other cultural tactics to reduce yield losses. Anecdotal observations show early-planted soybean fields are more susceptible to infestations and subsequent severe plant injury." 
If you suspect you have a soybean gall midge infestation, send the ISU entomologists photos or contact your ISU Extension area field agronomist to aid in confirmation. "As we continue to monitor the spread of this pest throughout Iowa and the Midwest, please contact us if you have an infestation and you are in a county that's not represented on the map accompanying this article," Hodgson says. To keep updated on what's happening with this pest, real-time soybean gall midge activity in the U.S. is reported on the regional website. 
Watch for thistle caterpillar 
Thistle caterpillars are similar to gall midge in that they start at the edge of the field and continue eating their way into field. They defoliate soybean leaves. Thistle caterpillars did significant damage to some fields in areas of Iowa last year.
The threshold for spraying an insecticide is when 30% defoliation occurs when soybean plants are in the vegetative stage — before flowering. The threshold is lower (20% defoliation) if the plants are in the reproductive stage — from flowering to pod fill. 
ISU entomologists, based on what they are seeing currently, don't expect widespread damage in July this year from thistle caterpillars. July is when most damage occurred last year. But there are chances that thistle caterpillars could reach high populations in some pockets of Iowa. "So, keep scouting," Hodgson says. 
Japanese beetles are another soybean insect that will likely emerge in the next few weeks and join thistle caterpillars to defoliate soybeans in some fields. It depends on weather conditions. If weather remains relatively dry and warm, there's potential to see other insect pests and diseases such as spider mites, soybean aphid or soybean cyst nematode this year. "You need to keep an eye out for all defoliators when scouting soybeans this summer," she says. 
Thistle caterpillars rarely cause economic injury in Iowa, she notes. Defoliation must exceed 20% after bloom to justify a rescue foliar insecticide treatment. Thistle caterpillars are distinct from other caterpillar species found in soybeans. The body color ranges from creamy white to gray-brown, often with a yellow stripe running down the length of the body. The body is covered with numerous branching spines. Mature caterpillars are 1½ to 1¾ inches long (see short video). Read more about thistle caterpillar identification and management here. 
About the Author(s)
Subscribe to receive top agriculture news
Be informed daily with these free e-newsletters
You May Also Like
---