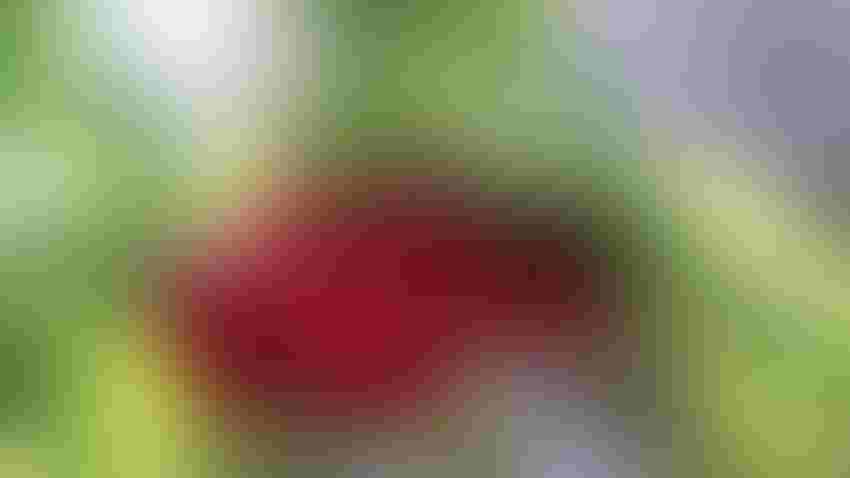 Extension researchers say that limited choices for pesticide active ingredients are speeding up insecticide resistance among spotted-wing drosophila in California and elsewhere in the U.S.
Todd Fitchette
A troublesome insect for cherry and berry growers is apparently building resistance to labeled insecticides, according to researchers with the University of California.
Jhalindra Rijal, entomologist and area integrated pest management advisor with UC Cooperative Extension in Modesto, says his studies are pointing to growing pesticide resistance within populations of spotted-wing drosophila (SWD), Drosophila suzukii, in the San Joaquin Valley and in California coastal regions.
The insect was introduced to California in 2008 and has since become problematic for growers of cherries, caneberries, and strawberries. Since then, the insect has spread across the United States and to other countries, including Mexico and Europe, Rijal said.
Female SWD have a serrated ovipositor, giving them the ability to lay eggs in fruit with a harder skin, and not just overripe fruit, he said. The larvae will feed on the fruit, rendering it unmarketable. According to the University of Minnesota Extension, the egg-laying and feeding activities by SWD can leave the fruit susceptible to other insects and disease.
Rijal began studying SWD in cherries as San Joaquin Valley growers previously did not need to treat their fruit for insects. The introduction of SWD into cherries quickly changed that.
Resistance issues apparently built quickly as Rijal said management practices relied heavily on spinosyn, pyrethroids, and malathion. These pesticide applications used limited active ingredients due in part to MRL issues in export markets, he said.
This inability to rotate active ingredients apparently built resistance among populations of the insect, which he found in the San Joaquin Valley and the coast near Morgan Hill. Farmers elsewhere in the U.S. found similar resistance issues, including in blueberries in Georgia, and berries in Michigan. Scientific studies showed a significant decline in susceptibility of SWD adults to Spinosad and malathion in Georgia, and to spinetoram and malathion in Michigan.
Growing resistance to Spinosad on the Central Coast was "widespread" in studies from 2017-2019, Rijal said. In later studies where researchers expected 100% control of SWD, they found anywhere from 55%-75% mortality.
"That's an indication of the resistance we're seeing," he said.
Spotted-wing drosophila biology
According to the University of Minnesota Extension, SWD adults are 2-3mm long, yellowish-brown in color, with dark-colored bands on their abdomen. They have prominent red eyes and can be difficult to distinguish from other species of small fruit flies.
The larvae are white, with a cylindrical body that tapers on one end. They do not have legs or a conspicuous head and tend to reach about 1/8th inch long.
More information is available on the spotted-wing drosophila at the UCIPM website.
Subscribe to receive top agriculture news
Be informed daily with these free e-newsletters
You May Also Like
---