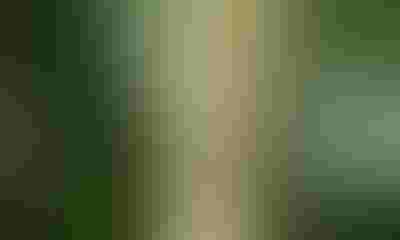 European corn borer larvae are still showing their presence in unprotected, conventional hybrids. Trap counts for this week totaled 14 ECB second generation moths.
Scout's Report 7/29: UAVs, northern corn leaf blight and Japanese beetles
The damage they are inflecting includes leaf feeding and boring into stalks, tassels, ears and the ear shanks. Each ECB larva found now can account for a minimum of 7 to 10 bushels of "lost" yield come this harvest.
This second generation feeding will continue until about mid-September. In addition to potential yield loss, the second generation's tunneling allows disease and pathogens to enter the stalk, ultimately causing stalk breakage and lodging at harvest.

Ugly sucker! There is nothing pretty about European corn borer damage, especially when the larva is still present! (Photo courtesy of Ben Grimme, Beck's Hybrids)
Japanese beetle adult numbers were quite low in corn this week, finding only one in all scouting outings.
Once corn pollination is complete and the silks have dried, Japanese beetles go looking for "fresher" food sources. Thus, in a large part, they have moved to soybeans and have begun feeding on younger leaf tissue. They will "skeletonize" the leaves, creating a "lacy" appearance.
Control during R1 to R5 reproductive stages with flowering and podfill occurring is suggested if greater than 15% defoliation is experienced. This is the time when plants can least afford leaf loss. Sometimes spot treatment is adequate if Japanese beetle presence is found early.
The weather has definitely taken a turn for the better, bringing more summer-like growing conditions. So far corn disease presence and intensity has stayed about the same as of last week's report.
Gray leaf spot and Northern corn leaf blight continue to be easily found in most fields. Fungicide applications are mostly complete, so now we need to monitor and evaluate application effectiveness.
Scout's Report 7/22: Soybean tissue sampling and corn disease watch are the key activities now
Once corn reaches the R3 stage of growth, kernels will be yellow on the outside and contents will be milky on the inside. This is commonly known as the roasting ear stage! Severe stress caused by such things as photosynthetic surface loss from leaf diseases can still abort kernels, but not as easily as in the earlier R2 blister stage. Once kernels reach the early dough stage, kernel abortion is less likely. 
Stay tuned until next week.
Kettler is a Purdue University junior interning as a scout with Beck's Hybrids. She writes from Atlanta, Ind.
Subscribe to receive top agriculture news
Be informed daily with these free e-newsletters
You May Also Like
---