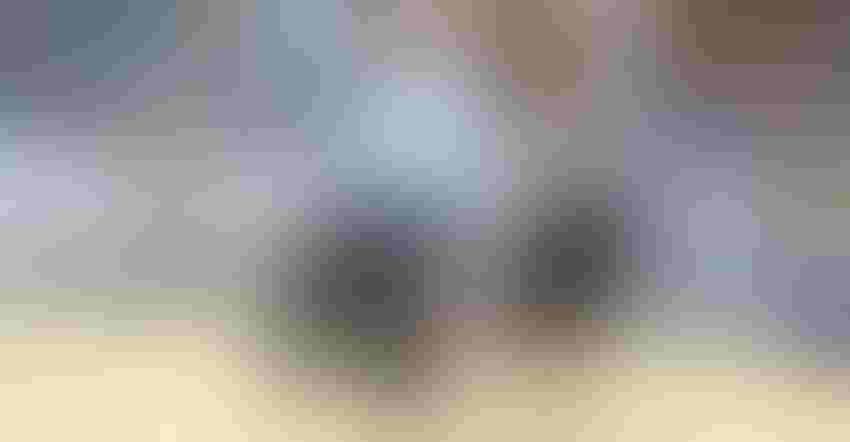 The World Pork Expo Junior National set another record this year with 1,050 youth from 32 states showing 2,500 hogs.
National Pork Producers Council
The 30th World Pork Expo, presented by the National Pork Producers Council, will be June 6-8 at the Iowa State Fairgrounds in Des Moines.
What's the World Pork Expo?
It's the world's largest pork-specific trade show with live-hog shows and sales, production and management seminars, networking opportunities and lots of grilled pork.
"The Expo seminars provide an exceptional opportunity for pork producers and their employees to hear the latest production information and interact with the leading experts on a wide range of topics," says Jim Heimerl, NPPC president and producer from Johnstown, Ohio. "If you think back over the past 30 years, Expo has presented hundreds of free seminars where producers could collect ideas and insights to apply to their operations back home."
What are the seminars?
A record number of Business Seminars are on the docket this year, and attendees should plan ahead to make the most of their Expo visit. Whether they're looking for ways to maximize piglet survivability, better understand today's consumers or fine-tune ventilation to boost productivity, attendees will find proven, practical advice at the Business Seminars.
All of the Business Seminars will take place in the Varied Industries Building. Here's the lineup: 
Wednesday, June 6:
8 a.m. to noon — "The impact of manure management," presented by Corteva Agriscience. Attendees will hear research results that impact swine manure application timing and the benefits to soil health.

8 to 9 a.m.; 9:30 to 10:30 a.m.; 11 a.m. to noon — "Can agriculture win the battle of misinformation?" presented by U.S. Farmers & Ranchers Alliance. This seminar, which will be offered three times, addresses why it's important for pork producers to engage with consumers and share their stories.

1 to 2 p.m. — "Improving pig productivity is the 'new normal'," presented by Tonisity. A panel of experts will explore changing expectations around on-farm antibiotic use and its impact on pork production.

2:30 to 3:30 p.m. — "How much is too much for pre-wean mortality? Is there a better way?" presented by Tonisity. Panelists will explore practical ideas for reducing pre-weaning mortality to minimize the impact on an operation's overall profitability.

1 to 2:30 p.m. — "Nutrition optimization and impacts on pig survivability and growth," presented by Kent Nutrition Group. Better pig nutrition leads to healthier pigs and lower costs. This seminar will outline options to get piglets off to the right start.
Thursday, June 7:
8 to 9:30 a.m. (Spanish version); 9:30 to 11 a.m. (English version) — "The Vaccinologist," presented by Zoetis. The goal of sending more healthy pigs to market requires preventing disease from the start. This seminar is designed to build pig caregivers' understanding of the "why" behind effective vaccinations.

8 to 10 a.m. and 10 a.m. to noon — "Do you know how the complex landscape of respiratory health impacts your business?" presented by Boehringer Ingelheim. This multi-faceted seminar, to be offered two times, will outline new data and management ideas for addressing respiratory disease and its impact from nursery to finishing.

11 a.m. to noon — "Threats adapt: Are you ready? An in-depth look at the PCV2 genotype and current coverage," presented by Zoetis. This seminar will discuss the genetic drift and shift of porcine circovirus type 2 and why a vaccination program needs to provide broad and extended coverage.

1 to 2:30 p.m. and 3 to 4:30 p.m. — "Voices of influence: An in-depth look at how various influencers are shaping meat-buying trends and how it impacts producers at the farm level," presented by Zoetis. This seminar, offered twice, will explore consumer research and how the public's expectations of how hogs are raised and cared for on the farm increasingly influence meat-buying trends.

1 to 3 p.m. — "SKOV Pro Grow: How to optimize pork production by providing your animals with optimum climate conditions," presented by SKOV A/S USA. Attendees will learn about online ventilation solutions and review Danish and U.S. data from the Pro Grow pig monitoring and weighing system. 
What is PORK Academy?
Included in Expo's seminar offering is PORK Academy, with 10 free sessions for pork producers and their staffs. Presented by the National Pork Board and Pork Checkoff, the PORK Academy seminars are designed to give producers a deeper understanding of their checkoff investments. 
What about markets?
The Pork Checkoff also provides a weather, crop and hog market outlook session on both Wednesday and Thursday in its hospitality tent, beginning at 12:30 p.m. 
Got group housing questions?
Three U.S. pork producers will be available to answer questions about group housing. They can speak to what to look for in a sow management system to positively impact feed use, labor efficiency, sow behavior and more. 
Tim Friedel and Steve Horton are the production manager and sow service manager at Thomas Livestock Co. of Broken Bow, Nebraska. Less than 10 years after building a barn, the team at Thomas Livestock pulled the gestation stalls and built group pens with automated sow feeding and management.
"From both the sows' and workers' points-of-view, the barn is a fresher, friendlier place to work. This results in a more productive business for us, and we know it's going to pay for itself in the long run," says Friedel. 
The recent remodeling project is just one part of the plan to convert the entire Thomas operation to group sow housing. In addition to the remodel, Thomas Livestock has built a new barn with group gestation pens and plans to build another in coming years. 
Chet Mogler and his family built a new facility with the primary goal of creating the best environment for their sows. They chose dynamic, large group pens for 4,400 sows to replace their 900-sow stalled barn at their Pig Hill facility near Alvord, Iowa.
"Our sow behavior has totally changed, especially at feeding time," says Mogler. "We never have noisy, high-stress feed drops like we did in stalls. Our sows eat comfortably without competition."
Friedel, Horton and Mogler will be available Wednesday, June 6, from 1 to 3 p.m. in the Nedap Livestock Management U.S. booth V525 at World Pork Expo in Des Moines.
How do people register?
There's still time to register online. All the latest details, including daily event schedules, hotel availability and more, are available online at the World Pork Expo website.
Source: National Pork Producers Council, Nedap Livestock Management
Subscribe to receive top agriculture news
Be informed daily with these free e-newsletters
You May Also Like
---