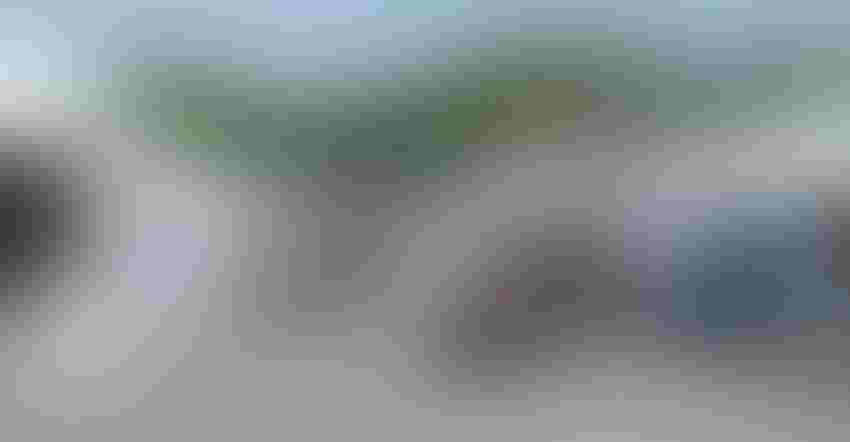 GLOBAL REACH: The World Pork Expo held annually in June at the Iowa State Fairgrounds attracts over 20,000 visitors from 40 countries.
Citing "an abundance of caution," the National Pork Producer's Council on April 10 canceled the 2019 World Pork Expo, which had been scheduled for the Iowa State Fairgrounds in June. Hosted by NPPC since 1987, the hog industry trade show attracts 20,000 visitors from around the world over a three-day period each year, some from regions with hog herds infected with African swine fever.
ASF affects only pigs and presents no human health or food safety risks, but there is no vaccine to treat it. NPPC canceled this year's expo in an effort to prevent the highly contagious swine disease from entering the U.S.
"Producers are very concerned about the risk of African swine fever," says Jen Sorenson, vice president of NPPC's board of directors. "It's been discovered in China and some other countries, but hasn't made an appearance in the United States."
The NPPC board consulted disease experts and veterinarians before deciding to cancel this year's expo. "They advised us that the risk was low, but we want to take precautionary measures to prevent the introduction of the disease," says Sorenson, communications director for Iowa Select Farms.
Could destroy our hog industry
China reported the first recent case of ASF in 2018 and has documented over 120 outbreaks of the disease since then. Officially, China's government says over a million hogs have died or been culled and killed in that country. However, U.S. analysts believe that number is propaganda and is grossly underestimated. Preventing the virus from making its way across the ocean and into the U.S. is a priority for the U.S. pork industry.

PRECAUTION: One of Iowa's largest agricultural events, this year's World Pork Expo is canceled due to concern over African swine fever.
"We decided to exercise extreme caution and cancel this year's expo," says David Herring, NPPC president and a North Carolina producer. "The health of the U.S. swine herd is paramount; the livelihood of our producers depends on it. Prevention is our only defense."
An outbreak of AFS in the U.S. would be devastating to farmers, already facing challenges on the trade front due to tariff disputes with Mexico and China, two of the largest export markets for U.S. pork. "If we contracted African swine fever here, it would immediately close our export markets," Herring says.
According to USDA data, China, Mexico and Japan reduced pork imports during the last 10 months of 2018 by over 200 million pounds, a drop of 7% from 2017 sales. Recent reports from China indicate Chinese consumers are losing confidence in all pork regardless of where it originates. Even if consumers in China maintain demand for pork as their local supply declines, tariffs are expected to continue to limit imports from U.S. producers.
Difficult but necessary decision
The decision to cancel this year's expo came the same week when more than 100 U.S. pork producers traveled to Washington, D.C., to meet with members of Congress. NPPC is asking Congress to provide funding for 600 new U.S. Customs and Border Protection inspectors to further strengthen defenses against ASF.
A viral disease that causes high mortality in pigs, ASF spreads through close contact with infected animals or their excretions. People can spread the virus by its coming into contact on clothing, shoes, vehicles, etc. It can also survive in feed ingredients, vitamins and contaminated meat.
Canceling the expo is a big deal for Iowa and the U.S. hog industry, Sorenson says. "The expo is a time when producers come together, network, attend seminars, and learn about new equipment and technology to improve our farms. We're disappointed, but we know it was the right decision. The disease would be devastating, especially for Iowa, our nation's largest pork producer."
Dave Struthers, a central Iowa pig farmer, regularly attends the expo, but he's glad NPPC canceled it this year. "ASF could potentially wipe out our business, at least for a period of time, and we want to keep it away."
Biosecurity measures
Sales of U.S. pork to overseas markets in recent years have reached $20 billion annually. China has about 700 million pigs, or half of the world's swine population.
"This disease is a serious concern," notes Iowa Ag Secretary Mike Naig. "We are continuing to ask all producers, travelers and the general public to recognize the heightened risk since the first outbreak of ASF was discovered in China last year and to heed biosecurity protocols in support of U.S. agriculture."
Naig adds, "We are working with USDA and pork producers to monitor the African swine fever outbreak in Asia and parts of Europe. Protecting the health of Iowa's livestock and our ag-based economy are our top priorities. I fully support NPPC's decision to cancel the 2019 World Pork Expo out of an abundance of caution. We continue to stress the importance of following proper biosecurity protocols on the farm every day to prevent the spread of disease and protect our herds."
Information on ASF and how to prevent the spread of the disease is on the APHIS website. NPPC also posted a list of FAQs. 
Subscribe to receive top agriculture news
Be informed daily with these free e-newsletters
You May Also Like
---