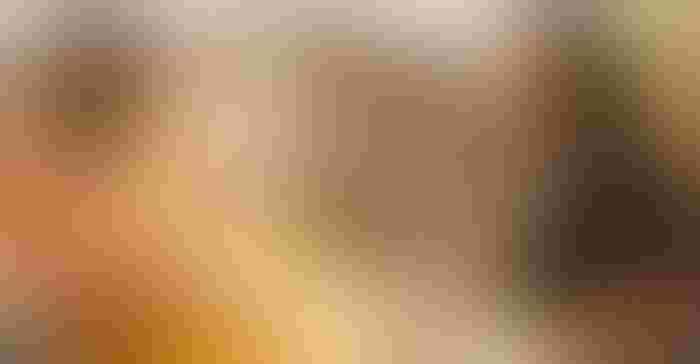 Imagine, if you will, walking through the Farm Progress Show — except it's for an entirely different industry. Instead of tractors and seed, think every natural and organic product in the country.
Instead of 90 acres of exhibits peppered with air-conditioned tents and auger wagons, picture booths as far as the eye can see. "Green" and "natural" reign supreme. Instead of free caps, companies hand out packets of hemp lotion and food samples — offered on cardboard spoons. Recyclable, of course. And no straws. They kill the sea turtles.
Banners on exhibits tout a different kind of farmer, one who uses "regenerative farming practices" and "no petrochemically derived pesticides." Products are glyphosate-free and natural. Banners proclaim "food as medicine." CBD is (clearly) the future.
That's just what I saw this fall at Natural Products Expo East, an expansive trade show for the organic and natural products industry that brought in 29,000 people and more than 1,500 companies to a convention center in Baltimore, Md. The expo is put on by another division of Informa, the company that owns Farm Progress, and I was there to learn about the consumer end of the hemp industry.
Boy, did I ever.
We have approached hemp coverage in Prairie Farmer with cautious fascination, explaining growing practices and pains for this new crop. But friends, I'm here to tell you that based on what I saw in Baltimore, the hemp business has legs. It won't replace a crop in the Midwest. But it may add profit for the farms that take on risk early, and for the farmers who are willing to help develop a fragile, new crop pipeline. 
Those farmers are as interested in hemp as a potential third crop as they are in anything else I've reported on in the past 20 years. As Austin reports, processing bottlenecks are not insignificant in 2019, Illinois' first hemp growing year. Prices have already taken a hit as supply ramps up.
But over on the retail end, as seen in Baltimore, is a set of companies and entrepreneurs who want to sell hemp and CBD products. Think oils, creams, gummies, skin care products and more, to the tune of $132.9 million in U.S. sales in 2019.
That's a 95% increase, when you consider hemp and CBD sales in the U.S. came in at $7 million in 2017 and $40.6 million in 2018. No other sector in 2019 comes close to that kind of growth.
Growth and energy
Carlotta Mast, head of editorial at New Hope, can't overstate hemp's impact. "Nothing has changed the industry the way CBD has changed the industry," she says.
That's saying something in a sector where natural and organic product sales will approach $250 billion by 2020.
In January 2019, Mast's survey of natural and organic manufacturers showed 29% were selling hemp or CBD products. By August, that number jumped to 59%. And 76% plan to launch hemp or CBD products in the next year.
Across the trade show, there was an energy as entrepreneurs — and consumers — tried to figure out how to best position themselves in the hemp business. Careful marketing around CBD products means not promising benefits and no specific doses. Manufacturers are concerned about labels and lack of regulation, urging companies to self-regulate so the industry doesn't go the way of vaping, where no one knows what's in it.
And among this crowd, plants reign supreme. They are described as "disruptive" and "wise," and the emphasis is on foods that can fortify, not harm, like salt and sugar. Food isn't just dinner to these folks. Food is medicine.
They talk about "hot functional ingredients," such as collagen, mushrooms, probiotics, CBD and other stuff I can't pronounce. People want to buy these. The self-care movement fuels natural living; the natural and organic category that includes personal care, pets and household sales was a $20.8 billion business in 2018.
The 2018 Farm Bill presented companies with a historic opportunity to market hemp and CBD. New state laws have presented Illinois farmers historic opportunities to grow hemp. What happens next may depend on what happens between the two.
Comments? Email [email protected].
Subscribe to receive top agriculture news
Be informed daily with these free e-newsletters
You May Also Like
---