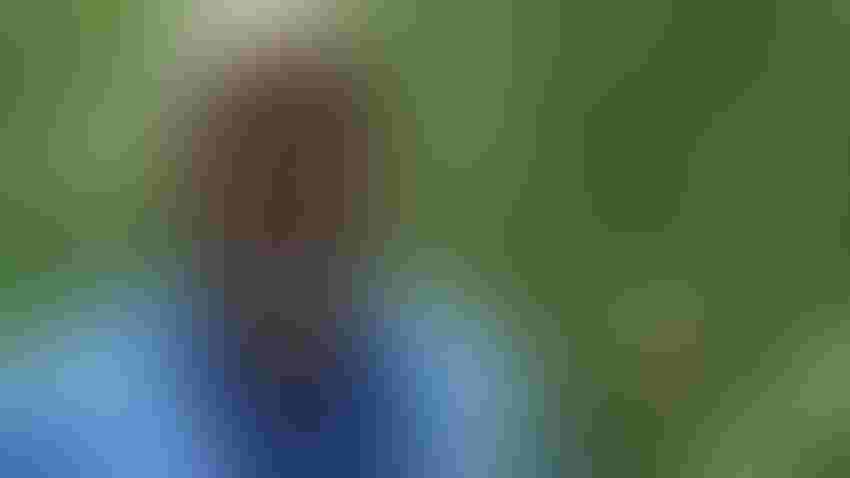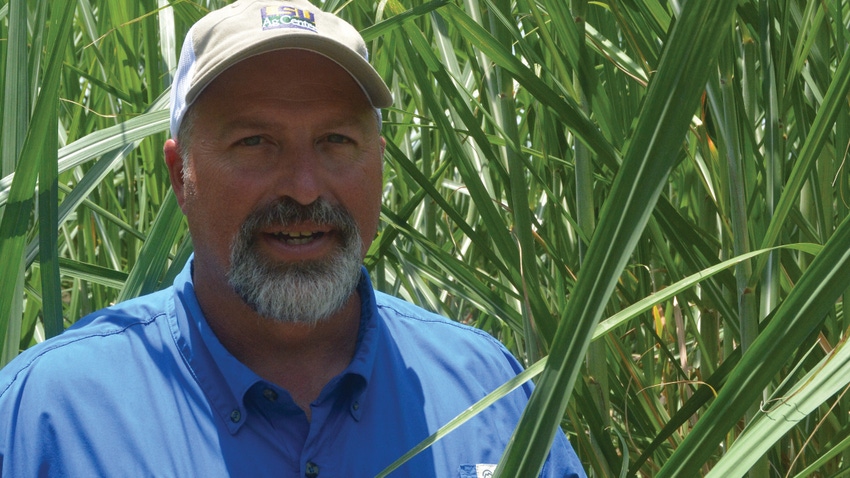 Al Orgeron, LSU resident coordinator at the Sugar Research Station, St. Gabriel, La., inspects a stand of Ho 12-615, a sugarcane variety adversely impacted by a commonly used ripener. Trials show growers can move to an alternative ripener treatment to deliver on the tonnage and sugar yield potential of this variety.
Pam Caraway
At a Glance
Ripener treatment helps bring sugarcane to a timely harvest.

Sugarcane varieties respond differently to some ripener treatments.

Growers who vary the rate of glyphosate can maximize variety performance
Sugarcane producers who walk the fine line between drawing down a heavy load of sugar and supporting strong biomass production recently encountered a yield challenge from their standard ripener treatment. The symptoms are delayed emergence, fewer shoots, and lighter stalks. The overall impact of the malady is a smaller ratoon crop. 
Some sugarcane growers and researchers call it ripener hangover. By any name, it melts sugarcane profit by robbing yield from ratoon crops.  
"The most expensive part of growing sugarcane is planting," said Al Orgeron, LSU weed scientist and resident coordinator at the Sugar Research Station, St. Gabriel, La. "Ratoon crops are essential for Louisiana producers to be competitive." 
That's why fewer shoots and slower emergence coming into the ratoon crop quickly grabbed Orgeron's time and attention. 
"You can't negatively impact the biomass because it's so important to the final yield," Orgeron said.  
Orgeron and the LSU research and extension team now have a recipe for curing ripener hangover. (No raw eggs needed.) And they are continuing to research additional alternative ripener treatments. 
Rewriting a recipe for ripening 
The treatment that rose to the top of Orgeron's trials is a tankmix of Roundup PowerMAX 3 at 2.5 oz./A (half the recommended rate of glyphosate) and Moddus at 11 oz./A. 
"This treatment shows a lot of promise for varieties that are super sensitive to glyphosate by itself," Orgeron said. 
That varietal response is the crux of the challenge. 
Louisiana sugarcane growers have long used sub-lethal doses of glyphosate to ripen the crop in order to bring it to harvest earlier, a necessity given the climate in which they're growing the tropical crop. Ripener treatments are used to move the crop from vegetative production to sugar storage. Essentially, growers are trying to stay a step ahead of Mother Nature and minimize the risk of freezing temperatures hitting prior to harvest. 
"We grow cane where we're not supposed to be able to grow cane," Orgeron explained. That's why harvest in Louisiana is shorter than harvest in other sugarcane production areas, such as Florida and Brazil.  
Unexpected varietal response to glyphosate 
Though researchers and growers know that using ripeners can be risky, the most widely planted varieties in recent years showed high tolerance to glyphosate applications. 
L 01-299, the most widely planted variety over the past decade, responds well to glyphosate as a ripener – and some growers even see enhanced yield results when applying glyphosate at higher rates. More than half of the Louisiana acreage – about 55% – was planted to that agronomically forgiving variety this season. First introduced in 2009, L 01-299 emerges slowly after planting but produces high tonnage and has an extended crop cycle because of its superior stubbling ability. And, 299 – as it's commonly called – responds well to glyphosate ripeners. 
A variety released in 2019, Ho 12-615, created a challenge to the industry standard ripener treatment when the ratoon crop fell short of yield goals. Commonly referred to simply as 615, this relatively new variety delivers on an excellent disease package and produces cane tonnage and sucrose content on par with 299. However, though widely planted in 2022, producers plan to dial back on planting 615 this season because of the impact a glyphosate-only ripener application has on ratoon crops. Orgeron said the alternative ripener tankmix puts 615 back into play for 2024. 
In multi-year trials, Orgeron said, data show the tankmix of herbicide and plant growth regulator produces total recoverable sugars (TRS) and sugar per acre (SPA) yields that are not significantly different from yields harvested using the standard ripener application of Roundup PowerMAX 3 at 5 oz./A. 
"The PowerMAX plus Moddus treatment brings tremendous value to growers," Orgeron said. "The ratoon crop was robust. The shoots came out of the ground quickly. The ratoon that's coming back is coming back stronger." 
Alternative ripener treatment options are essential to provide growers an opportunity to manage risk by planting diverse varieties. For instance, Orgeron noted, unexpected disease pressure in a season may impact one variety, but not another. 
The ripener challenge is another example of unexpected weather impacts. When freezing weather greatly extended harvest in Louisiana, a noted variety weakness unexpectedly had a greater impact. Growers who applied glyphosate with the expectation of harvesting in 28 to 35 days were a few days to a several weeks off that mark. Yields from stands of 615 dropped significantly. 
 "The longer you leave glyphosate on a sensitive variety, the worse the impact tends to be on that next ratoon," Orgeron said. With variety that can tolerate glyphosate, such as 299, a delayed harvest is less likely to impact yield in the subsequent ratoon crop. 
With PowerMAX 3 plus Moddus as an alternative ripener for glyphosate-sensitive varieties, Orgeron said growers should reconsider 615. 
"There's more than one way to be competitive," he said. "Don't walk away from 615." 
Subscribe to receive top agriculture news
Be informed daily with these free e-newsletters
You May Also Like
---